Blog
February 5, 2010
William Kurelek, "Eskimo Children Playing, Cape Dorset", 1968
Notes: Original artist frame
Provenance: Isaacs Gallery, Toronto; Mr. & Mrs. George H. Montague, Toronto; Private Collection, Montreal; Galerie Walter Klinkhoff, Montreal; Private Collection, Vermont.
Even the most casual admirer of William Kurelek paintings will have noticed his sensitivity to and understanding of "issues" endured, and maybe even plaguing the various and numerous cultural groups of Canadians he met when he painted in different parts of the country.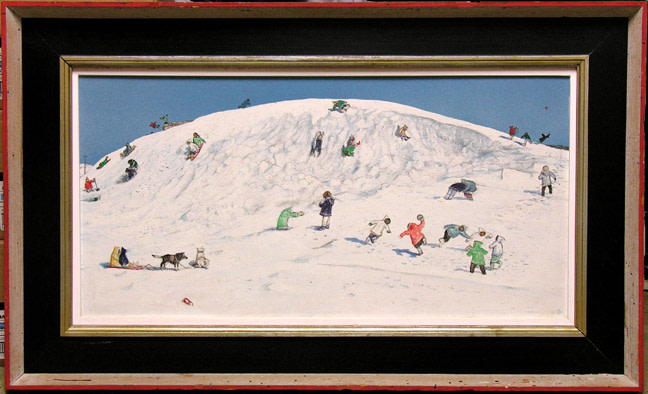 William Kurelek, "Eskimo Children Playing, Cape Dorset", in the artist's original, handmade frame. The notes from his diary which accompanied "Eskimo children playing" and twenty-nine others painted during Kurelek's seven days in Cape Dorset on the Foxe Peninsula on West Baffin Island from May 7, 1968 and published in a pamphlet William Kurelek, A Point of View, Cape Dorset, Baffin Island, Northwest Territories when the paintings were exhibited at the AGO the following year, the artist was understanding of sociopolitical problems adversely impacting upon Inuit at Cape Dorset. Both in print and in paint the artist refers to several as well as an interest in gaining a broader knowledge of the Inuit lore and mythology beyond what he could in his short stay.
"Eskimo children playing" is a declaration by the artist that despite the trials of severe weather, relative financial poverty, and political mismanagement from an intrusive government far to the south, the innocence of the children, their free and unencumbered spirit manifests itself in play in the same fashion as Canadian children elsewhere (and maybe children other than Canadian) which in a season of snow includes all the frolicking we see in this important picture. As divergent as their cultures may be, as an example, the little Prairie boy and the young Inuit, as children their notions of play are extraordinarily similar. In contemporary terms looking at various Right to Play organizations the importance of that play time for the child is continually emphasized. To see a selection of important paintings we are currently for sale, we invite you to visit us at klinkhoff.com.
Add a comment