Blog
March 30, 2017
Featured Painting: Lawren Harris, "Snow Laden Trees", c. 1916. By Charles C. Hill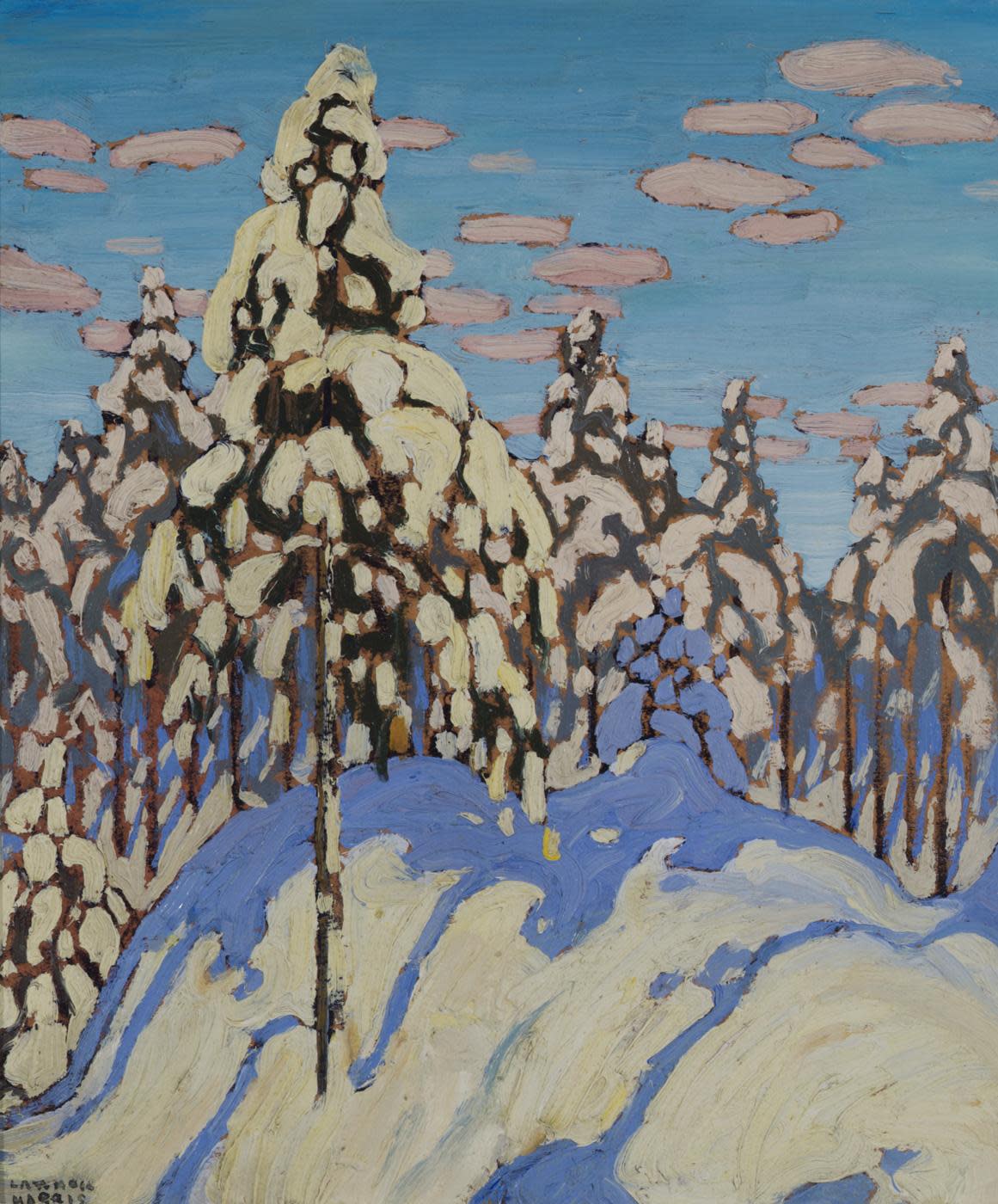 Lawren S. Harris, Snow Laden Trees, c. 1916
Oil on wood, 12 1⁄2 x 10 1⁄2 in. (31.8 x 26.7 cm)
Provenance:
The Art Emporium, Vancouver;
Private collection, Montreal, c. 1974

When Lawren Harris returned to Toronto in 1908 following his studies in Germany, he painted the streets of the older areas of the city in an increasingly impressionist palette as well as landscapes of northern Ontario and the Laurentians. In January 1914, he and J.E.H. MacDonald travelled to Buffalo, New York, to see an exhibition of Scandinavian painting. It was the decorative landscapes of the Swedes and Norwegians that impressed Harris the most and provided him with a visual language to interpret the Canadian landscape. As MacDonald later wrote, "Except in minor points, the pictures might all have been Canadian, and we felt, 'This is what we want to do with Canada.'" In March 1914 Harris exhibited Morning Sun, Winter (private collection), the first of a series of paintings of snow laden fir trees that would preoccupy him until 1919.
The subjects were identified by Harris as having been painted from studies made at York Mills, in the Don Valley and in the Toronto ravine. Yet there are very few oil sketches of such subjects and no sketches that directly relate to a larger decorative canvas. The canvases were studio creations derived from memories of subjects occasionally sketched in oil paint and possibly worked up from drawings. We know of one drawing that may have been a study for the canvas Spruce and Snow in Northern Ontario in the Art Gallery of Ontario and in 1947 Harris informed Martin Baldwin, director of the Art Gallery of Toronto, that he did make a large number of preparatory drawings but destroyed them once the painting was completed.
In two almost square canvases dated 1915, Winter Woods (Art Gallery of Ontario, The Thomson Collection), first exhibited as Snow I, and Snow II (National Gallery of Canada), Harris arranged a screen of snow-bound trees across the foreground, enhancing the decorative effect. However, in Snow Laden Trees the pine trees curve across the middle ground, crowning the crest of a snow-covered hill, an arrangement also seen in the aforementioned Morning Sun, Winter and Winter in the Northern Woods (Imperial Oil Limited).
In contrast to Harris' usual preference for horizontal compositions, this panel is vertical, a format he experimented with during these years, thereby enhancing the verticality of the composition. The open foreground is freely brushed, the blue and pink shadows in the snow echoing the blue sky and pink clouds. This sketch is a superb and fresh interpretation of the light and colours of a sunny winter day.
Add a comment