Essay
April 5, 2017
Featured Painting: Lawren Harris Maligne Lake, Jasper Park, 1924
LAWREN S. HARRIS, C.C., LL.D. (1885-1970)
Maligne Lake, Jasper Park, 1924
Oil on Beaverboard, 10 ¾ x 13 ¾ in. (27.3 x 34.9 cm.)
Inscriptions:
verso: u.r., in ink, u.l., in graphite, by artist, Miss Anges Tait / Warsac / Harbour Rd. / N.Y. State – [illegible] (crossed out); u.r, in ink, 11 (in circle); u.l., in ink, cross in circle; u.l., in black crayon, KEEP; c., in graphite, property / Bess / Harris / [in ink] since [in graphite]1938; c., in red crayon, 63.
Provenance:
artist, Vancouver;
Bess Harris, Santa Fe, New Mexico, 1938;
S.C. Torno, Toronto by 1970;
McCready Galleries Inc., Toronto;
Private Collection, Montreal
Exhibited:
Toronto, The Art Gallery of Toronto, October-November 1948, Lawren Harris, no. 128, collection of the artist;
Ottawa, National Gallery of Canada, 19 June – 8 September 1970, and Montreal Museum of Fine Arts, 23 September – 31 October 1970, The Group of Seven, no. 150, reproduced, loaned by S.C. Torno, Toronto;
Toronto, Art Gallery of Ontario, Jan 14 - Feb 26 1978, Lawren S. Harris: Urban Scenes and Wilderness Landscapes 1906-1930, catalogue no. 144

Literature:
Peter Mellen, The Group of Seven (Toronto: McClelland and Stewart, 1970) p. 161, reproduced p. 160;
Dennis Reid, The Group of Seven (Ottawa: National Gallery of Canada, 1970), p. 193, reproduced p. 191; R.H. Hubbard, Canadian Landscape Painting 1670-1930 The Artist and the Land (Madison, Wisconsin: University of Wisconsin Press, 1973) p. 174; Jeremy Adamson Urban Scenes and Wilderness Landscapes (Toronto: Art Gallery of Ontario, 1978) p. 167;
Peter Larisey, Light for a Cold Land Lawren Harris's Work and Life – An Interpretation (Toronto: Dundurn Press, 1993) pp.101-102.
In 1924 Lawren Harris and A.Y. Jackson spent August and early September sketching in Jasper Park in the Rocky Mountains. They first walked from Jasper Lodge to Maligne Lake. By horse they went on to the Colin Range, before hiking over the Shovel Pass to the Athabaska and Tonquin valleys. "We camped at the south end of Maligne Lake on a wide delta of gravel," Jackson wrote in the January 1925 issue of The Canadian Forum. "Round about were vast piles of crumbling mountains that crowded in the cold green, silt-coloured water of the lake… we decided that mountains have to be roughly handled – big rhythms running across and in, paintings built up architecturally, forms considered as abstract in determining their relationship and the creative faculty given free rein." While the mountains weren't to Jackson's taste, this trip initiated Harris' lifelong love of the mountains.
(Fig. 1) Lawren S. Harris Maligne Lake, Jasper Park 1924 Oil on canvas 48 x 60 in (122.8 x 152.8 cm) National Gallery of Canada, Ottawa (3541). Purchased 1928.
Soon after his return to Toronto, Harris began work on a canvas based on this sketch. Maligne Lake, Jasper Park (fig. 1) is dated 1924 and marks a crucial turning point in Harris' art. In no previous work had he reduced nature to such geometric forms. Severely abstracted clouds echo the forms of the rocks and peaks. Colour is reduced to a restricted palette of grey-greens, browns and off whites. While the foreground rocks provide a sure, if off centre, foothold for the viewer, one is immediately drawn into the vast coldness of the panoramic, "stereoscopic effect."
As one reviewer wrote when the painting was shown in England in 1926, "Maligne Lake … is eerie to a degree, Nature, gaunt and grim, viewing her image in a flawless mirror amid a silence that may be felt." The painting is all the more fascinating when compared to the oil sketch painted on the spot. Whereas in the canvas all is clarity and light, in the study forms are diffuse, the lake and mountains are partially obscured by a soft mist, the green reflection at the left creates a bright accent, and the eye focuses on the reflections in the water rather than on the sharp angle of the Samson Narrows where the left and right peaks intersect. While the basic components are already present in the sketch, a radical transformation has taken place between sketch and canvas, a transformation that launched a new direction in Harris' art.
The canvas was included in the January 1925 exhibition of the Group of Seven. Critics expressed their surprise at this "jangle of angles and triangles in grey-green" and Hector Charlesworth wrote in Saturday Night, "In [Harris'] large canvases … he twists the contours of nature into hard and turgid outlines… Angles and spirals abound as in mechanical drawings; and the rigid outlines enclose untoned masses of crude colour." Augusts Bridle enthused in the Star Weekly, "[Harris] does not give you a mountain but the platonic idea of a mountain, a mathematical infinite series of mountain impressions, something gigantically pyramidical, if not veridical, a real brainstorm among the mountains."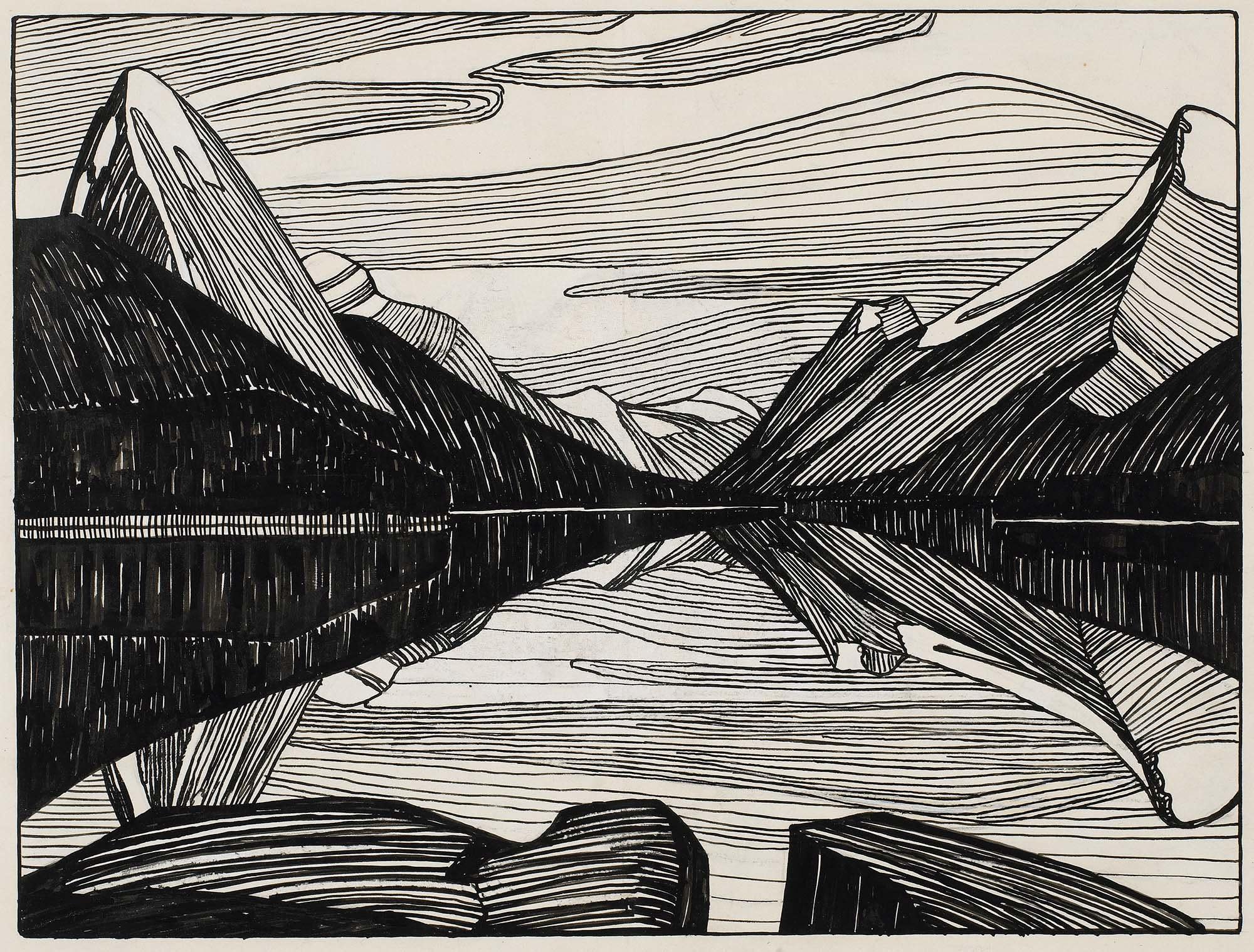 Lawren S. Harris Maligne Lake, Jasper Park 1924 Pen and black ink on wove paper 13 ¾ x 16 in (35.2 x 40.3 cm) National Gallery of Canada, Ottawa (3167) purchased 1925
That same exhibition included, for the first time, ink drawings by Group members that were also reproduced as photolithographs in a portfolio titled Canadian Drawings by Members of the Group of Seven published by Rous and Mann. Harris' contributions included a severe ink drawing after the canvas of Maligne Lake. The drawing was purchased by the National Gallery of Canada. This sketch was one especially chosen by Bess Harris for her collection of exceptional Harris sketches.
Charles C. Hill, C.M. Lawren Harris & Canadian Masters, Alan Klinkhoff Gallery, 2017
Charlie Hill began working at the National Gallery of Canada in 1972 and was Curator of Canadian Art from 1980 to 2014. The exhibitions he organized and publications he wrote include "Canadian Painting in the Thirties" (1975), "To Found a National Gallery. The Royal Canadian Academy of Arts 1880-1913" (1980), "Morrice A Gift to the Nation The G. Blair Laing Collection" (1992) and "The Group of Seven Art for a Nation" (1995). He was co-curator and contributed essays to the catalogues of "Tom Thomson" (2002), "Emily Carr A New Perspective" (2006) and "Artists, Architects, Artisans Canadian Art 1890 – 1918" (2013). He was appointed a Member of the Order of Canada in 2000, received an Honorary Doctorate from Concordia University in 2007 and the Award of Distinguished Service from the Canadian Museums Association in 2012.
Add a comment