Blog
May 21, 2020
Welcome Back
Alan Klinkhoff Gallery Reopens
Our Toronto gallery is now open.
Our Montreal gallery reopens on Monday, May 25.
Reopening is perhaps a misnomer. Throughout the past several weeks, while the doors were closed, the portal at Klinkhoff.ca has remained open 24/7. Due to the investments in our digital platform and the support Jonathan, Craig and I offer from our home offices, it has never been easier for you to purchase a work of art from us.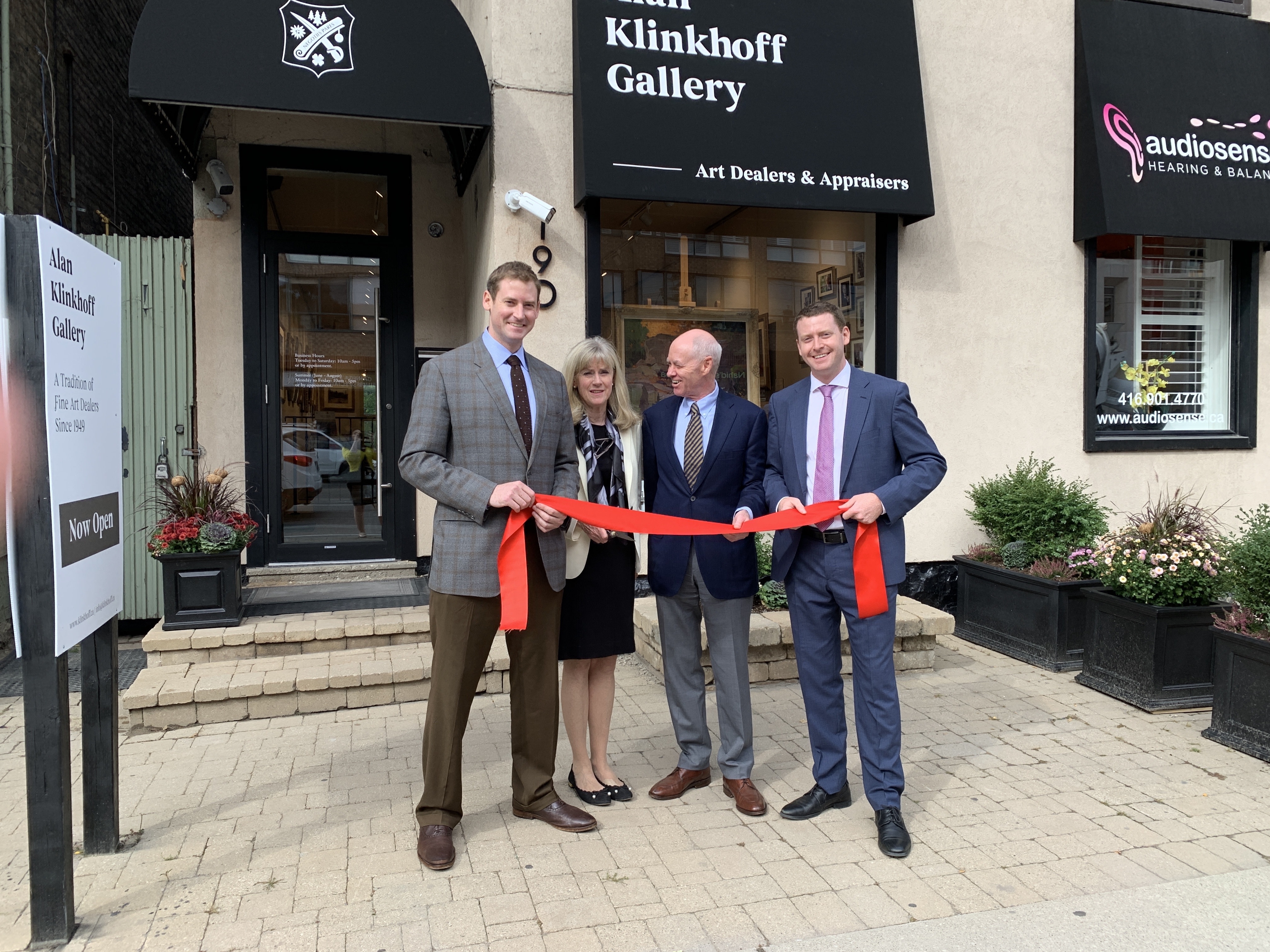 What You Might Have Missed
Our team is committed to offering an unparalleled visitor experience. Every painting we have available in both galleries is online, with multiple images and even the price, without the need to submit an inquiry. We presently have on display virtually (and in 3D!) The Collection of Mitzi and Mel Dobrin, the finest collection of Canadian art for sale in a generation. On May 7, we celebrated the Centenary of the Founding of the Group of Seven with a dedicated online presentation. We have recently written and shared original articles on Arthur Lismer, The Group of Seven and Fred Taylor and more with our email subscribers.
While the physical locations had been closed, phone calls to both galleries were delivered to us directly and email inquiries were answered promptly, often within hours, sometimes even within a matter of minutes. Over the last few weeks, we have welcomed over 20,000 visitors to our website and we have coordinated delivery of more than 30 paintings to destinations across Canada and the United States, among them even a few first-time buyers from us. In some instances, we have been able to make delivery within 24 hours of a purchase.
The Alan Klinkhoff Gallery Advantage
We cannot overemphasize the two most important advantages for sellers consigning high-value fine art to Alan Klinkhoff Gallery.
1. The seller/consignor has control over the selling price of his/her important fine art by consigning works to Alan Klinkhoff Gallery as compared to an auction platform. Never before has control over the selling price of your important fine art been more important than now.
2. The seller/ consignor receives from Alan Klinkhoff Gallery up to 90% of the selling price as compared to a standard auction formula where the seller receives 70% - 75% of the total price charged to the buyer by the auctioneer.
The two most important advantages for buyers to purchase important fine art from Alan Klinkhoff Gallery are;
1. Each work of art we sell is accompanied by the expertise and experience of now three generations in the art business the Alan Klinkhoff Gallery offers.
2. Our clients have the assurance that each work of art is vetted by us, implying it a work of quality, authenticity, in proper restorative condition and is available for purchase at a competitive and fair price.
Moving Forward
Moving forward into the new normal, for those of you who for reasons of convenience, geographic location or government directives are exclusively our guests at Klinkhoff.ca, we encourage your visits with regular additions of artwork to our inventory, all of which are posted online accompanied with their prices indicated. We continue to develop our digital presence with the objectives of enhancing your viewing experience, making it more enjoyable, more informative and more educational.
Although Klinkhoff.ca offers an alternative to visiting in person, Jonathan, Craig and I invite you to visit us at either location now that our physical galleries are reopening. Whatever is your preference for communication, we are always available to discuss any aspect of your fine art collection, including purchases, sales, appraisals, framing, restoration, and transportation. We are available by phone, email and now again at our flagship gallery locations in Montreal and Toronto.
Helen, Jonathan, & Craig join me in wishing you and yours good health.
Alan Klinkhoff
President, Alan Klinkhoff Gallery
Add a comment