Blog
April 4, 2020
Arthur Lismer's only sketching trip to the Rockies left an extraordinary and powerful legacy
Since it's earliest days, the Canadian Pacific Railway has historically had a large footprint in the development of art in Canada. It is precisely and exclusively the CPR's concept of promoting business in their hotels by organizing music and craft festivals that brought Arthur Lismer to the Rockies in 1928. As he had designed a number of sets for Quebec City's Canadian and Folk Song and Handicraft Festival, largely centred in and around CP's Chateau Frontenac Hotel in late May of 1928, Lismer was employed to do the same for the CP's Banff Springs Hotel's Highland Gathering and Scottish Music Festival held at the end of August (August 31 to September 3).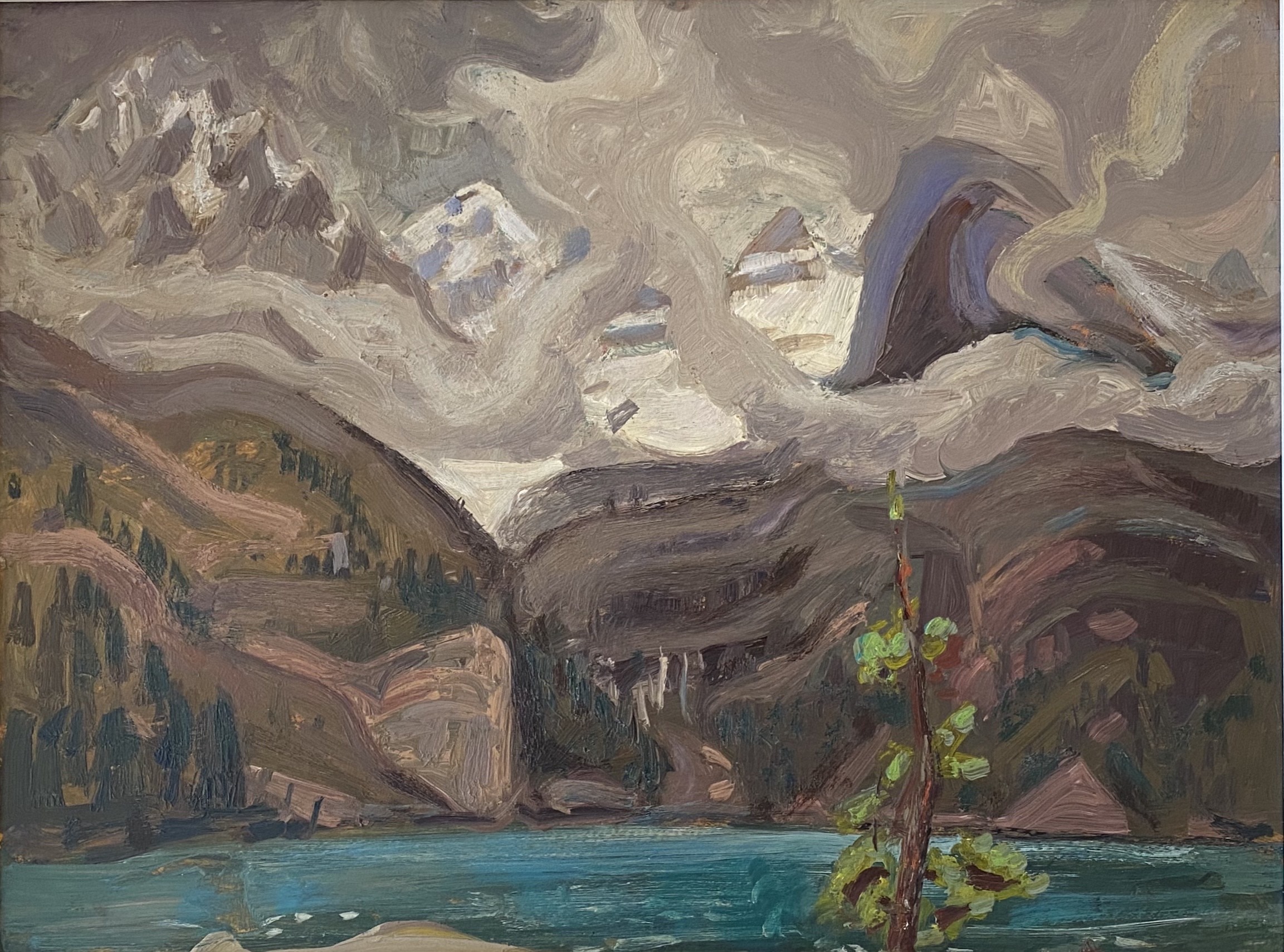 Arthur Lismer 1885-1969
Lake O'Hara, Canadian Rockies, 1928
Oil on board
12 x 16 in, 30.5 x 40.6 cm
Among our most recent acquisitions is Arthur Lismer's sketch in oil of Lake O'Hara featured above. This trip to Canada's Rocky Mountains in 1928 was Lismer's only sketching trip to the Rockies and resulted in an extraordinary and powerful legacy in his oeuvre. When Lismer returned to Toronto from the Rockies, he resolved a number of the oil sketches painted in the region on large canvases in order to capture the magnitude and scale of the vistas and weather he experienced. Hamilton Art Gallery's The Glacier (Glacier Above Moraine Lake), London Ontario's The Glacier, Moraine Lake also known as High Altitude and The Montreal Museum of Fine Arts' Cathedral Mountain are outstanding examples.
It was once at Banff that Arthur Lismer continued on to Yoho where CP had built Lake O'Hara Lodge only a couple of years earlier. Lisa Christensen records from the Lodge that the Lismers, Arthur, Esther and young Marjorie were registered as guests on August 20, 1928. If one assumes that the Lismer's would have returned to the Banff Springs Hotel for the beginning of the festival, this important sketch dates to sometime between August 20 and the 31st of 1928. Emphasizing the CP's contribution to Canadian art by offering accessibility to Yoho with the construction of the Lodge at Lake O'Hara, Lisa Christiansen's research of the Lodge's registry shows that Mr. & Mrs. Lawren Harris, along with their son Lawren, had been at the lodge in mid-July and J. E. H. MacDonald checked in on September 1 of 1928.
Alan Klinkhoff
Endnotes:
1. Christensen, Lisa, Lawren Harris and A. Y. Jackson, A hiker's guide to the Rocky Mountain art of Lawren Harris, 2000, Calgary, Alta: Fifth House. p. 85
2. Sheedy, Erin, Performing the Canadian 'Mosaic'. Juliette Gauthier, Florence Glenn and the CPR Festivals of Quebec City, thesis submitted to the Faculty of Graduate and Postdoctoral Studies School of Music, Faculty of Art, 2014, Ottawa: University of Ottawa, p. 145
×
Add a comment