Blog
January 24, 2014
Arthur Lismer: An Appropriate First Acquisition for the New Alan Klinkhoff Gallery
Walter Klinkhoff bought directly from Lismer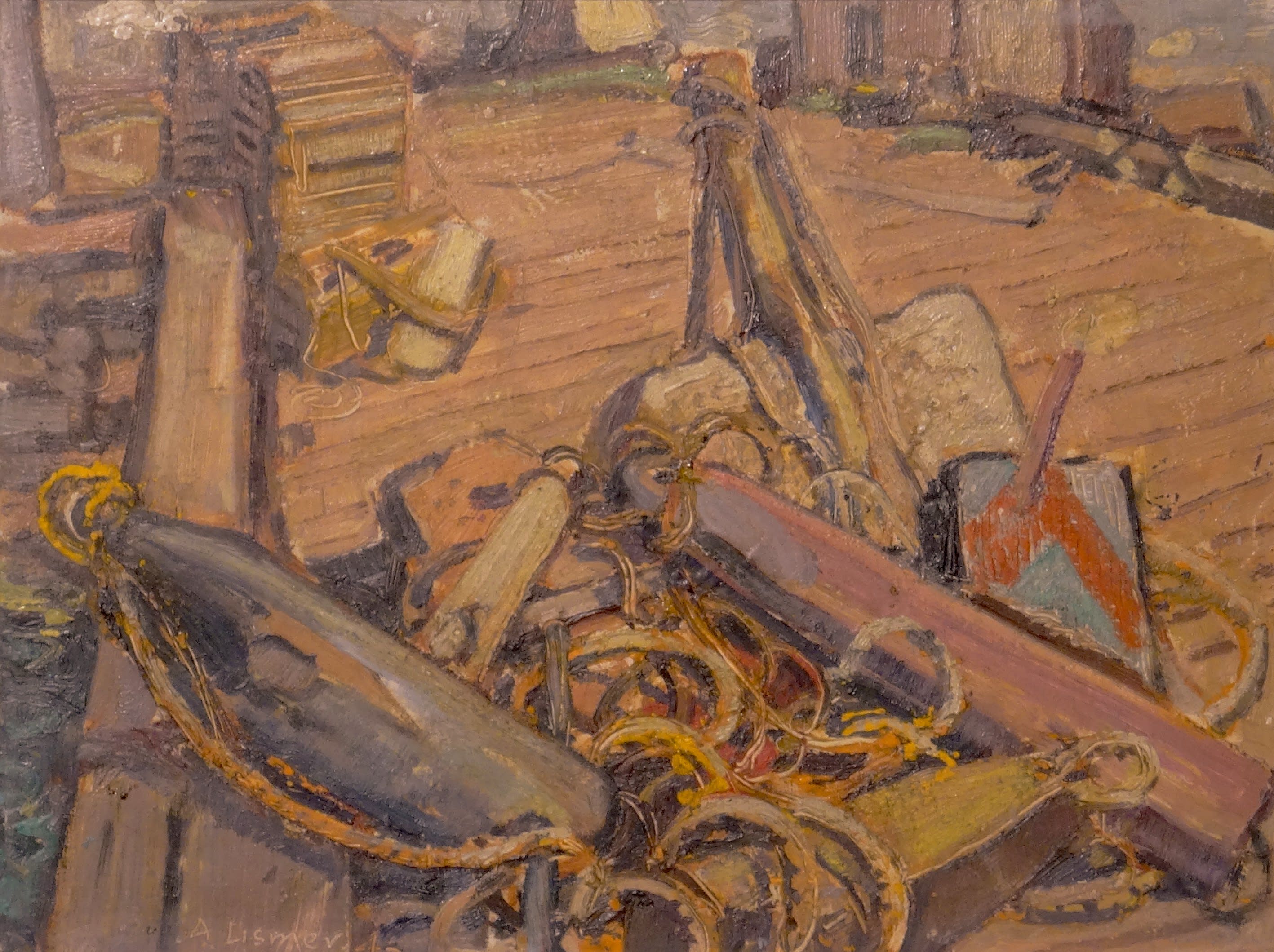 Arthur Lismer, C.C., LL.D., O.S.A., Ropes and Gear, Neil's Harbour, Cape Breton I., N.S., 1946, oil on canvas board
Back in week one at Galerie Alan Klinkhoff, we finalized our first acquisition and for Jon, Craig and I, it was as exciting as it was appropriate that it was a painting by Arthur Lismer, a founding member of the Group of Seven and an artist with whom we are deeply familiar. Ropes and Gear, Neil's Harbour, Cape Breton I., N.S., 1946 is an outstanding composition in a theme and spirit similar to other fine Nova Scotia paintings of the same generation in the collection of The National Gallery of Canada (Floats and Buoys, Neil's Harbour, 1946 and Docks at Ingonish, 1945) and The Art Gallery of Ontario (Dock Vista, 1945). Our excitement is due to the aesthetic virtues of the painting and significance of Lismer's message in this body of work.
Why is it so Appropriate?
In 1985 Dennis Reid, as Curator of Canadian Historical Art wrote of "...Walter Klinkhoff's long standing commitment and sensitive attention to this neglected portion of the artist's career…" (1). Yes, Dad had enormous admiration for this kind of painting by Dr. Lismer and acquired them from the artist and in the marketplace at every opportunity. With great insight and understanding, beyond the literal imagery of this quality of Lismer's oeuvre John McLeish wrote, "Among the fishing towns of Nova Scotia he found lively subject material and characteristically, meaningfulness and significance in the boats and hillocks, the floats and buoys, the tangled and stalwart gear of the fishermen. To him the tools of these rugged, and in some respects still pioneer Canadians were symbolic of a strength and essential fibre which over sentimentalized seascapes and mordant storm scenes had utterly missed. His paintings of so elemental a theme as gear and dock equipment were alive with strength…" (2).
From a personal perspective, however, I am also compelled to transcribe McLeish's last visit with Arthur Lismer, his mission in the spring of 1966 to purchase a Lismer for the Education Building at Brandon University: "…. he (Dr. Lismer) said to me gaily, 'Come John let's see what Lismers they have in the galleries these days,' and off we went Lismer striding like an athletic school boy out into the spring sunshine. We went first along the street to the Klinkhoff Galleries. Lismer disliked most of the private galleries, presumably as profiteers in the people's world of art but he was fond of the Klinkhoffs who were both at their gallery... There was indeed a Lismer, an especially charming one glowing out at us from the wall as the four of us talked and strolled among the paintings. We found no more Lismers that day, and my good friend and I parted in the afternoon, with warm good byes and the usual promises to keep more closely in touch" (3).
Copyright © Galerie Alan Klinkhoff, January 16, 2014
Footnotes:
1.
Canadian Jungle: The Later Work of Arthur Lismer
, Dennis Reid, Art Gallery of Ontario,
1985, p. 8
2.
September Gale, A Study of Arthur Lismer of the Group of Seven
John A. B. McLeish, J. M. Dent and Sons, Toronto, second edition 1973, p. 1863. Ibid. p. 202
Add a comment