Blog
April 11, 2019
John B. Wilkinson's "Montmorency Falls", 1867
Montmorency Falls have been part of pictorial history of the Quebec region since the latter days of the French Regime in North America. The falls have been on my itinerary regularly for more than a half century. When I was age 10, our family regularly vacationed for a few weeks in the summer at Murray Bay, La Malbaie (a 90 minute drive after passing the falls , 40 minutes after one has driven by legendary Baie St Paul. )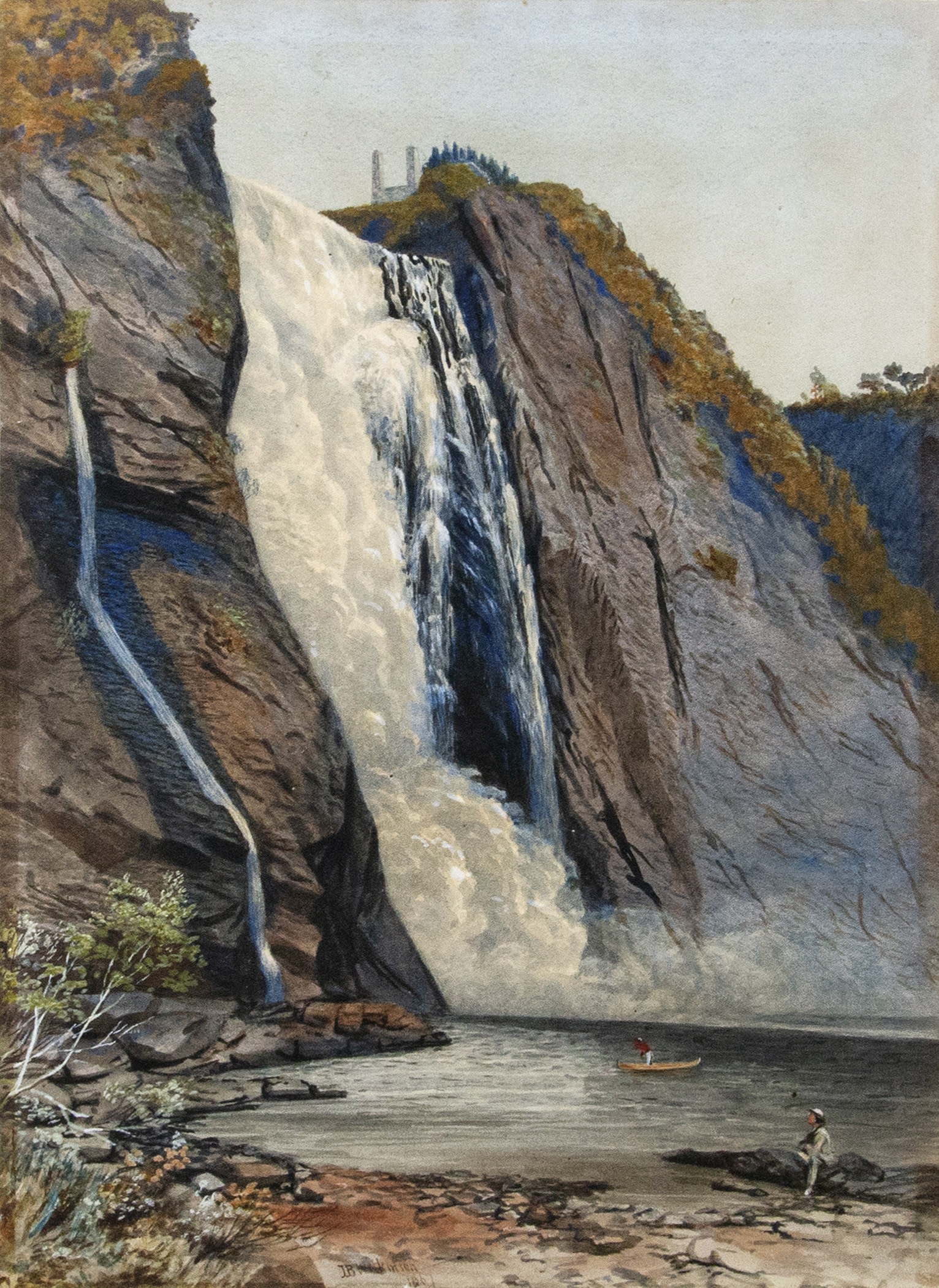 John B. Wilkinson (active 1864 to 1915)
Montmorency Falls, 1867

In more recent decades I regularly made visits to Chantale Jean, a most talented artist we represent, on Ile d'Orleans where from her garden she had a view across the river directly to the Falls. Having marvelled at the natural splendour of the Montmorency Falls, with the rich and lengthy history of the region, it is no wonder that Montmorency Falls have been an irresistible natural lure for citizens, tourists, soldiers garrisoned in Quebec City, and, of course, artists for more than 200 years before I ever saw them. Our watercolour by J.B. Wilkinson is an accomplished composition by one of the highly talented 19th Century artists who described the beauty of the scene in his watercolour dated 1867, Canada's Confederation year. We invite you to read our presentation of this fine composition by Wilkinson.

Additional Reading
By Nadine Di Monte


In December 1864, Wilkinson, originally from England, took up residence in Montreal [1]. Here he was engaged as a tinter at the photography studio À l'enseigne du Soleil d'Or (Sign of the Golden Sun) [2]. Wilkinson worked at this studio alongside fellow artist Joseph Dynes, before leaving in June 1865 to open his own shop at 28, rue Saint-Jean [3]. In his studio, Wilkinson accepted commissioned portraits "on canvas from life or painted copies of miniatures to custom size specifications [4]." Wilkinson became quite celebrated for his portrait work [5].
Montmorency Falls
Montmorency Falls is located a short 15 kilometers outside Quebec City, where the Montmorency River empties into the St. Lawrence. From the 18th century and into the 19th century, it was a popular spot that offered visitors unadulterated forestry, precipitous chutes, and spectacular views of Quebec City. Affluent citizens of Quebec and elsewhere vacationed to the falls in both the summer and winter. Dr. Mario Béland writes that "this 'exotic' and festive site captured the interest of many British officers proficient in watercolour as well as professional painters and photographers" [6].
In the mid 1800s, many elite Englishmen and women toured the mountainous regions of North America and published their accounts. During an excursion to Quebec one affluent traveller, Isabella Bird, wrote:
"The Falls of Montmorenci [...] are beautiful in the extreme [...]. There is no great body of water, but the river takes an unbroken leap of 280 feet from a black narrow gorge. The scathed black cliffs descend in one sweep to the St. Lawrence, in fine contrast to the snowy whiteness of the fall. Montmorenci gave me greater sensations of pleasure than Niagara. [...] Whatever there is of beauty bears the fair impress of its Creator's hand; and if these Falls are beautiful on a late October day, when a chill east wind was howling through the leafless trees looming through a cold, grey, fog, what must they be like in the burst of spring or the glowing luxuriance of summer" [7]?
Wilkinson, along with many other artists — including Corenlius Krieghoff, Washington Friend, Otto Jacobi, James Pattison Cockburn, the American artist Robert S. Duncanson — would capture the grandeur of Montmorency Falls in "the burst of spring" and "the glowing luxuriance of summer."
Wilkinson's vertical format serves to accentuate the pitch of the waterfall, which is depicted here by the artist as a mostly frothing swell, pouring down in a headlong surge over the bluff that is more than 270 feet tall, almost 100 feet higher than Niagara Falls [8]. Wilkinson also paints to the side of the great white curtain that is Montmorency Falls, a slender plait of strokes of blues and whites that rushes down the rockface.
A pair of figures, no doubt two of the previously mentioned affluent vacationers, appear in the foreground. One of the men is standing with his line in the pool, trawling for fish that thrive in white water. The other tourist finds his respite on the bank, with his head cocked slightly upward as he takes in the majesty of the falls. Both the figures play only a minor role in the setting, their dwarfed scale reiterating the immensity of the massive chutes.
This 1867 watercolour features a stone tower at the peak of the falls, remnants of a failed bridge that was built more than a decade earlier. On April 30, 1856, the wire suspension bridge that spanned the top of the falls — and that was erected only five days earlier — collapsed, leading to three fatalities [9]. The stone towers, though they suffered some damage, remained intact [10].
Watercolour in 19th Canadian Art
The medium of watercolour in 19th century Canadian art has a history of interest. Jeremy Adamson as Curator of Canadian Historical Art at the Art Gallery of Ontario back in 1978 published text for the exhibition From Ocean to Ocean, Nineteenth Century Water Colour Painting in Canada.
"Water colour was the most widely used pictorial medium in Canada from the late eighteenth century through 1900," Adamson explains [11]. "...men, women, settlers and visitors, artists and amateurs alike," he continues, "...recorded the topography, celebrated the grandeur of nature, and delineated the faces, activities and creations of early Canadians" [12]. Most of these early artists were British born or taught. Many were instructed at the Royal Military Academy at Woolwich under Paul Sandby, the Drawing Master from 1769 - 1799, where these artist cadets trained to achieve proficiency in recording detailed topographical views of the terrain [13]. Whether or not Wilkinson was a Brit and, perhaps, one trained at Woolwich is only a matter of conjecture. Certainly the present watercolour of 1867 is of a level of accomplishment exhibiting clear professional training.
Landscape painting in Canada evolved and artists sought to be not only topographically accurate but to evoke the poetic essence of the countryside [14]. John B. Wilkinson's Montmorency Falls of 1867 reveals not only the artist's powers of observation but his ability to capture the grandeur of Canadian landscape.
Endnotes
1. Mario Béland, "John B. Wilkinson's Ice Cone at Montmorency Falls, Klinkhoff.ca, Alan Klinkhoff Gallery, 28 February 2015, https://www.klinkhoff.ca/blog/6028/
2. Ibid.
3. Ibid.
4. Ibid.
5. In an 1865 article in Le Journal de Québec, Wilkinson received the following praise: "We want to draw the reader's attention to Mr J. B. Wilkinson, a portrait-painter who has been living for some time among us. We have seen his canvases and we can say that he is both a clever and a conscientious painter. [...] Engage this painter, above all when you want large portraits, since you will get something better for the same price and for even less. Mr Wilkinson awaits you; he is excessively moderate in his prices. See: Untitled, Le Journal de Québec, 13 June 1865, p. 2
6. Béland, 2015, https://www.klinkhoff.ca/blog/6028/
7. Isabella Bird, The Englishwoman in America, (London: John Murray, Albemarle Street, 1856), p. 286
8. Specifically, Montmorency Falls is 272 feet or 83 metres tall, a full 99 feet (30 metres) taller than its Niagaran counterpart (Office du tourisme de Québec, "Parc de la Chute-Montmorency", https://www.quebecregion.com/en/businesses/attractions/natural-sites/parc-de-la-chute-montmorency/ Accessed 22 March 2019)
9. Appendix to the Fifteenth Volume of the Journals of the Legislative Assembly of the Province of Canada. From the 26th of February to the 10th of June, 1867, Both Days Inclusive, in the Twentieth Year of the Reign of our Sovereign Lady Queen Victoria, Being the 5th Provincial Parliament of Canada, Session, 1857. Vol., 15, Issue 7, (sl., Order of the Legislative Assembly, 1857), p. 129
10 Ibid.
11. Jeremy Adamson, From Ocean to Ocean: Nineteenth Century Water Colour Painting in Canada, (Toronto: Art Gallery of Ontario, 1978), p. 2
12. Ibid.
13. Ibid.
14. Ibid., p. 5
Add a comment