Blog
February 20, 2019
Unveiling of a Sketch by Emily Coonan
Alan Klinkhoff Gallery is pleased to share with our community exciting results accomplished by our restorer who recently cleaned a fine Emily Coonan sketch that we had purchased. His removal of some 100 years of discoloured varnish and grime from a sketch served to unveil a sensitively painted composition in terms of Impressionism.
Emily Coonan's

"Sketch"

before

Emily Coonan's "Sketch"

after cleaning and varnish removal
"Sketch" during cleaning
Upon our initial inspection, the intention of Emily Coonan, among the most enigmatic of the Beaver Hall artists, was masked by a century of accumulated dirt and discoloured varnish. The quality of this fine sketch was, thankfully, what we had anticipated. The dramatic result, with flashes of dazzling blue, green, yellow and red touches reveals what we believe to be a Parisian park scene.

Art Historian Karen Atanki notes that "...Coonan's work betrays an affinity with the intimist images and pictorial vocabulary of Bonnard, Vuillard, and especially James Wilson Morrice" [1]. In its freshness and impressionistic style of the present "Sketch" certainly reveals the influence of Morrice.

It is likely that our "Sketch" dates to Coonan's trip to Europe in the September 1912, during which she, along with Mabel May, "...explored Paris, visited art exhibitions and went on numerous sketching excursions" [2]. The two women continued on to Northern France, Belgium, and Holland before Mabel May set off for the U.K. and Emily Coonan returned home to Montreal in 1913 [3].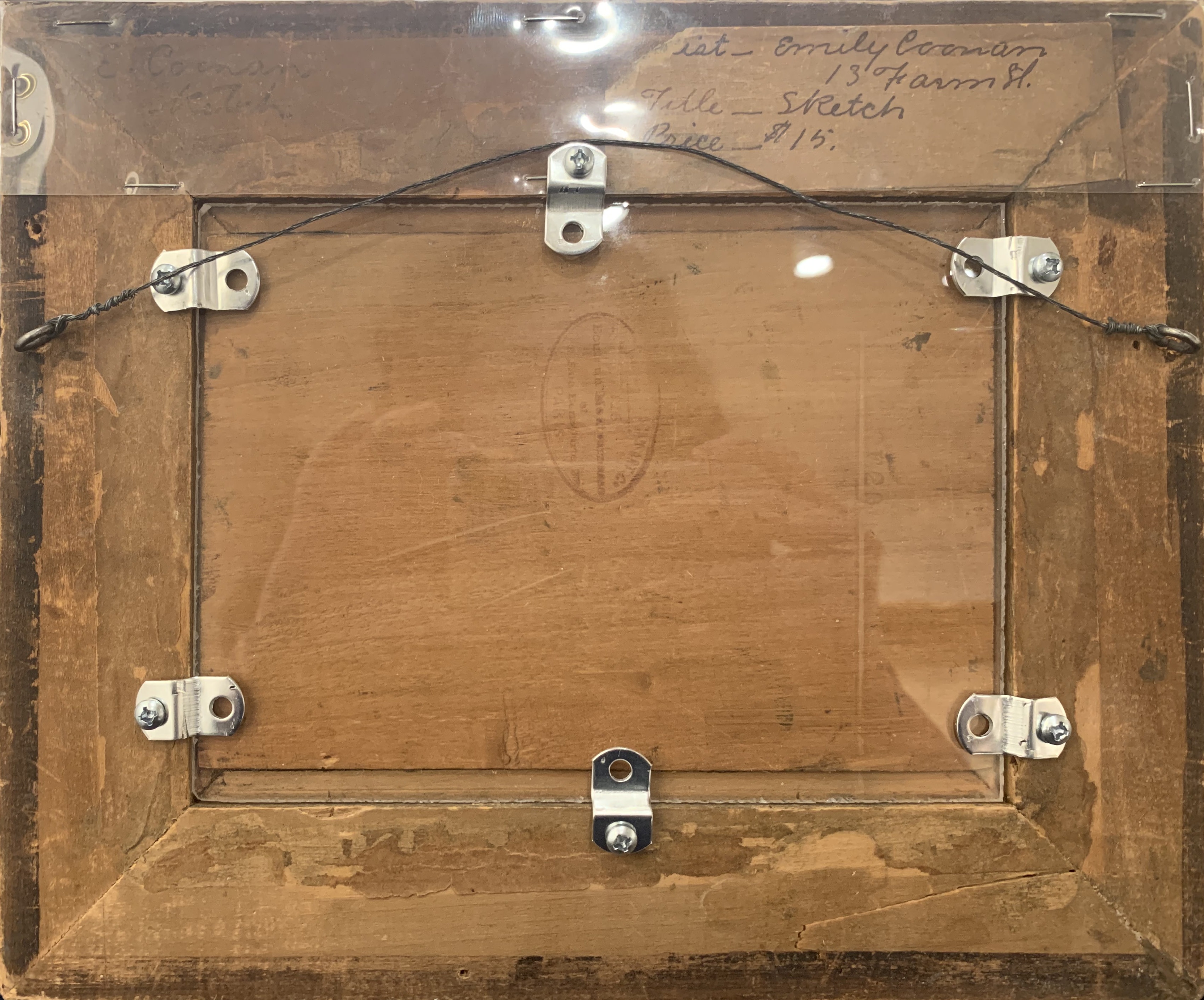 Verso of "Sketch" Probably Paris, with Coonan's pencil inscription and handwritten artist's label affixed to the original frame.
The oval stamp on the reverse of the panel with the markings of the "Paris American Art Co. / 125 / Boul du Montparnasse / et / 2 Rue Bonaparte / PARIS"
The address of 13 Farm Street indicated on Emily Coonan's handwritten label is that of the family home in what was primarily a blue collar Catholic area of Montreal. Since the numbering of the street address numbers changed after 1930, this work would have been offered prior to that year. The oval stamp on the reverse of the panel with the markings of the "Paris American Art Co. / 125 / Boul du Montparnasse / et / 2 Rue Bonaparte / PARIS" likely confirms our hypothesis that the location of the scene is in Paris.
Karen Antaki concluded her pivotal 1987 study of Coonan as follows, "Acclaimed throughout the first half of her lifetime, she was an unusually talented painter with a rare sensitivity. As early exponents of Canadian modernism, Coonan's pictures must now claim their rightful place in the art history of this country" [4].
Fully 30 years later little more is known about Emily Coonan's life beyond her paintings than Ms. Antaki disclosed in her publication.
Over the intervening years Galerie Alan Klinkhoff has transacted some particularly fine paintings, confirming Coonan's high level of artistic ability mentioned on numerous occasions in the art reviews of Art Association of Montreal and Royal Canadian Academy of the Arts exhibitions in the day.
Church at Notre-Dame-du-Portage (Near Cacouna)
Oil on canvas board, 14 x 11 in (35.6 x 27.9 cm)
Provenance
By descent to the present Private collection, Montreal.
Exhibitions
Montreal, Concordia Art Gallery, September 16 - October 24, 1987, no. 44, titled and exhibited as Church at Cacouna.
Presently available for purchase for a price of $7,500.00
Read More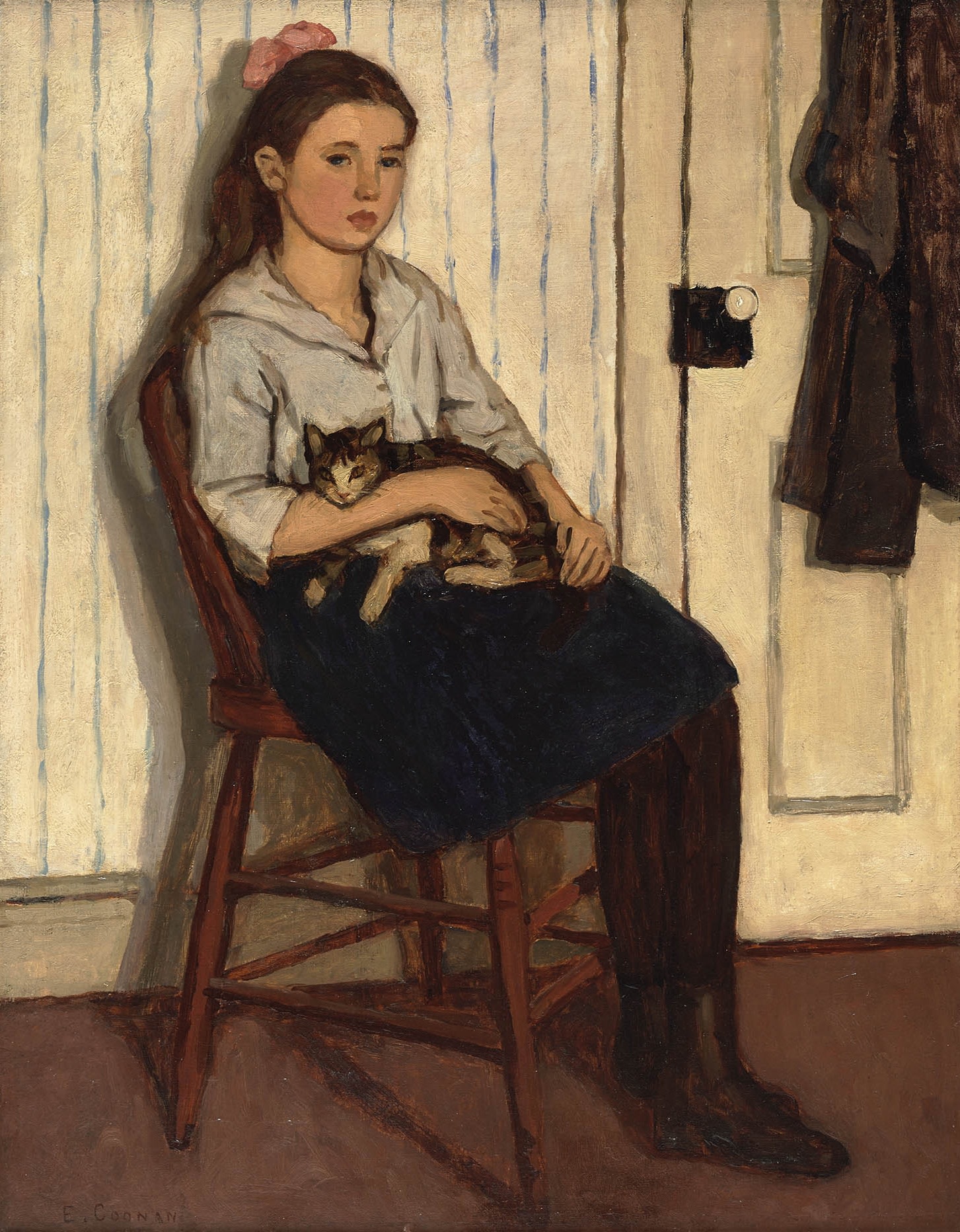 Girl and Cat, 1920
Previously sold by Alan Klinkhoff Gallery to the National Gallery of Canada (No. 46231)
"Sketch" (Probably Paris)
Oil on panel, 4 1/2 x 7 in (11.4 x 17.8 cm)
Recently sold by Alan Klinkhoff Gallery
Coonan's only other documented trip overseas during which this work may have been painted was in 1920/21, when she spent a year abroad sponsored by National Gallery of Canada. Coonan was the first recipient of the National Gallery's Travelling Scholarship, awarded to her for being "the most promising student" of the year [5]. While it was in 1914 when Emily Coonan was granted this scholarship, because of the outbreak of the first world war, her trip was delayed six years later.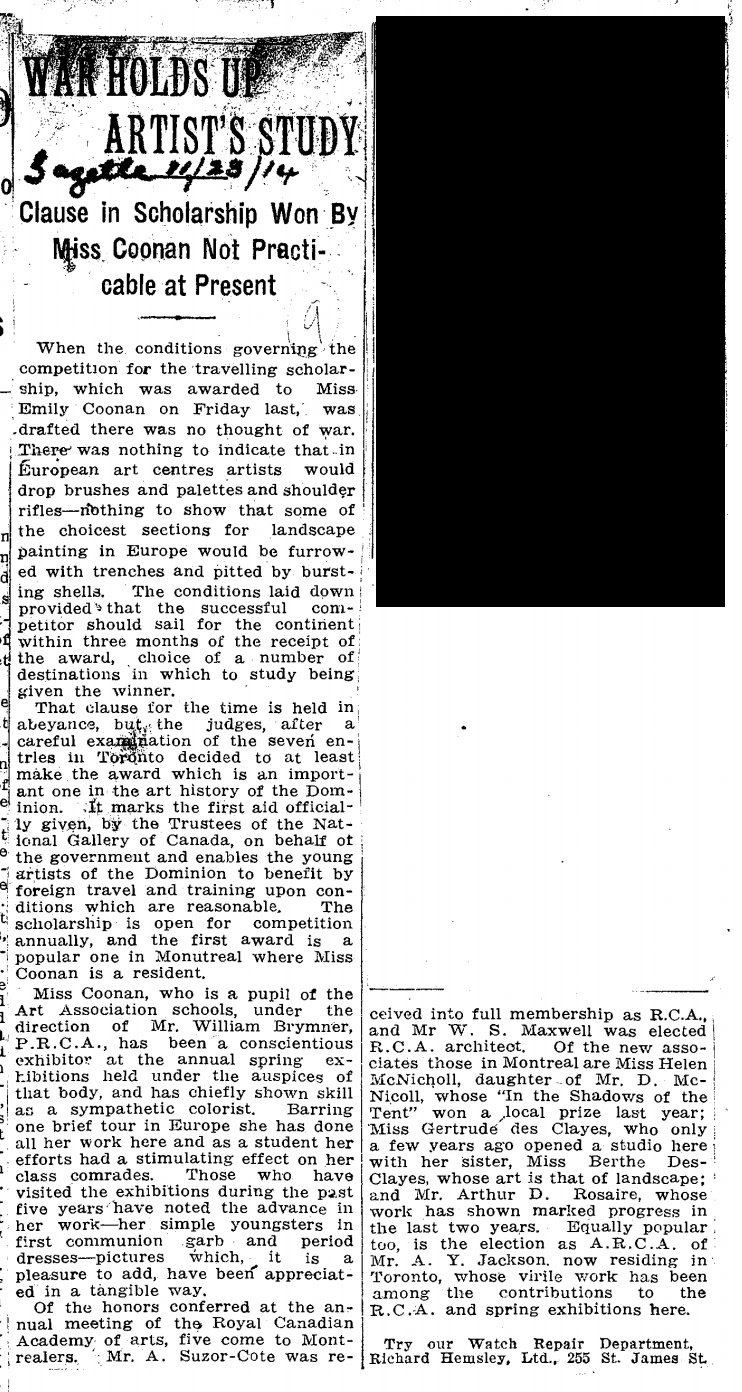 "War Holds up Artist's Study", Montreal Gazette, 23 November 1914
Although the opportunity to put this beside a number of other small Coonans of 1912/13 and others of 1920/21 would be useful in its dating, in the interim we speculate this of the earlier generation, one when she painted among her most celebrated works, such as Children by the Water , The Green Door (Art Gallery of Hamilton), and First Communion (Musée des beaux-arts de Montréal).
Whether it is 1912/13 or 1920/21, the picture stands on its own merit as a precious and extremely rare testimony to Coonan's important contribution to the canon of Canadian female artists.
Works Cited
1. Karen Antaki, Emily Coonan (1885-1971), (Montreal: Concordia University, 1987), p. 9
2. Ibid., p. 22
3. Ibid.
4. Ibid., p. 22
5. "Two Will Wait till War Ends", Montreal Gazette, 7 September 1915, p. 5
Add a comment