Blog
December 22, 2009
A sumptuous Sarah Robertson sold by the Klinkhoffs
The Canadian Women Artist Database at Concordia University notes, appropriately for The Blue Sleigh, that "Robertson is known for her rich colours, and the sumptuous, jewel-like quality of her work." [1] Dr Barbara Meadowcroft, author of Painting Friends, The Beaver Hall Women Painters and fellow Beaver Hall Group member Anne Savage add that '' Sarah's paintings reflect her capacity to charge ' every tiny experience with an intense emotional ecstasy.' [2] She loved nature and that love is expressed in her work." [3] Of the Beaver Hall Group women who maintained their friendship for the better part of 30 years, she was conceivably the least prolific, making fine paintings by her especially rare and precious for Beaver Hall Group collectors.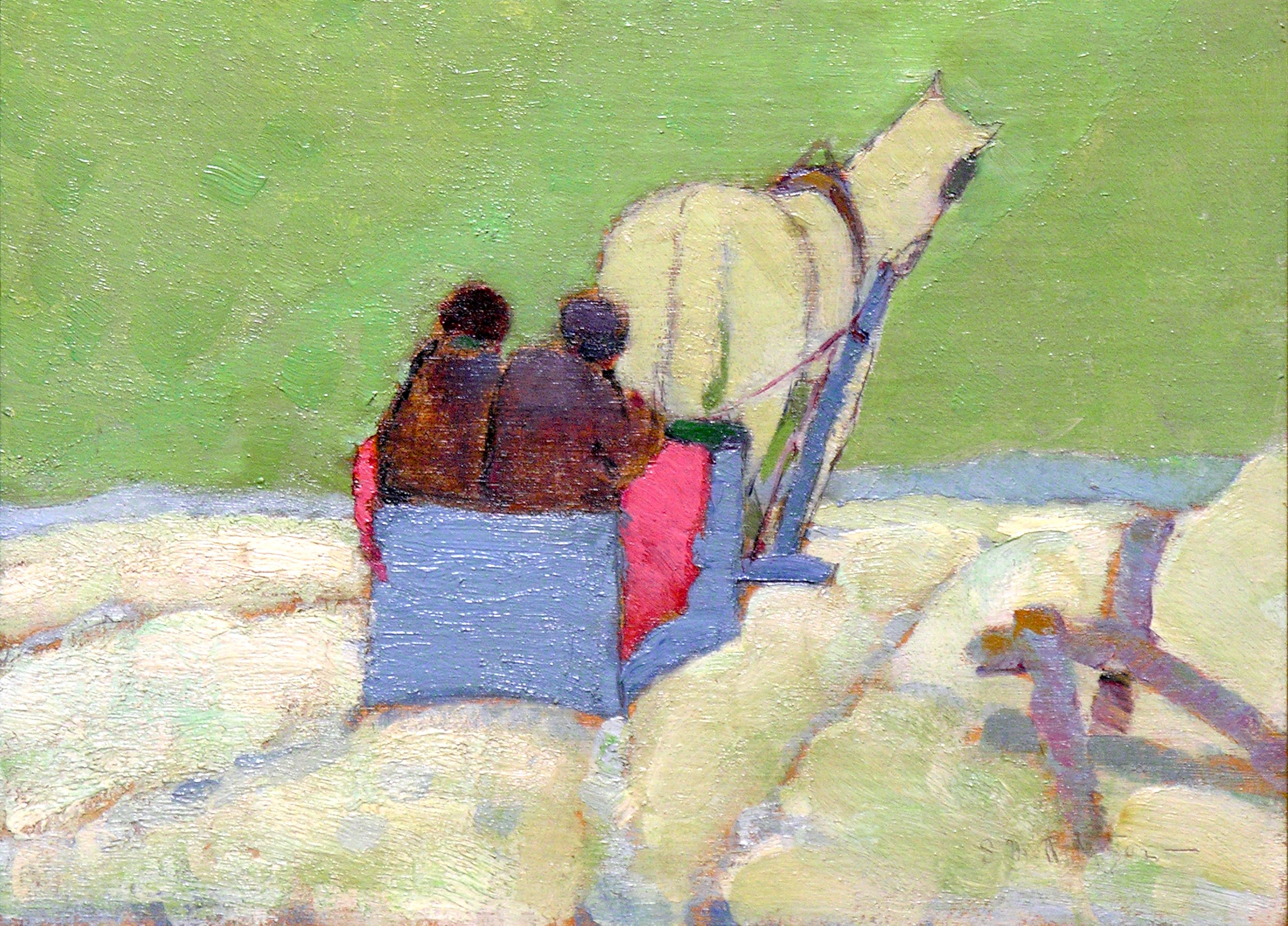 Notes: Study for "The Blue Sleigh", Tom Thomson Memorial Art Gallery, Owen Sound.
Exhibitions: Wembley, England in 1924, the RCA Exhibition of 1925, The National Gallery of Canada, 1926 and the CNE also in 1926 and other exhibitions of the period. "The Blue Sleigh" canvas was also featured in "The Group of Seven, Art For a Nation", (Charles C. Hill, National Gallery of Canada, 1995).
"Group of Seven: Art for a Nation" (Charles Hill, National Gallery of Canada, 1995)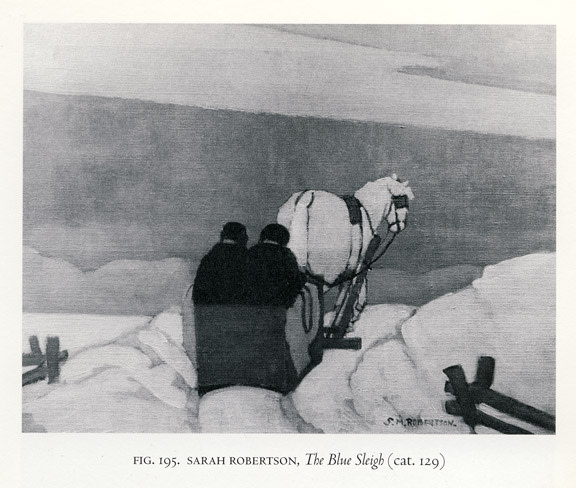 Sarah Robertson, "The Blue Sleigh", c. 1924, the oil on canvas at the Tom Thomson Art Gallery in Owen Sound, as reproduced in the exhibition catalogue "Group of Seven: Art for a Nation" (Charles Hill, National Gallery of Canada, 1995).
After studying art under William Brymner, Maurice Cullen and Randolph Hewton, Sarah Robertson became one of the ten women who are now popularly referred to as The Beaver Hall Hill Group. According to the catalogue of our 1991 Retrospective Exhibition in her honour, a brochure researched and composed by Dr. Barbara Meadowcroft, ''Sarah Robertson was at the hub of the group. … Prudence Heward, in particular, relied on Sarah's criticism, and always showed her paintings to Sarah before anyone else.... Sarah's (painting) circuit was limited. She stayed with the Hewards at Fernbank, near Brockville, visited Nora Collyer in the Eastern Townships, or family friends in Stowe Vermont.'' [4]
Sarah Robertson participated in numerous group exhibitions including the Art Association of Montreal (1919-45), the Royal Canadian Academy of the Arts (1920-23, 1925-27, 1934), and as a Founding Member of the Canadian Group of Painters exhibited in 1933, 1934, 1936-39, 1942, 1947, with the Ontario Society of Artists from 1927 through 1930. Paintings by her were also exhibited in the Canadian art shows at Wembley, England in both 1924 and 1925.
Her only solo exhibitions, two in number, were post humous, the first a Memorial Exhibition held at the National Gallery of Canada in 1951 and the second at Galerie Walter Klinkhoff 40 years later in 1991, celebrating the 100th anniversary of Robertson's birth.
Footnotes
[1] Canadian Women Artists: Artist Database, Concordia University , Montreal
[2] Anne Savage Notes for Lectures on Canadian Women Artists
[3] Barbara Meadowcroft, Sarah Robertson Retrospective Exhibition, Galerie Walter Klinkhoff, September 7 - 21 , 1991 p. 1
[4] Meadowcroft p. 6
Add a comment