Blog
July 16, 2016
Powerful Psychological Paintings by Philip Surrey
The summer or winter backdrop of Montreal's plexes and the symmetry of their spiralling exterior staircases, in one of our paintings a lone full figured mini skirted female, walking under night skies appears in the crosshairs of car headlights, a man at the wheel, and the other, two women strolling along Ste Catherine Street, the miniskirted one in the distance highlighted in red by the light cast from a store she is passing, the headlights of a single car seen in the distance, a lone woman crossing a Westmount street near Surrey's home on a wet night, illuminated by light coming from the store window, a red traffic light glaring overhead of a man walking in the shadow, a figure, almost imperceptible on a St Henri street, each introduces us to an artist who describes vulnerability, loneliness, mystery and sometimes even the triste.


Rue Henri Julien, 1970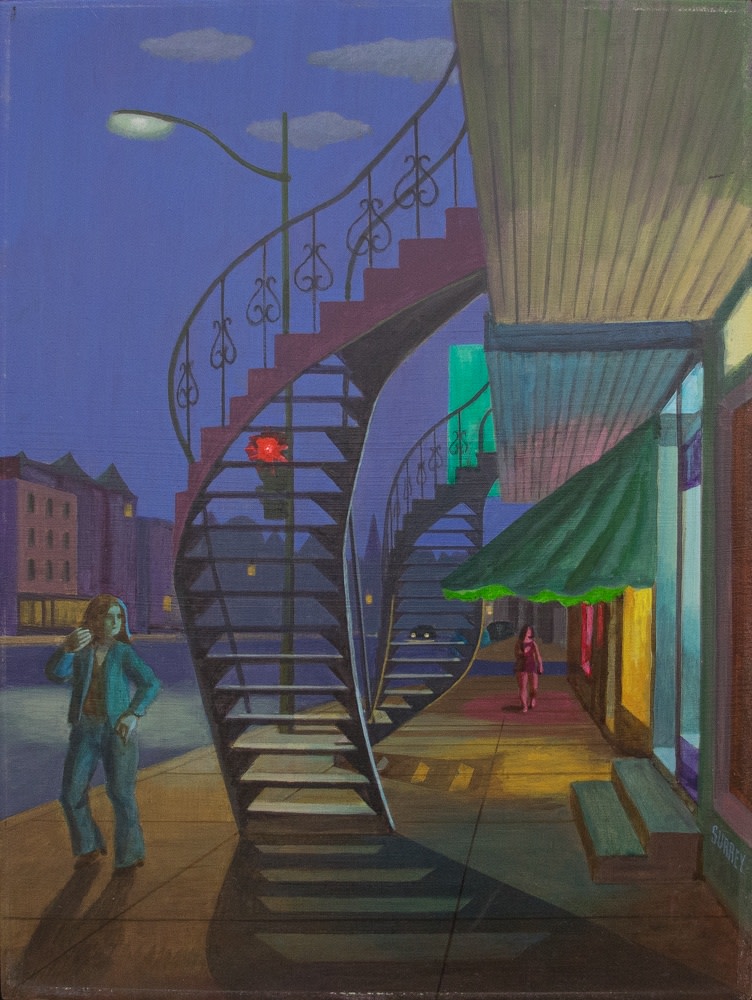 Ste. Catherine St. at St. Clement, July-August 1973
Surrey's preoccupation with loneliness suggests greater meaning and complexity to Road to St-Remi and Ile Bizard.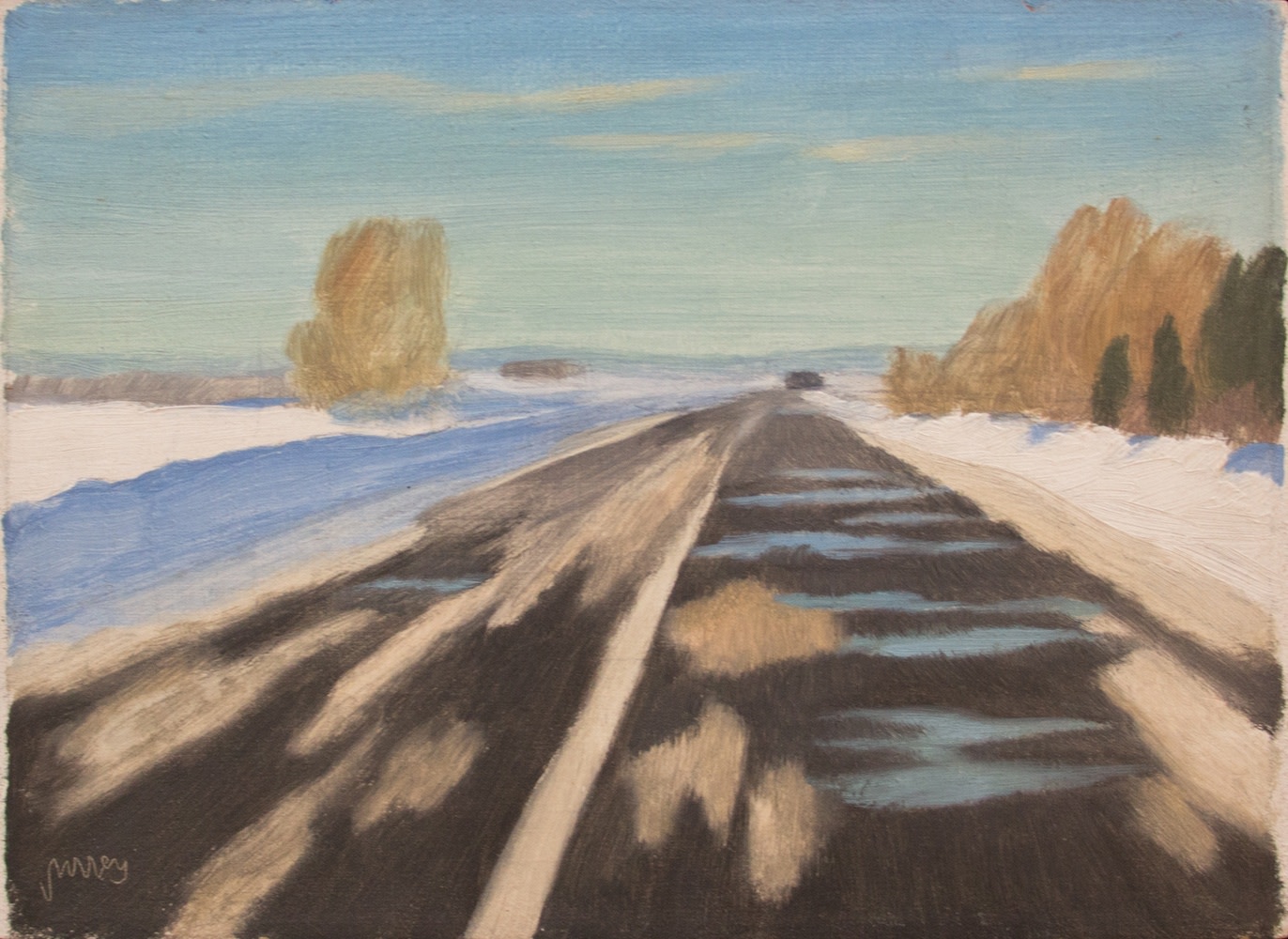 Road to St. Remi
Evening on Ile Bizard, 1966
The masterfully executed drawing of a 1950s cinema with the iconic Ballad of High Noon written by the artist at a date much later than the drawing, copied by a man who subsequently took his own life permits a haunting interpretation.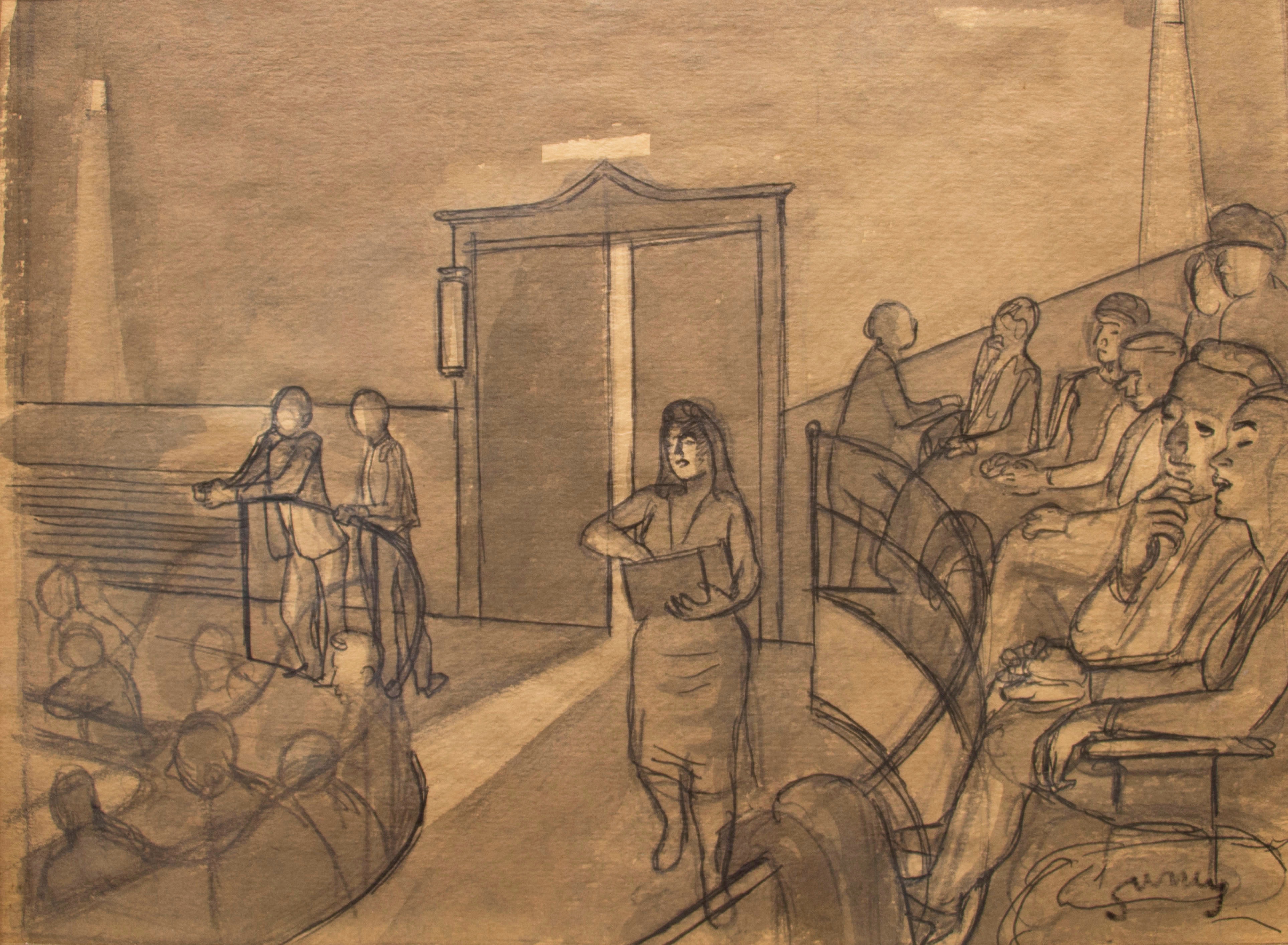 Cinema, c. 1960

An apparently innocuous composition of a motel, a car arriving pulling into a motel parking lot at dusk with someone walking across to the ice machine prompts any number of ideas as to what might happen next.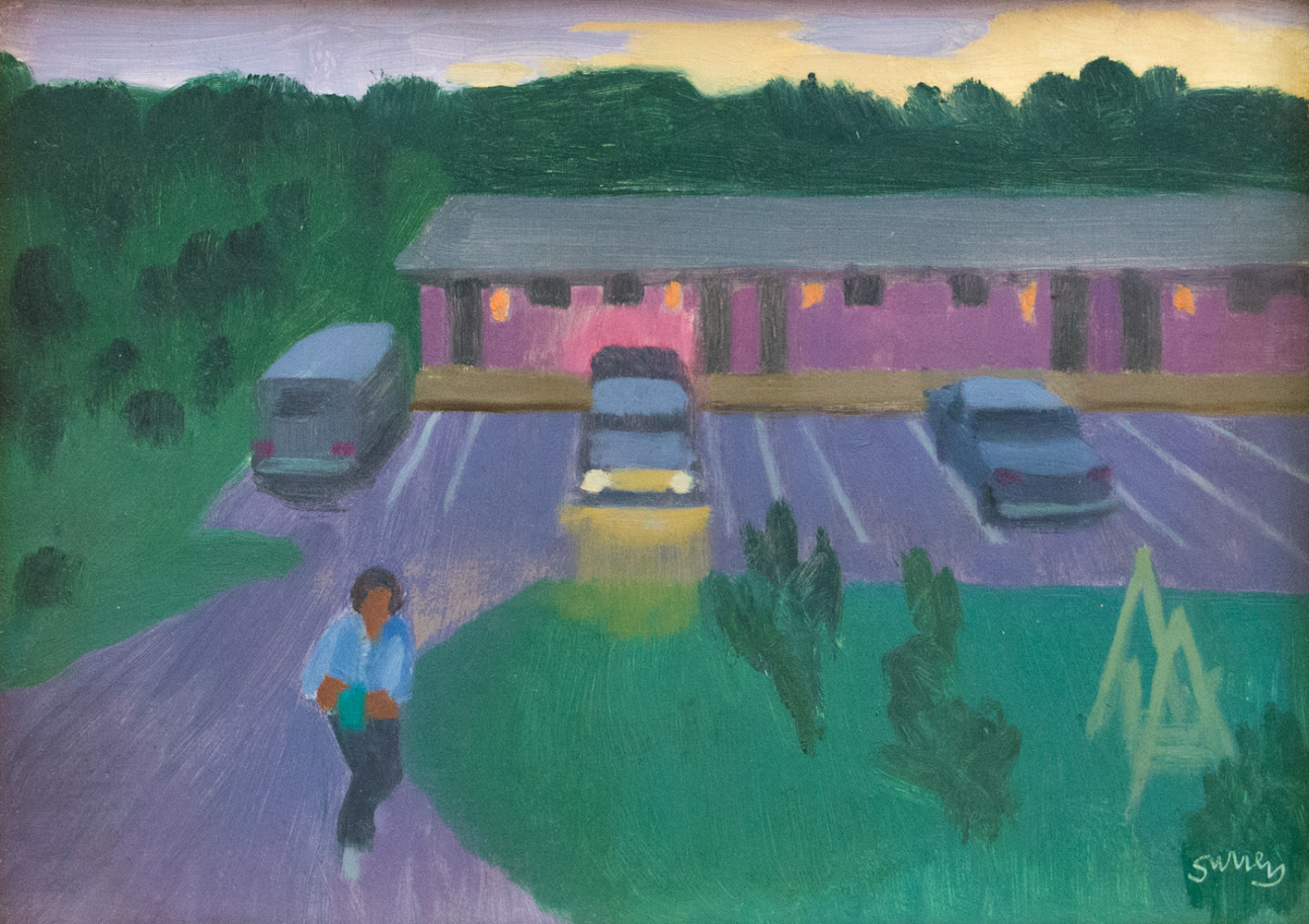 Going for Ice, New Brunswick, 1972
Surrey's self portrait aboard the icebreaker CGS D'Iberville in 1958 recalls a few lines he wrote in his autobiographical notes reading:
"Each individual is alone, cut off. Each wonders how others cope with life. A work of art is a particularly complex statement, valuable because packed with meaning... Like icebergs, four-fifths of our personalities lie below the surface; of the fifth that shows, only part can be expressed in conversation. The only effective outlet for all deeper feelings and thoughts is art."
Aboard CGS D'Iberville in Fog, 1958

As has been said about the celebrated American artist Edward Hopper, Surreys are "powerful psychological paintings." We are of the conviction that Philip Surrey is one of the few Post WW ll figurative artists whose important contribution to Canadian art has yet to be properly recognized by the institutions and by the market place. Rarely have we had such a varied selection of works of art available by Philip Surrey. While many, most, are small in size, looking at them as a group allows for a greater appreciation and sense of the importance of artist than seeing them individually here and there. We encourage your purchase of these fine example of his work.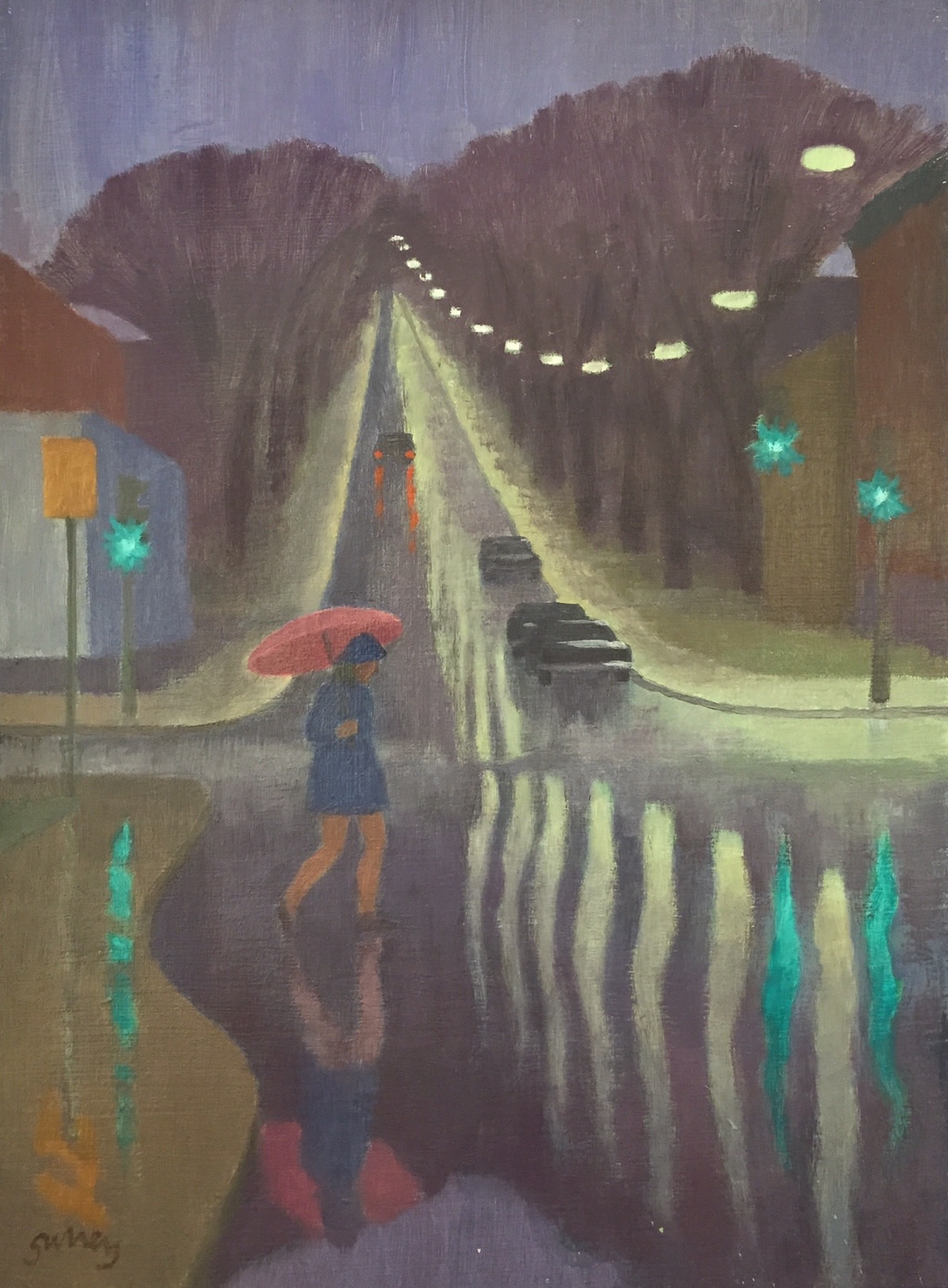 Westmount Street Scene, c. 1970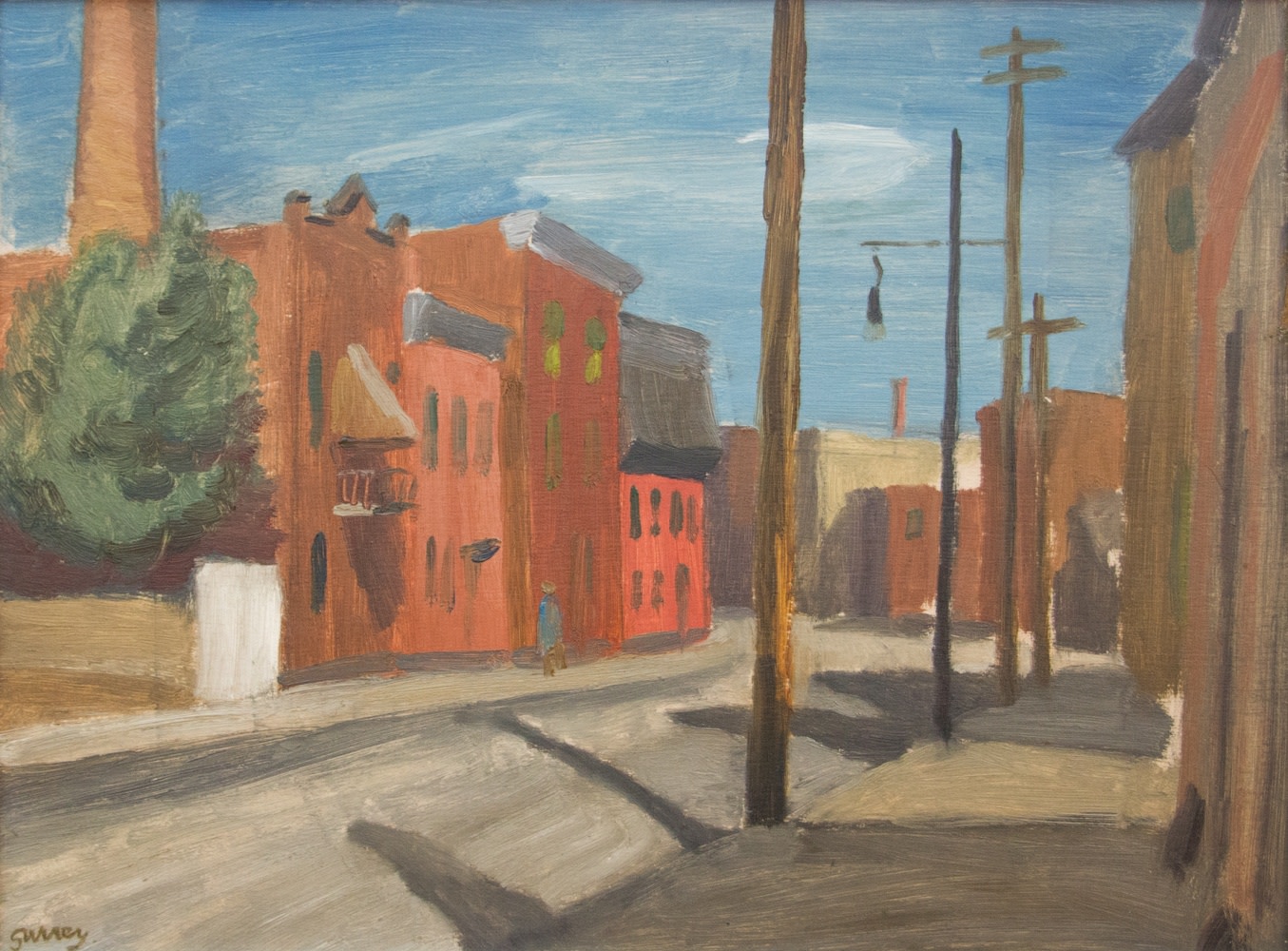 St. Henri, 1952
Add a comment