Blog
October 22, 2014
Krieghoff Illustrates "Thorny" Problem within one of Britain's Finest Regiments
By Alan Klinkhoff
"They played hard. These were enjoyable years, plenty of soldiers with little or no work to do." -An unattributed quote, from an historian of the period.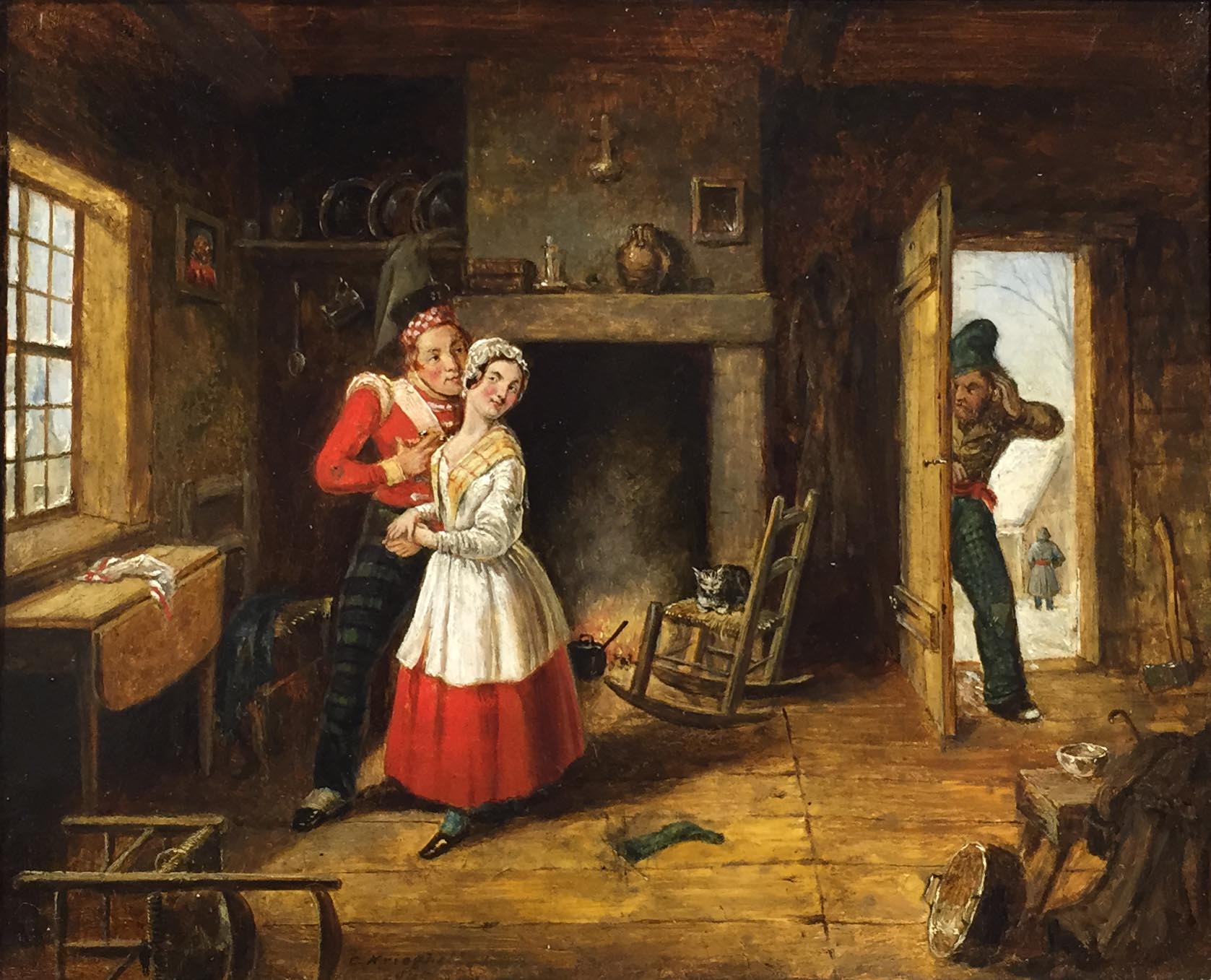 Cornelius Krieghoff (1815- 1872), "The Jealous Husband", 1845
During the War of 1812, the Fort at Chambly served as the headquarters for British and Canadian soldiers defending Montreal from attacks by American armies to the south. But by 1814 there was little activity except briefly in 1837, when some troops were deployed to quell the rebellions in both Upper and Lower Canada . The Fort at Chambly had become a rather relaxed place.
In an undated but old Guide to Fort Chambly from the Department of the Interior, Parks Canada, we uncovered the following:
"At the end of the hostilities [in the Peninsular Wars] it [Fort Chambly] served as a resting place for soldiers of the regiment of The Duke of Wellington on their return from the war with Spain. Then began a period of social activity, 'They played hard' remark the historians, 'Those were enjoyable days, plenty of soldiers and little or no work.' The freedom of their manners and their constant fetes, the abundance of their banquets, where they sang danced and laughed with the highest spirits..."
From the uniform, and the date of the painting we identify the soldier featured in Cornelius Krieghoff's "The Jealous Husband" as a member of the 71st Highland Light Infantry, one of the most effective regiments in British military history, arriving at Fort Chambly in 1843. According to accounts of the day the military posted in the region did have the kind of "discipline" problem Krieghoff illustrated. Soldiers often took wives in Canada, other people's wives. The painting would have been hugely popular because the 19th century public understood the situation related so brilliantly in this one scene.
A visitor to our web site, seeing the image of "The Jealous Husband", generously wrote us of The Orderly Book of Captain John Nairne (1731-1802) detailing events and orders given to the regiment in 1762 when the 78th Fraser's Highlanders lived in Quebec City (John Nairne Fonds, Library and Archives Canada). He wrote that:
"The regiment had to deal with the thorny problem of soldiers taking up with local wives. The wife in the 18th century was the husband's "property." Nairne's book tells in only a couple of lines how carefully the officers dealt with a John McDonnel who was hiding the wife of Francois Aubic. McDonnel refused to return the wife so they had him confined to barracks and then threaten to have him courtmarshalled if his friends continue to hide the wife. Presumably the wife was returned because no more is mentioned in the Orderly Book."
Copyright Galerie Alan Klinkhoff, October, 2014
Add a comment