Blog
Feb 1, 2018
Morrice Painting of Montreal A Rare Discovery
Painting sold by Alan Klinkhoff Gallery is unique in artist's oeuvre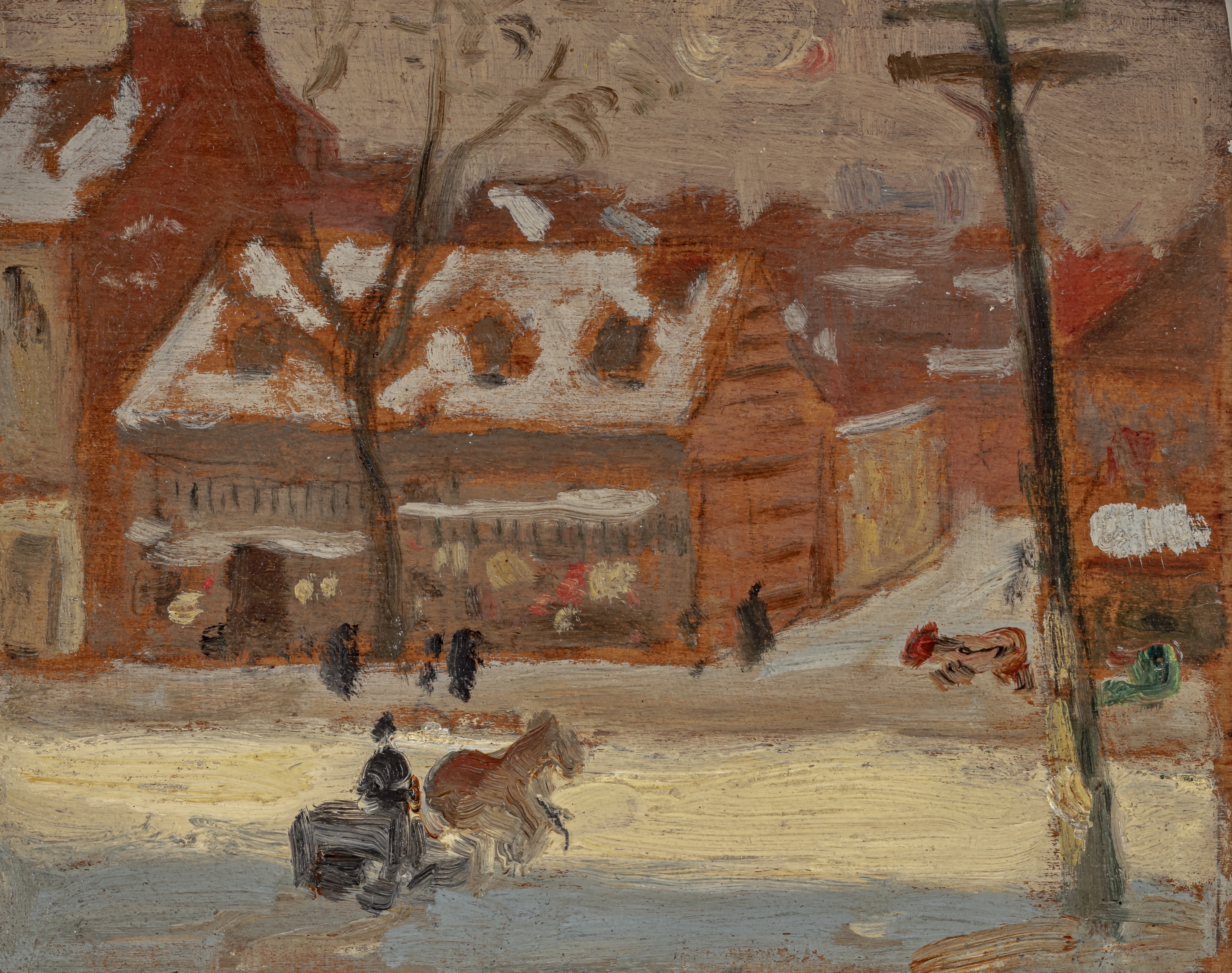 Some Morrice sketches, or pochades, are easily identified and/or dated, thanks to a drawing in one of his sketchbooks, or the date the related canvas was exhibited. But this panel is not related to anything else; its location (city and street) is not obvious, and its dating even less. It depicts twin low houses, probably built in wood (no firewalls) in the traditional style we associate mostly with Quebec province. It is the end of the day, and the brightly lit interiors reveal their transformation into commercial premises; a higher building, with a bigger window, rises at its left. A small lane borders its right side, covered in clapboard; a tall grey form rises in the background. The winter sun is slowly setting, the scene is not yet entirely dark, but the names of the stores are already illegible. The only sure thing about this sketch is that it was painted in Canada.
When Morrice visited his parents in Montreal, usually around Christmas and approximately every two or three years, he always spent some painting time in Quebec City and its vicinity, away from family obligations. But our houses' low profile and wood construction do not really belong to Old Québec, built high and narrow – mostly in stone -- inside its walls. Montreal subjects by the artist are more rare, except following a visit in early 1906: his sketchbook from that year depicts buildings on Sherbrooke Street and in Old Montreal, but nothing that resembles our houses. Actually, most of the grey stone buildings we see there today were built before 1900, including the city's first skyscraper on Place D'Armes. Wood construction was banned from Old Montreal in 1721, but it was still allowed outside the fortifications (demolished from 1804 onwards). After the great fire of 1852, some were rebuilt with the same overall aspect, but in stone or wood covered with bricks, with firewalls; most functioned as commercial ventures, for example near the intersection of Craig Street (now St- Antoine) and Saint-Laurent.
Maurice Cullen loved to paint the old stores in that area, especially at twilight or later, when their interiors were brightly lit; his well-known painting Old Houses (formerly Old Montreal) from 1908 (Montreal Museum of Fine Arts) is a good example, showing the typical type of construction that followed the 1721 edict: in grey stone, with firewalls between each dwelling; these were on Notre- Dame, across from the Old Court House, a site now occupied by La Sauvegarde highrise; the one on the left, restored by the insurance company, is still standing.
To find small buildings like the one Morrice painted, you had to go further than the central core, in the Faubourgs like Saint-Louis (à M'lasse) north-east of Old Montreal, or Saint-Joseph towards the south-west, and as far as Griffintown. They have since vanished, sacrificed to big projects like the Ville-Marie expressway or the Maison de Radio-Canada. Needless to say, besides some very specific photo collections, images of such humble premises are hard to find. A rare image in the Album Edmond Massicotte shows a low uilding very close in style and purpose to ours; a sign identifies the right half as a laundry shop. "James Scott & Co.", visible in the background, moved to the north side of St. James (Saint-Jacques) Street, a few blocks west of Windsor (now Peel), around 1910. Today, this whole area is a landscaped exit from the underground expressway, but a century ago the Bonaventure train station stood just across the street. A few blocks north, Windsor Station welcomed the train from New York, the one Morrice took after disembarking from a French steamer – and vice-versa when returning to Paris. Morrice's sketch could have been painted in this area: similar converted houses bordered La Gauchetière and other streets. The tall grey structure in the background could provide a clue, if it were not so vague...
Although Morrice's sketch was not painted in Old Montreal, it shows similarities with the Cullen canvas: low buildings with brightly lit interiors seen from the same angle, framed by two tall black "trees" silhouetted on a grey sky. Is it only a coincidence, or did Morrice see his friend's canvas in early 1909? Cullen sent Old Montreal to the Spring Exhibition of the Art Association, but Morrice left the city before the opening. His time in Montreal that year was focused on showing and selling a group of canvases, with a short escape to Québec and Montmorency. Not surprisingly, we have only a few drawings (in Sketchbook #15, MMFA), and only one documented sketch from that trip, the Study for "View Towards Lévis from Quebec", a canvas shown in Paris the next April; like the present sketch, it is painted on a wood panel of a shade darker than usual, and the pencil marks are kept to a minimum. Montreal Winter Scene could very well date from the same trip, even if there is no trace of a similar subject in the sketchbook (which includes a drawing directly linked to the Lévis study).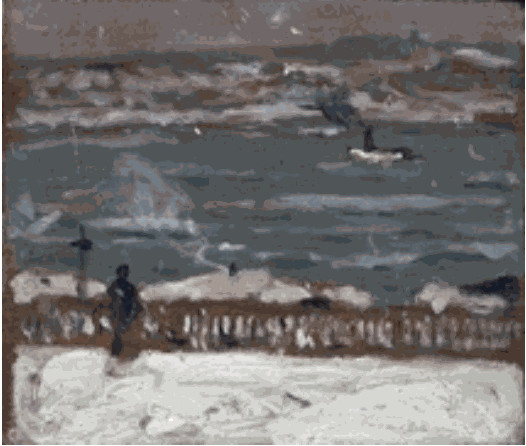 Morrice's next winter visit to Montreal was for the 1911-12 holidays, but he eventually left for Tangier; his sketchbook is lost, and so far I have not found any Canadian sketch from those years. His homecoming of December 1914 was marked by the passing of his parents and yet another escape, this time to Cuba. The sketches from this period are characterized by a generous use of pencil drawing and, after 1913, a painted ground. Our Winter Street Scene, with its few pencil marks and its exposed bare wood in the central section, is clearly earlier. On the other hand, on a technical and stylistic ground, it is hard to include it among the many sketches done during an early 1906 sojourn; and none of the numerous drawings in that trip's Sketchbook (#16) relates to our rare subject. All considered, "circa 1909" seems the most probable date for our sketch, making it a rare souvenir from that winter visit to Montreal.
Text by Lucie Dorais. All Rights Reserved.
Add a comment