Blog
December 1, 2021
Still Life with Lemons and Orange by Stanley M. Cosgrove
by Alan Klinkhoff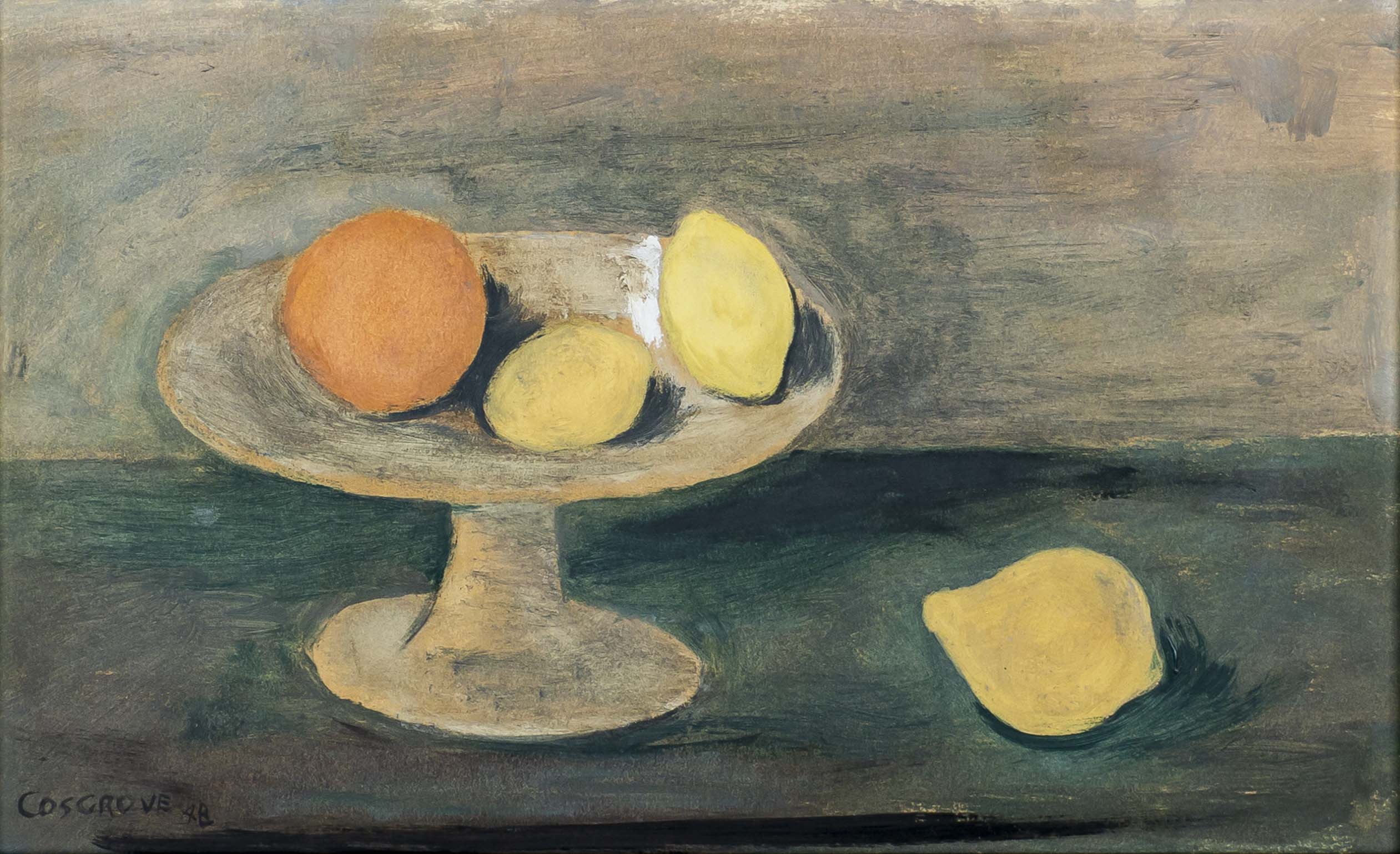 Stanley Cosgrove (1911-2002), Still Life with Lemons and Orange, 1948. Oil on board, 8 x 12 1/2 in (20.3 x 31.8 cm). Sold.
This period of the late 1940s and early 1950s finds Stanley Cosgrove unquestionably at his most vital and original. Still Life of 1948 is a particularly fine and rare example of his work to become available in the market.
Cosgrove's Still Life of 1948 makes for an interesting comparison with the work of the Italian artist Giorgio Morandi, who painted what are highly important and valuable still lifes of this same period. The thin application of paint and limited colour palette of Still Life, 1948 can also be linked to Cosgrove's training with Jose-Clemente Orozco. That experience to study alongside the Mexican muralist was the result of a twist of fate. His European art study scholarship was preempted by the outbreak of World War II. Cosgrove went instead to Mexico.
Even before that fateful trip, after studying at the École Des Beaux-Arts, Cosgrove had assembled an impressive resumé:
At the Art Association of Montreal, he took drawing classes from Edwin Holgate, who became a lifelong friend. After completing his studies, Cosgrove spent several months painting in the Gaspé, with the support of arts benefactor Huntley Drummond, and three summers in the Charlevoix, along with Jean Paul Lemieux, Jean Palardy and Jori Smith. In 1938, he assisted Holgate in painting a mural for the Canadian pavilion at the New York World's Fair.
The year 1939 proved to be pivotal for Cosgrove. He held his first solo show at the École des Beaux-Arts de Québec, and exhibited with the Contemporary Arts Society and at the Musée du Québec [1].
In 1949, the year after he painted Still Life, 1948, Cosgrove was invited to exhibit alongside Paul-Émile Borduas, Goodridge Roberts, and Irène Legendere at the National Gallery of Canada in the exhibition, Four Painters of Quebec.
Cosgrove's limited colour palette and choice of subjects serves to emphasize that his focus was elsewhere. He was interested in composition and balance, and continuously rearranged elements to create sophisticated paintings. He was also an outstanding draftsman. About his treescapes, Cosgrove said, "They're not trees. They're not trees at all. They're just perpendiculars and horizontals. That's what they are to me. Why do I repeat them? Repetition is what painting is all about, repetition of themes, repetition of subject matter. Paint. That's all a painter wants to do" [2].
Having written the above, Cosgrove's true versatility in content has never been properly acknowledged. As he said to Alan Klinkhoff in the mid 1980s, in oils his landscapes are of four seasons, he painted the still life, and he painted excellent figures. Cosgrove's charcoal drawings are also highly accomplished.
The artist first achieved considerable success when represented exclusively by Montreal's Dominion Gallery, a gallery that also had the exclusive representation of the Emily Carr Estate, the work of E.J. Hughes and for a period of time also Goodridge Roberts. Upon leaving Dominion Gallery, Cosgrove offered his paintings for sale in galleries across Canada, including that of our family at Walter Klinkhoff Gallery.
Paintings by Stanley Cosgrove are represented in among the leading private and public Canadian collections, including the National Gallery of Canada, the Montreal Museum of Fine Arts, the Musée national des beaux-arts du Québec, the Art Gallery of Ontario, Hart House at the University of Toronto, and the Vancouver Art Gallery.


Endnotes
1. National Gallery of Canada, "Stanley Cosgrove", gallery.ca, n.d.
2. Ibid.
Add a comment