Essay
October 10, 2019
Goodridge Roberts
While studying at The Art Students League of New York, where Goodridge Roberts was "[t]aking courses with American painter and founder of the Ashcan School, John Sloan, he (Roberts) began a lifelong commitment to modernism" wrote Sandra Paikowsky, a longtime scholar of Roberts' career and art.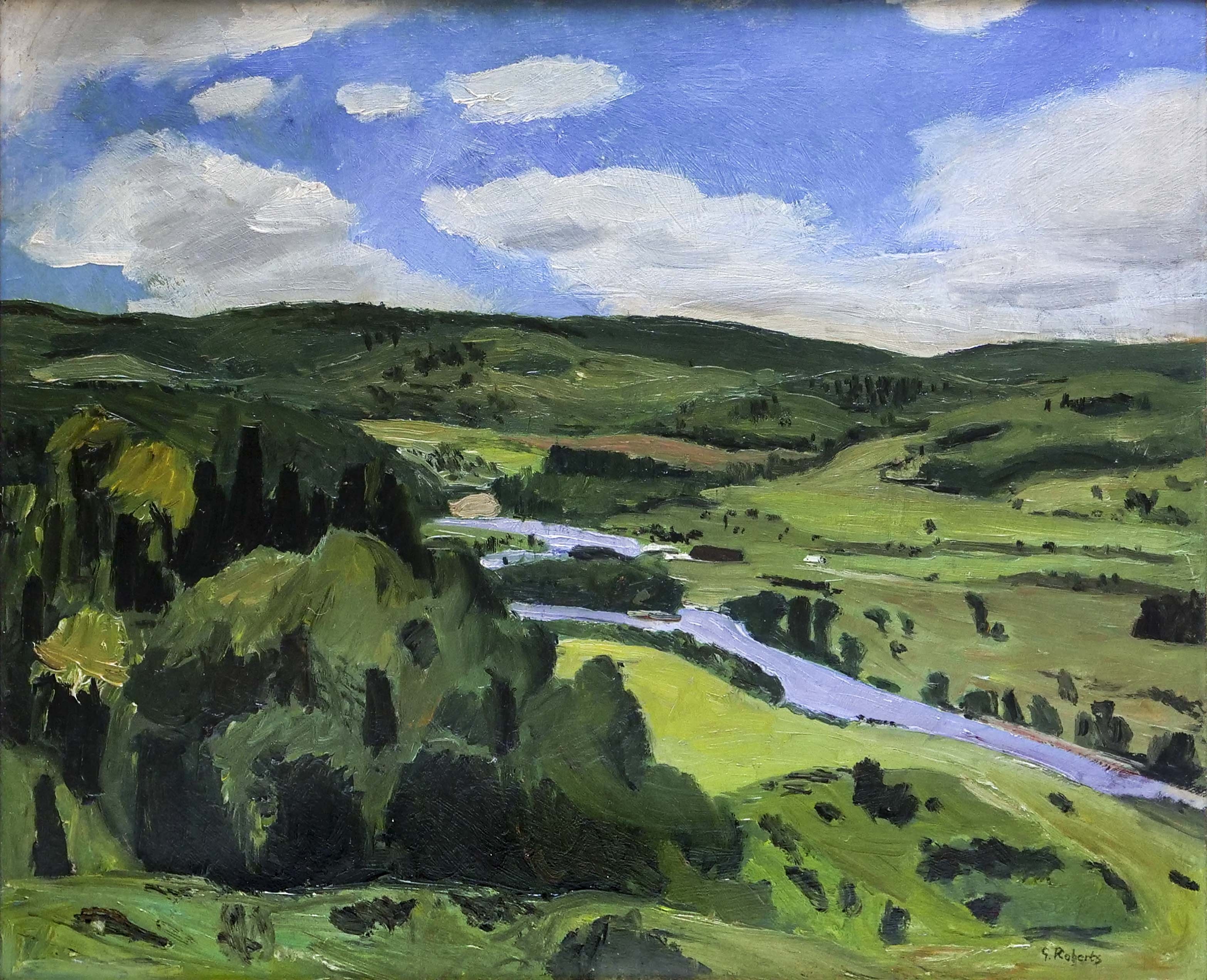 Goodridge Roberts, LL.D, R.C.A., O.S.A. 1904-1974
Rivière du Diable, circa 1940
Oil on board
20 x 24 in (50.8 x 61 cm)
Provenance:
Libby's of Toronto, Toronto;
Private collection, November 1997;
Private collection
Goodridge Roberts' credentials find him first as a teacher at the Art Association of Montreal, followed by artist in residence at Queen's University, then a War Artist for Canada, and one of Canada's first participants in the Venice Biennale in 1952 along with Alfred Pellan, David Milne and Emily Carr. In 1944, Roberts signed a contract with Montreal's Dominion Gallery for an exclusivity as a gallery in selling his works. With the quality of painting Roberts was providing Dominion and the astute marketing strategies of Dr. Stern, over the years, his paintings did develop a growing demand. By 1957, when Roberts was unsuccessful in an attempt to negotiate with Dr. Stern an acceptable increase in his guaranteed annual income, the exclusivity was terminated and numerous other art dealing galleries vied to show Roberts' work. At Walter Klinkhoff Gallery, Dad used to tell the story about him calling Joan Roberts to find out when her husband would be returning from a sketching trip. Dad's motive was to try and be the first to Roberts' studio to make a selection of paintings to purchase. His ongoing success culminated in a Retrospective Exhibition circulated by the National Gallery of Canada and, in 1998, another Retrospective, this time at the McMichael Canadian Art Collection.
His paintings are represented in numerous museums across Canada including the National Gallery of Canada, the Montreal Museum of Fine Arts, the Beaverbrook Gallery, Fredericton, the Art Gallery of Ontario, Vancouver Art Gallery and the Musée national des beaux art du Québec.
Add a comment