Blog
August 16, 2018
Brandtner Painting Reveals Concern for 1930s Social Issues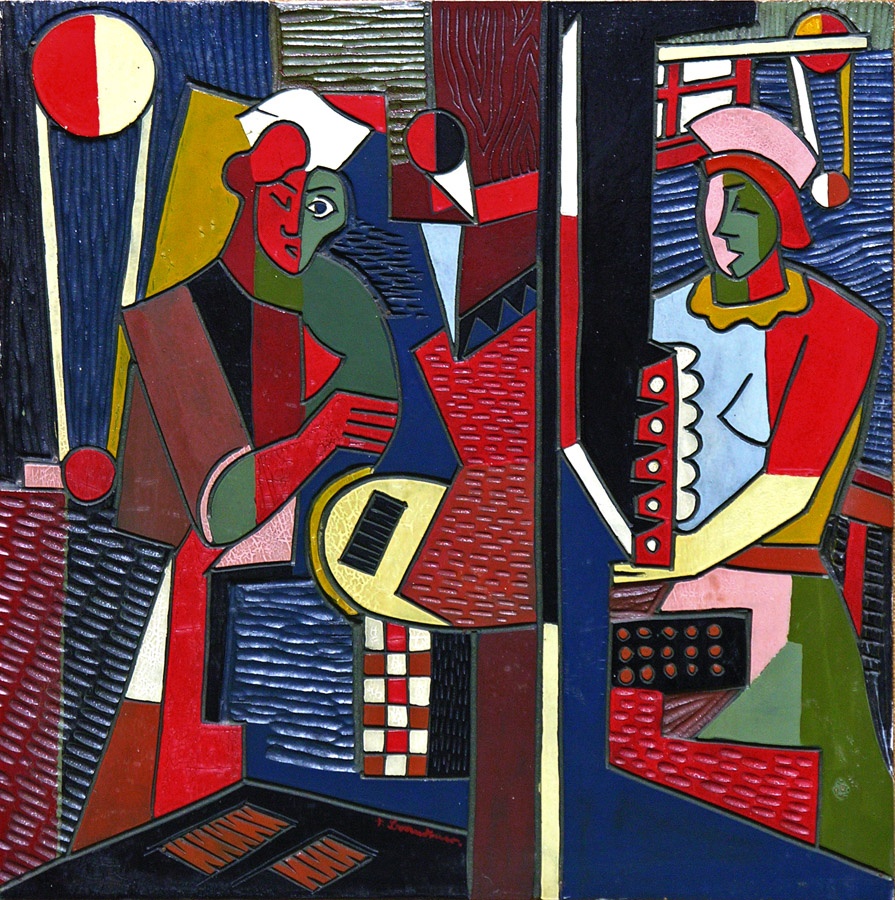 Friedrich Wilhelm (Fritz) Brandtner (1896-1969)
Factory Worker (Machine Shop), c. 1938/9
Oil on linoleum panel, 12 x 12 in (30.5 x 30.5 cm)
SOLD
In the 1930s and 40s, Fritz Brandtner's art revealed his concern for some of the social issues raised during the Great Depression and World War II. Among his preferred subjects of this type are those related to children's health and factory workers.
In Canada, Brandtner was not only an early artist to address social issues but also one of the most experimental artists of his generation. His styles range from more traditional modernist landscapes and still lifes to Cubism and works that are altogether abstract. His materials included oils, watercolours, charcoal, carved linoleum, encaustic, and prints.
Brandtner arrived in Canada in 1928, settling in Winnipeg. Lemoine Fitzgerald, a native of Winnipeg who was the 10th artist to become an official member of the Group of Seven, encouraged Brandtner to move to Montreal because of its experimental art scene, and Brandtner did so in 1934. In Montreal, he met artists Louis Muhlstock, André Biéler, John Lyman, and Anne Savage. He also met Dr. Norman Bethune, a renowned physician, amateur artist and a prominent communist. Bethune's causes included advocating for socialized medicine in Canada and he and Brandtner shared an interest in the health of underprivileged children. Bethune provided medical treatment while Brandtner started art programs, believing that art could offer these children a path to regaining their emotional and physical health. In 1936, Bethune, Brandtner, along with Marian Scott, founded the Children's Art Centre.
The widespread effects of the Great Depression and World War II elevated the public consciousness of issues like poverty and the plight of the working class. It was the beginning of a global debate, with forces that would reshape Canada and much of the world. Muhlstock, and later artists like Fred Taylor, would also explore different aspects of working class life in Canada.
Brandtner's depictions of health care include a drawing and oil painting of Dr. Bethune treating a sick patient (whereabouts unknown), and a 1941 painting The Four Nuns (Private collection), which Brandtner submitted to the 1942 Canadian Group of Painters exhibition. His depictions of labourers and factory workers include the Machine Shop 1, 1943 (National Gallery of Canada, 5739), Procession of Unemployed Leaving the Factory, c. 1939 (National Gallery of Canada, 42986) and Machine Shop, 1942 (Musée national des beaux-arts du Québec, 87.136).
Brandtner produced linoleum carvings to make printing plates and paintings. As readers can find in the superb research, Fine Art and Floor Tiles written by Nadine Di Monte (click here), Brandtner touted the responsiveness of the material as well as its low cost. From images like this one, which has been referred to as Factory Worker and also Machine Shop, we can see just how effective it is. This particular linoleum cut is one that Brandtner used to produce what is likely his most recognizable print, one that has been reproduced in numerous publications on the artist as well as in texts on Canadian printmaking. Painted and signed, this is a striking, colourful cubist composition in addition to being one of Brandtner's best known images.
Add a comment