Blog
July 2, 2018
An Ephemeral Moment in Time: Clapp's Impressionist Perspective in "Chézy, Valley of the Marne"
Although referred to as "a newcomer to these RCA, Art Association of Montreal annual exhibitions" in 1908, William Henry Clapp was celebrated both immediately and regularly in the Art Association of Montreal exhibitions after his return from Europe, primarily France and Spain. At the 1908 Art Association of Montreal exhibition, Helen McNicoll and William Clapp shared the honours for the Jessie Dow prize for oils, for his impressionist style Morning in Spain. The winning picture was then purchased by National Gallery in April of that year when on view in the RCA exhibition in Toronto at the Ontario Artists Society building.
William Henry Clapp was born in Montreal, Quebec to American parents in 1879. The family returned to the United States in 1885 and settled in Oakland, California. Clapp returned to Canada in 1900, and enrolled at the Art Association of Montreal where he studied under William Brymner. During this time, he painted with Clarence Gagnon in Saint-Joachim and Baie St. Paul, QC. He left Canada again in 1904, this time with fellow Gagnon. In Paris, Clapp studied in Paris at the Académie Julian, the Académie de la Grande Chaumière and the Académie Colarossi. During his studies, Clapp was taken by the Impressionism and Post-Impressionism he found in France and adopted these techniques into his own art.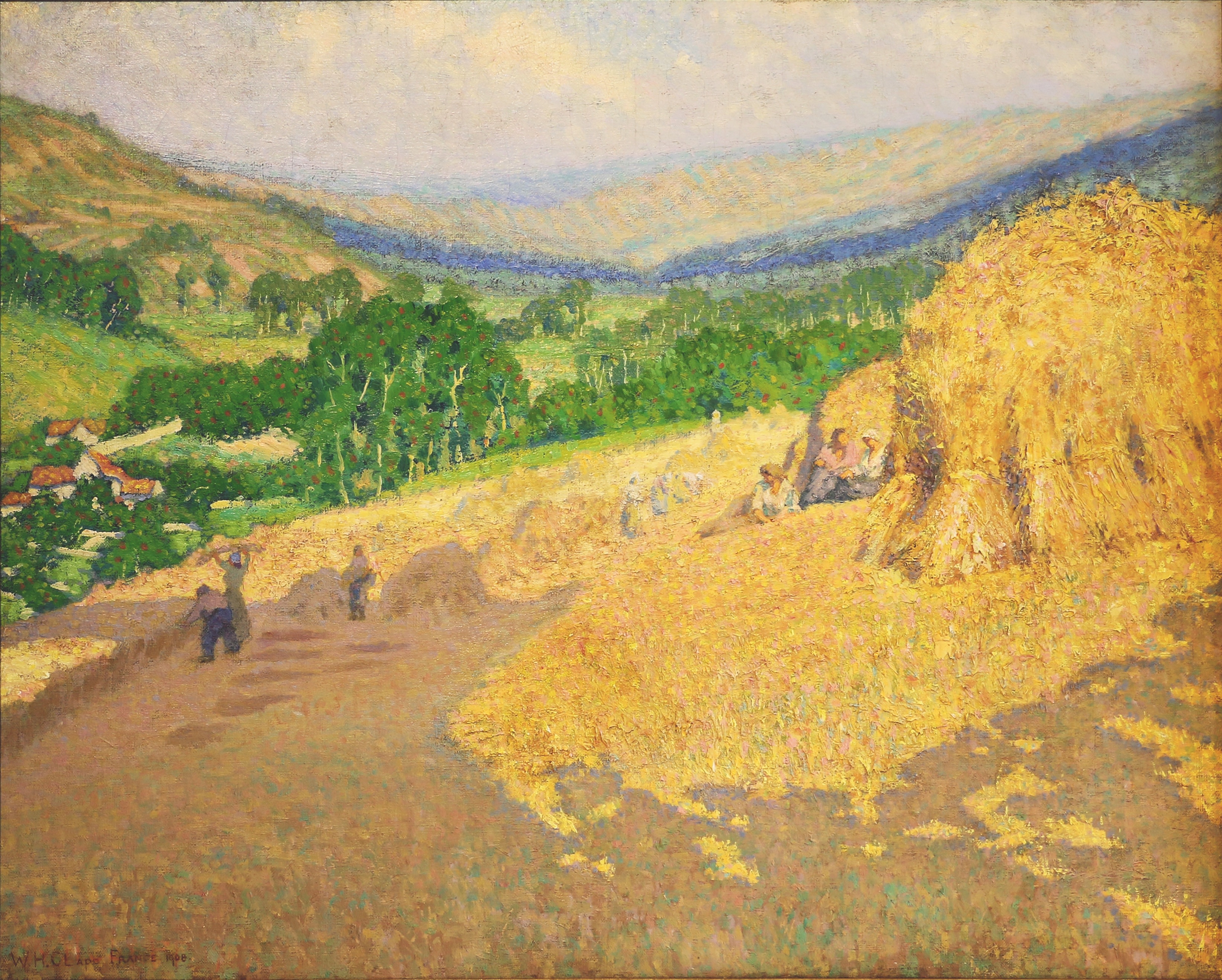 William Henry Clapp, Chézy, Valley of the Marne, 1908
Oil on canvas, 26 3/4 x 35 1/4 in.
In 1906, Clapp spent almost a year at Chezy-sur-Marne creating "his first body of Impressionist canvases" (Duval, 72). The location proved an idyllic location for his studies of light. At first sight, Chézy, Valley of the Marne recalls works like Les Meules à Giverny from Claude Monet's iconic series of wheatstacks in palette and subject matter. Like Monet, Clapp sought to capture more than the effervescent quality of sunlight; both artists allude to the passage of time in their respective series. The shadow in Chézy, Valley of the Marne, which slowly encroaches from the bottom of the picture plane, serves as a reminder of the movement of the sun over the field. Like a shadow on a sundial, Chézy, Valley of the Marne captures an ephemeral moment in time.
Claude Monet, Les Meules à Giverny, 1885
Oil on canvas, 24 1/2 x 31 7/8 in
Private collection
Initially, Monet's influence on Clapp was profound. So much so that in a letter written in 1904 to Clarence Gagnon by William Brymner, Clapp's first art teacher, Brymner cautioned, "Tell Clapp] that Monet is often good, but that there are others. One of the others is to be Clapp one of these days, not a Clapp-Monet" (Boas, 46). Perhaps heeding Brymner's advice, Clapp distinguishes himself from Monet in his delineation of the landscape in Chézy, Valley of the Marne. There is less foreshortening of the picture plane than is often the case in a Monet. Instead, Clapp clearly defines the foreground, middleground and background. The result elongates the viewer's sense of depth in picture, perhaps employed to emphasize the small scale of the workers and to integrate them as an aspect of the landscape among many.
Upon his return to Montreal, Clapp's post-impressionist approach to colour and form was well-received in Montreal almost immediately. Less than a year after he arrived, critics boasted, "Chez l'artiste W. H. Clapp très original et très curieux des tons chantant des psalmodies brillantes, on appréciera tout ce que veut dire le mot ''peintre, " c'est-à-dire l'homme né pour exprimer en couleurs des impressions de la vie [...]" (Montreal Star, 1909). Clapp even became a barometer by which to evaluate impressionist imagery in Montreal when in 1910, the Montreal Gazette wrote of fellow artist Suzor-Cote's contributions to the Art Association of Montreal's Spring Exhibition, "he is not of the advanced impressionist school represented by Mr. Clapp, but a progress towards impressionistic ideals is noticeable" (Montreal Gazette). By 1913, Clapp and Maurice Cullen were said to "have made greater strides than possibly, any other of the young generation of artists in Montreal," a review published under the headline: "Post-Impressionists Shock Local Art Lovers at the Spring Art Exhibition" (Montreal Witness, 1913).
Clapp left Montreal in 1915 and went to Cuba, where he stayed and painted until 1917. He then returned to Oakland and became curator of the Oakland Art Gallery (now the Oakland Museum) and was named director in 1920, a position he held until 1949. In 1923, he became a member of a well known group of California painters called the "Society of Six" and he exhibited his paintings with the group until 1928. He also took up membership at the California Art Club, the Oakland Art League, the San Francisco Art Association and the Western Association of Art Museum Directors (1926) for which he became president in 1928. For six years he gave art classes in Oakland at the school he operated, the Clapp School of Art.
Chézy, Valley of the Marne is emblematic of the impact of nineteenth century impressionists who fundamentally challenged the tradition of academicism and representation imagery in art. Clapp witnessed this break firsthand in Paris at the turn of the century and brought this experience with him throughout his career, first in Canada as an Associate of the Royal Canadian Academy of Fine Arts and then as a member of the American Society of Six, a radical group of colourists in California in the 1920s. His oeuvre is evocative of the spread of Modernisms globally and the influence impressionist and post-impressionist influence in North America.
Works Cited:
"Art Exhibit Opens: Spring Exhibition of Canadian Works at Local Galleries Larger Than Ever Before." Montreal Gazette, May 4, 1910.
Boas, Nancy. The Society of Six: California Colorists. University of California Press, 1998.
"Cartes Postales De Chézy-Sur-Marne (Aisne)." Photos Et Cartes Postales Anciennes De Chézy-Sur-Marne, 02570, www.communes.com/picardie/aisne/chezy-sur-marne_02570/cartes-postales-anciennes.html.
"Chézy-Sur-Marne." Aux Pays De Mes Ancêtres, www.auxpaysdemesancetres.com/pages/la-region-picardie/aisne-02/chezy-sur-marne.html.
Duval, Paul. Canadian Impressionism. M & S, 1990.
"Le Salon du Printemps à l'Art Gallery", Montreal Star, March 31, 1909.

"Post-Impressionists Shock Local Art Lovers at the Spring Art Exhibition" Montreal Witness, March 23, 1913. 8. "Spring Exhibition" Montreal Star, March 31, 1909.
© Alan Klinkhoff Gallery
Add a comment