Blog
February 6, 2016
2015 Year In Review
Annual Report
2015 was a memorable year for Galerie Alan Klinkhoff / Alan Klinkhoff Gallery. The quality of works of art we transacted to new generations of their stewardship was exceptional. We are grateful to the clients and friends who encouraged the development of our Yorkville, Toronto gallery with their business.
Opening of Alan Klinkhoff Gallery, Toronto
Jonathan, Alan and Craig Klinkhoff Teamwork and a huge commitment of energy and planning, not to overlook the financial investment involved, allowed our family to accomplish two "start ups" in two years. Although we have not kept precise statistics, we think it safe to speculate that over the last 15 years the Greater Toronto Area has represented more than half our business. Now, with a storefront in the area managed by Jonathan, with Craig, Helen, and me supporting the gallery from Montreal and regularly working in the Toronto gallery, we are better able to serve the fine art needs of our existing clientèle and, of course, to add to that community of fine art collectors. As has been customary throughout more than four decades of our Montreal storefront art gallery experience, we provide a place where collectors, students, artists and academics can drop by casually, at their leisure to chat, sharing their interest in art with ours - and to purchase too, if they wish! Alan Klinkhoff Gallery at 113 Yorkville provides our GTA friends and clients the same opportunity, enhancing our relationships to our mutual benefit.
The ancillary benefit of our greater Toronto presence has been to stimulate greater opportunities to transact works of fine art that our family has sold to families living in the region for more than 60 years, works sold in earlier generations by Blair Laing and his family, Philip & Allan McCready, as well as other distinguished fine art dealers, now closed. We are now better positioned to serve GTA collectors by selling not only to them but also selling for them. A significant number of the highlights of 2015 are works of art we either received for sale from Toronto-based collectors or sold to friends and clients in the area. It need be said however, that for instance the highly important Alert Bay, 'Yalis' (1909) by Frederic Marlett Bell­-Smith (1846 – 1923), although we acted for a Toronto collection we sold this work at a record Bell-Smith price to a collector based in Quebec.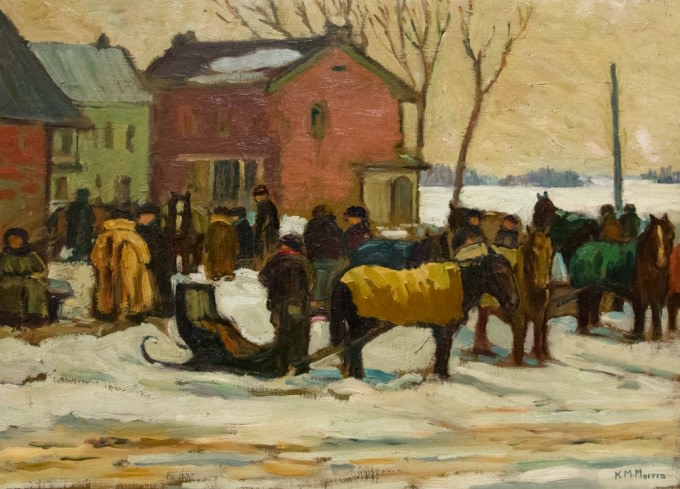 Kathleen M. Morris, Back of the Market, Berthierville, c. 1925
We introduced our storefront presence with an exhibition and sale of works of art by the Beaver Hall Group of artists, capitalizing on the celebration of their legacy being displayed in the brilliant travelling exhibition, 1920s Modernism in Montreal - The Beaver Hall Group, closing now at the MMFA and moving on to Hamilton, Windsor and Calgary. Our family has been promoters of their work for decades now. In 1997, The Montreal Gazette wrote that the Walter Klinkhoff Gallery "has been instrumental in introducing the Beaver Hall Group of Women artists to the public". Our exhibition and sale concurrent with the museum show has stimulated some collectors to buy fine examples from us, and others to choose this opportunity to sell through us.
We presented in Montreal an exhibition called Artists in the City, Montreal, proudly offering a rather wonderful selection of works, which included Paul Caron, Philip Surrey, Kathleen M. Morris, Doug Lawley, Lorne Bouchard, John Little and Claude Hazanavicius. The accompanying texts we drafted were an informative read. We have long wanted to offer our thoughts on the greater significance of John Little's œuvre, but resisted until now, primarily out of respect for Little himself who is incredibly modest, shy and self effacing. Risking his disapproval, we authored some thoughts, inspired in large measure by a series of interviews we conducted with Mr. Little in 1994 - as far as we know, the one and only occasion he has agreed to be interviewed. We were relieved and delighted when, early in the New Year, the artist wrote a kind note of acknowledgement. If there is a Jane Jacobs in the Canadian art narrative, it is surely he.
To properly describe some of the art work we transacted in 2015, we invited friends and colleagues with distinguished careers in academe or museums to contribute their appreciations. Providing their experience and expertise were Mario Béland, Ph.D., FRSC on John B. Wilkinson's (Active 1865-1907) Ice Cone at Montmorency Falls, c. 1870; Conrad Graham, Curator of Decorative Arts (retired) at the McCord Museum on Lacrosse Match, McGill Grounds c.1859 by James Duncan, A.R.C.A. (1806-1881); François-Marc Gagnon, PhD. OC. on a 1968 work by Guido Molinari, O.C., R.C.A. (1933-2004).
Jacques Des Rochers, curator of Québec and Canadian Art prior to 1945 at the Montreal Museum of Fine Arts, researched and authored an impressive defence for his acquisition committee of a William Brymner, P.R.C.A., O.S.A. (1855-1925), The Lonely Orphans Taken to Her Heart, 1884, a particularly fine composition we had acquired and which Jacques succeeded in convincing the MMFA to purchase from us.
For those among our collecting community focusing on important Canadian art of western Canada, we think a René Richard R.C.A. (1895-1982) the likes of which we illustrate should be in your crosshairs. "Slim", as he was affectionately known, was originally from Switzerland, but at an early age became a genuine Canadian trapper after his family relocated to Cold Lake, Alberta.
The remarkable work by Frederic Marlett Bell-Smith, R.C.A., O.S.A. (1846-1923), Indian Village, Alert Bay, 'Yalis, 1909, is worthy of more research than we could embark upon, but we were surprised, maybe even shocked, to uncover that although Emily Carr's fine watercolours of Alert Bay in 1909 have been awarded enormous importance, only passing mention has been made previously of the two documented large-scale oil paintings by Bell-Smith in the same year.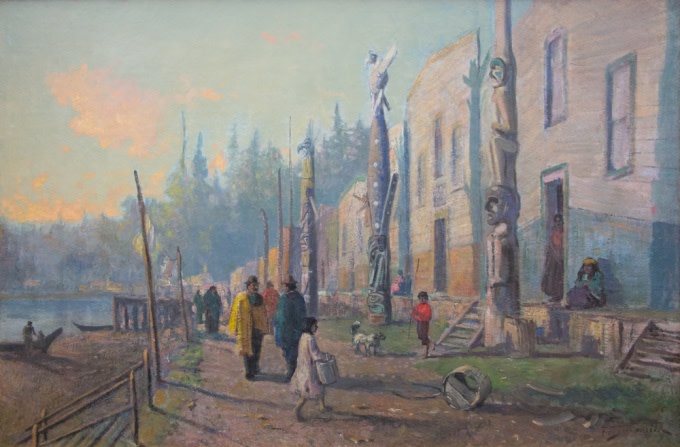 Frederic Marlett Bell-Smith, R.C.A., O.S.A. (1846-1923), Indian Village, Alert Bay, 'Yalis, 1909.
The exquisite pastel by Maurice Cullen, R.C.A. (1866-1934), Spring, the Caché River, circa 1925, is a work which captures the famous river with utmost sensitivity. That composition as well as the grand oil we presently have available, March, The Caché River, c. 1925, are both testaments to Cullen's enormous influence on the Group of Seven and The Beaver Hall Group of artists. Whereas many art collectors, captivated by the excitement and glamour of vernissages and art openings, are comfortable spending large sums of money acquiring works by artists who will unlikely merit even a footnote in the annals of Canadian art history and will be equally forgotten by the market, Cullen definitely represents a sure value!
Craig & I went on a quick road trip along the south shore of the St Lawrence River visiting Île aux Grues and then onward past Rivière du Loup to acquire what is one of the finest paintings by Marc-Aurèle Suzor-Coté R.C.A. (1869-1937) we can recall seeing in the marketplace, Magog River, Winter (La Rivière Magog en hiver). We found its next steward in a most appreciative home with one of the finest active collections today.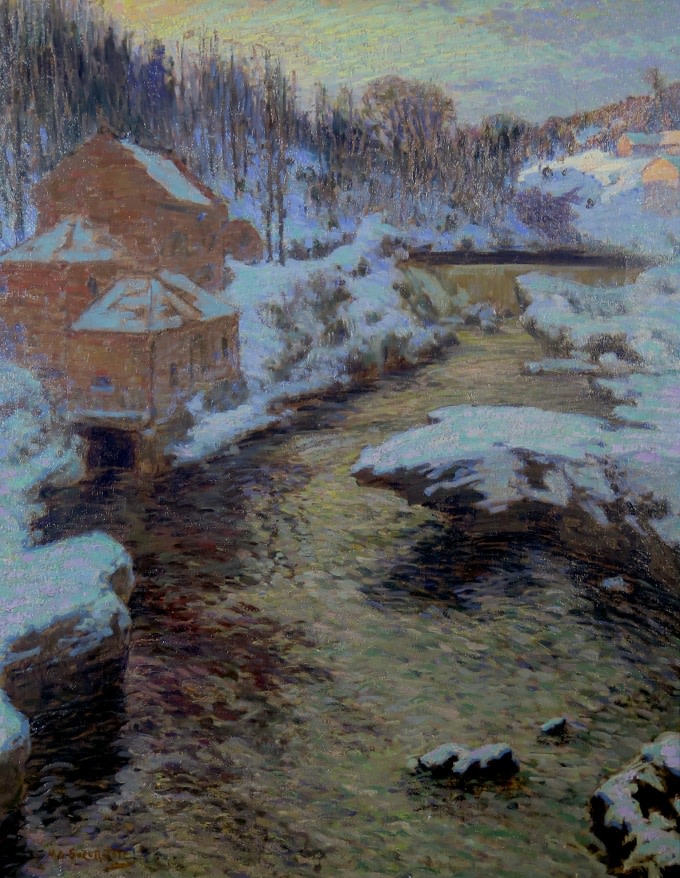 Marc-Aurèle Suzor-Coté R.C.A. (1869-1937) Magog River, 1913.
With the exposure our Toronto window affords and our continually developing site at www.klinkhoff.ca Sam Borenstein's (1908-1969) legacy continues to grow beyond his traditional constituency. My father was always a huge fan of his work. Borenstein's widow, Judith, and their children have been instrumental in keeping the work in the eyes of astute art collectors and it is exciting to see his expanding market.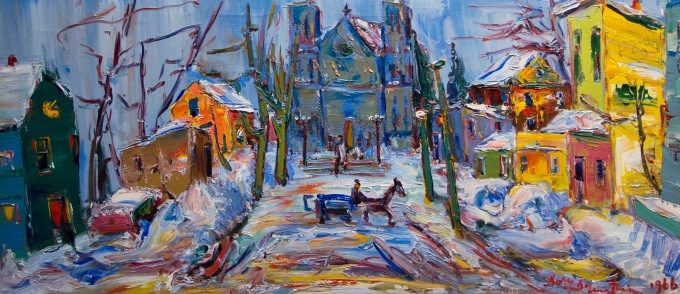 Sam Borenstein (1908-1969) Church in Ste. Agathe, 1966.
Just before we turned the calendar page over to 2016 we purchased and sold Alfred Pellan's, C.C. O.Q. (1906-1988) Feu vert, another highlight illustrated here. Feu vert and Rectangle Rouge are both Pellan paintings we are proud to have transacted. We would be remiss if we did not mention also the Jean McEwen's (1923 - 1999) Rouge of 1963, a triumph by the master.

And there were many more, too numerous to mention.
Moving forward in 2016 Craig, Jon, Helen, Karen, Natalie, Anna and now Justine are exploring better ways to share our galleries' expertise and art work on the platform www.klinkhoff.ca and more efficient ways for clients to acquire works of art from us. We look forward to sharing the benefits of these initiatives in the second quarter.
We will be opening another edition of the Beaver Hall Group Exhibition and Sale in our Yorkville gallery on March 18, 2016 (see www.klinkhoff.ca for details). Having recently acquired additional works by Adrien Hébert, Kathleen Morris, Anne Savage, A.Y. Jackson and Randolph Hewton, we intend to continue to host new exhibitions and sales of BHG works as the 1920s Modernism in Montreal - The Beaver Hall Group continues on its circuit. We are confident that the quality of BHG paintings and the historical documentation provided in the comprehensive and lavishly illustrated catalogue will continue to encourage Canadian art collectors, previously perhaps not especially familiar with their importance, to add fine BGH paintings to their collections. In our opinion they represent aesthetic and historical importance as well as excellent financial value in our otherwise heated marketplace.
Collectors who have fine works by BGH artists and who may be considering their sale, we think this an excellent selling opportunity. We invite potential sellers of fine works of art by Beaver Hall Group artists to contact us for a confidential consultation. (info@klinkhoff.ca)
We intend to pursue the theme of urban works and extend it to those of urban Canada at large. We hope to showcase other urban paintings by Albert Franck, Kathleen Morris, Nora Collyer, Molly Bobak, and possibly a Lawren Harris from his "In the Ward" series, or perhaps an Earlscourt painting if we are able to uncover one to offer for sale. We encourage potential sellers of fine Canadian urban art to contact us for a confidential consultation. (info@klinkhoff.ca)
In conclusion, on behalf of my family and our team at Alan Klinkhoff Gallery, I wish to thank you for your continued interest and encouragement of our family art business, a family now in its third generation in the field. We invite you to read our blog Inside Art at http://blog.klinkhoff.ca, to come by to visit us in person at both our Toronto and Montreal locations, to visit virtually at www.klinkhoff.ca and ceratinly to telephone us at 416 233.0339 or 514 284.9339, if there is anything we can do to serve your art interests.
Alan
Add a comment