Blog
October 24, 2015
Duncan Watercolour: An Important Snapshot of 19th Century Canada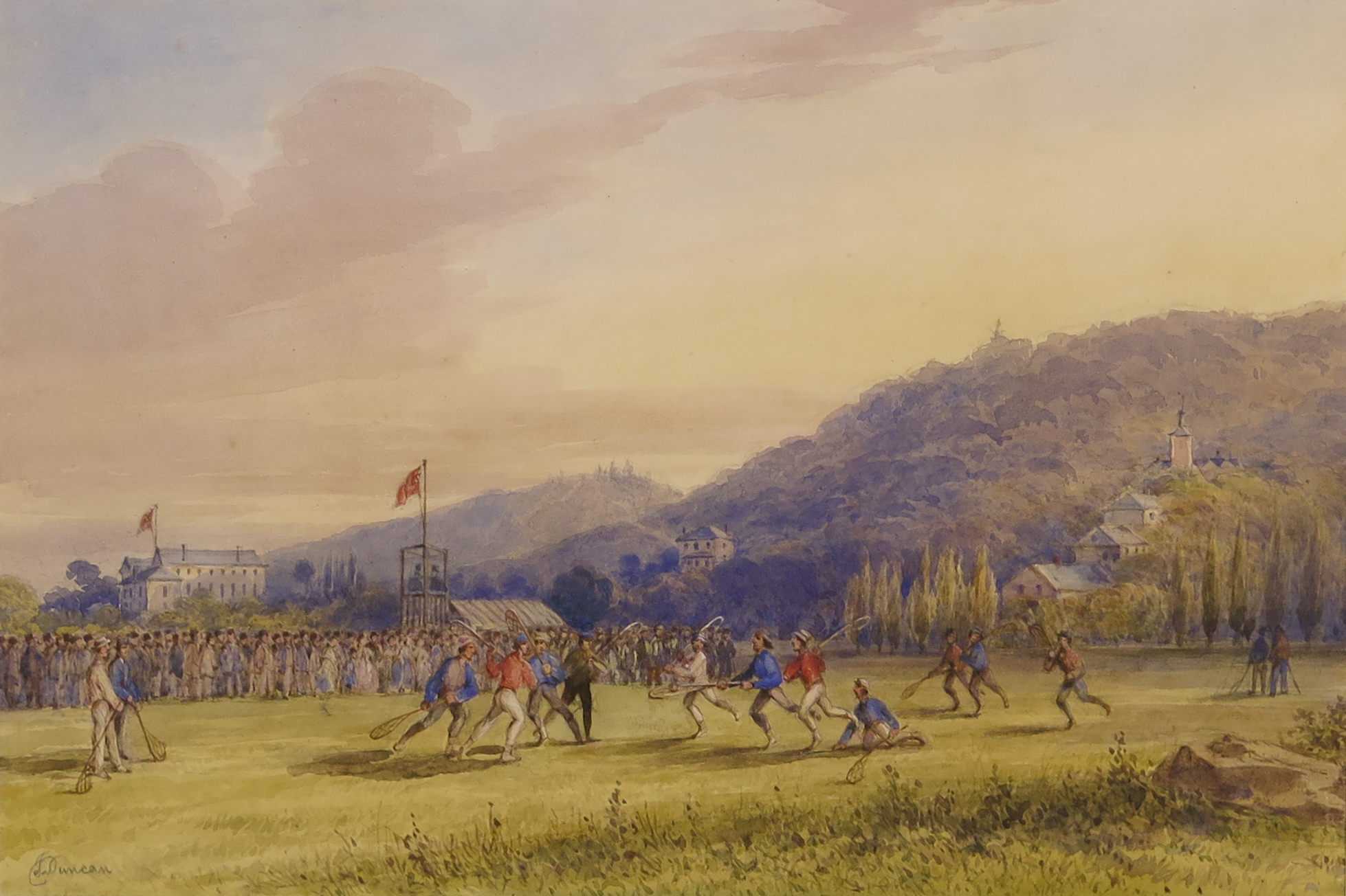 James Duncan, A.R.C.A. (1806-1881), Lacrosse Match, McGill University Playing Field, c. 1859, watercolour, 12 x 18 in.
This watercolour by James Duncan (1806-1881) depicts a lacrosse game being played on the McGill University playing field, which was located on the west side of the campus. It was probably painted sometime between 1855 and 1859 because the Grand Seminaire de Montreal (Grand Seminary of Montreal) can be seen on the extreme left of the image. The seminary was founded in 1840 and the buildings were begun in 1854. The crowd watching the game is standing on property belonging to Sir George Simpson (1786/1787–1860) which was located between Peel Street and MacTavish Street. At the beginning of 1860 Simpson built the Prince of Wales Terrace facing Sherbrooke Street between Peel and MacTavish so the painting has to pre-date 1860. As it would have taken the builders of the Grand Seminaire several years to complete the building the painting is probably done closer to 1859 than 1855.
The square tower with the flag on top was probably the referees box and the adjacent building likely the sports building. Côte-des-Neiges can be seen separating the two mountains. The large house adjacent to the road was one of the farms belonging to John Ogilvy (c. 1769–1819) the famous fur trader who moved into the house in 1816. The farm was called "Airlie" after the ancestral property in Scotland. On the upper right side is a tower that was the monument to Simon MacTavish (1750 -1804) who was instrumental in founding the North West Company*. The monument was near his house which was unfinished at his death and remained for many decades as the haunted house. The tower is now demolished but the inscription can still be seen on Upper Peel Street adjacent to the hospital's parking lot.
James Duncan was born in Coleraine, Ireland, in 1806. He emigrated to Canada in about 1825 and was settled in Montreal by the 1830s. During the rebellion of 1837-1838 Duncan served as first lieutenant in the Montreal Light Infantry. In spite of his military activities, however, Duncan's career moved increasingly towards teaching and painting, and there were exhibitions of his work in Montreal during his lifetime. Newton Bosworth's 1839 book "Hochelage Depicta" was illustrated by Duncan. He subsequently did illustrations for "The London Illustrated News" and the "Canadian Illustrated News." Duncan died in Montreal in 1881.
We thank Conrad Graham for this appreciation. Conrad Graham was Curator at the McCord Museum of Canadian History for 39 years. During that time he managed the Decorative Arts Collection as well as the Paintings, Prints, and Drawings Collection. The McCord has one of the largest holdings of early Canadian Art. He is the only Canadian to have mounted an exhibition at the Courtault Institute Galleries in London, with the exhibition "Mont Royal Ville Marie, Early Plans and Views of Montreal".
Add a comment