Blog
March 13, 2015
Iconic Borenstein Painting a Symbol of Achievement
In Sam Borenstein (1978), Rosshandler and Kuhns write about "la vieille école," the old school house on Lac Brulé, a few miles from Ste Lucie, which the Borenstein's rented as their Laurentian cottage and ultimately purchased. They explain that in the period of the 1960s, "Borenstein achieved a fresh exuberance - the tumult and exhilaration he had been reaching towards for decades emerged, his paintings burst with gusting energies, which it seemed he had tapped for the first time. Perspective, scale, line, and form, the rudiments he had mastered over thirty years of painting, became seething, elusive elements of a tumultuous vision: a storming of whites and blues, in which a familiar landscape ripple, quaked, and roared from within. His landscapes became portraits of a force as elemental as his own urge to paint; landforms, trees, buildings, and streets, were whipped into a hurricane of colour, fixed somehow painfully, somehow exuberantly, to the canvas. Borenstein's work reached the zenith of intuition and technique he had struggled with for thirty years, and at the age when most artists begin to ease and relax, Borenstein worked more fervidly, more excitedly than he had ever worked before. His confidence in himself, never doubted but never so certain, became a further prod." (p. 62).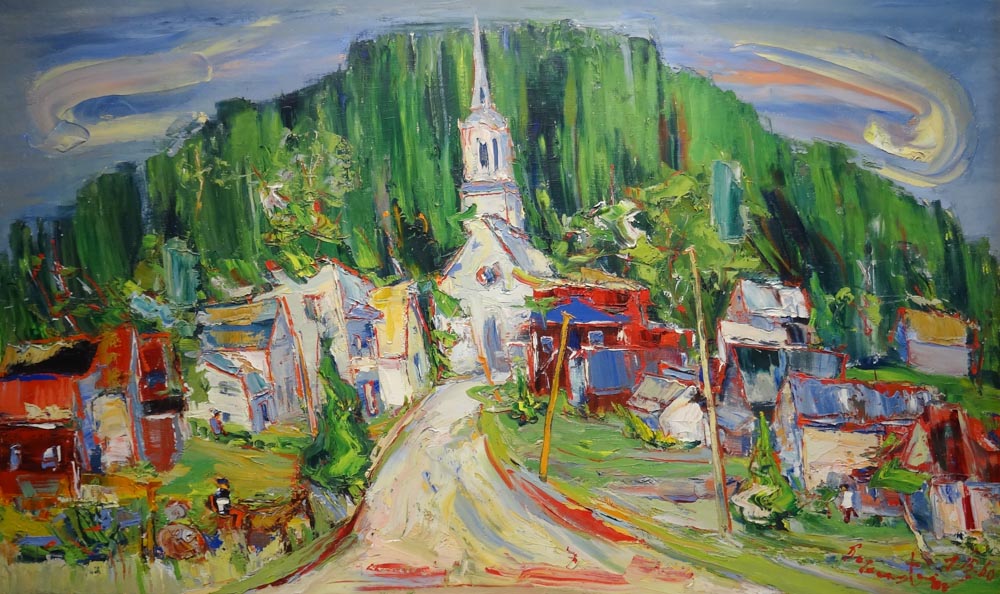 Sam Borenstein (1908-1969), Summer in St. Lucie. Oil on canvas 24 x 40 in.
From the late 1950s, the village of Ste-Lucie as well as the neighbouring towns of Ste-Agathe and Val-David were to provide Borenstein with compositions which today are his most celebrated legacies. Kuhns and Rosshandler remark that the small Laurentian village of Ste-Lucie with its small Catholic Church "almost at its geographic centre" was to be featured "more than a dozen times over a period of fifteen years, no single subject… had been the focus of so many different paintings, his treatment of the subject in the sixties reflected this new, exuberant style." (p. 62)
It was precisely this era when my father, Walter Klinkhoff, was showing Borenstein's paintings and giving "Sam" his first one man show in 1958, then a second one in 1961. Dad was to have a third exhibition in 1967 but Borenstein was also arranging a show in Hamilton, then Toronto, and then Sir George Williams University purchased five of his paintings for its collection, all while Borenstein was experiencing increasingly crippling backaches, and so this third one person show at Walter Klinkhoff Gallery never materialized. Tragically, the backaches were symptoms of a prostate cancer, diagnosed in the spring of 1967 and leaving him only another 18 months or so during which he did manage to paint with the vigour of Summer in Ste-Lucie, exemplary of him at the pinnacle of his painterly ability.
It is no surprise that Summer in St. Lucie is reproduced in Kuhns and Rosshandler as Ste. Lucie Church in Summer, 1960.
In Dad's Reminiscences of an Art Dealer he wrote:
Throughout my career as art dealer I have been an admirer and enthusiastic supporter of the work of Sam Borenstein. It was a struggle against many odds. My efforts may have helped but it is his work which cannot be overlooked. I noticed it early on and once asked Mr. Watson as I was then calling him: "Don't you think Borenstein is a very good artist?" "No," he replied emphatically, "he is a great artist." He always had some of his paintings in his gallery and told me that two he had at home were among his favourites. At that time in the mid-fifties, the great van Wisselingh firm of Amsterdam held yearly exhibitions at Watson's, showing Van Goghs, Renoirs and generally great paintings. One of the partners, Mr. de Jong, once challenged me: "Do you know who Canada's best painter is?" When I hesitated, he said: "Sam Borenstein, no doubt about it."
References:
1) William Kuhns & Léo Rosshandler, Sam Borenstein, texts by McClelland and Stewart, 1978.
2) Walter H. Klinkhoff, Reminiscences of an Art Dealer, Montreal, 1993.
Add a comment