Blog
December 6, 2012
John Fox (1927-2008): A Master Unmasked
FOREWORD:
In conjunction with Sandra Paikowsky, we are delighted to make the following presentation of paintings by John Fox. The career of John Fox spans over 50 years and can be divided into 3 overlapping phases: figuration, abstraction and refiguration. A life-long resident of Montreal, his extensive stays in Paris, Florence and Venice as well as his enormous knowledge of the history of art, shaped the way Fox painted and thought about art. Although he produced both representational and non-representational work, they share the same sensibility of tonality, light, line and structure. Most importantly, Fox's mastery of colour defines the works' resonant emotions and sensations that give his images their lasting meaning.
John Fox by Sandra Paikowsky
Fox's painting from the late 1950s to 1972 describes his fascination with the familiar and non-dramatic aspects of daily life. Whether the image is a park in Paris or Quebec, a country road in Italy or a street in downtown Montreal, it reflects Fox's interpretation of the visual concerns of Degas, Bonnard, Vuillard and Matisse. Their visual reinvention of the quiet dramas of modern life inspired Fox's work throughout his career and would influence his lifelong definitions of art, whether his images were representational or abstract.
Closer to home, his articulate and sensitive response to his own experiences of the world around him suggests the influence of such Montreal artists as John Lyman and Goodridge Roberts along with David Milne in Ontario. But most important to Fox was the work of James Wilson Morrice, whose quiet narratives encapsulate a moment in time without sentiment or artifice. Morrice's sensitivity to the harmonious composing of shapes, spaces and tonalities inspired Fox's images and his painterly fusion of looking and transcribing what he saw and what he felt. In contrast to many other Canadian figurative artists at the time, Fox had little interest in the grand narratives of the dramatic landscape. Instead, he preferred to paint those profound, intimate aspects of people, places and things that define the collective moments of our lives. It was this alternative vision of art that make Fox's early work so important for redefining Canadian modernism and its new ways of expressing the familiar and the personal.
From the early 1970s to 1985, Fox painted abstract images that allowed him to think more about the ways of painting rather than the subjects of painting. At the same time, the new canvases were a natural evolution from the generalized forms, loosely outlined shapes, and unnatural colour in his representational work of the late 1960s. Fox's earliest non-figurative works with their bands of similar tones that nudge against each other, soon evolved into large fields of transparent colour that float one on top of the other. The soft, architectural geometry of his abstract compositions was a way to organize the colour and light of his imaginary subject matter. But it also referred back to the hidden grid of horizontal and vertical shapes in Fox's representational images.
From the late 1970s to the early 1980s, he reinvented his abstract paintings by placing freewheeling arched shapes over his veils of colour. He also painted images that describe a fantastic world of rectangles, circles and indefinable shapes in an explosion of intense colour. Fox's non-representational painting over 15 years was strongly influenced by New York abstract expressionists like De Kooning and Rothko as well as the Californian, Richard Diebenkorn. He also felt an affinity with Canadian abstract painters like Otto Rogers in the West and second-generation Painters Eleven artists in Toronto. While Fox had great admiration for Montreal geometric abstraction, he was more interested in the emotive brushstrokes and overtly expressive colour of international non-representational art. Within Quebec painting, his work is closest to that of Jean McEwen, and Fox also deeply respected Borduas for his conviction that art was not a matter of figuration or abstraction but of idealism and integrity.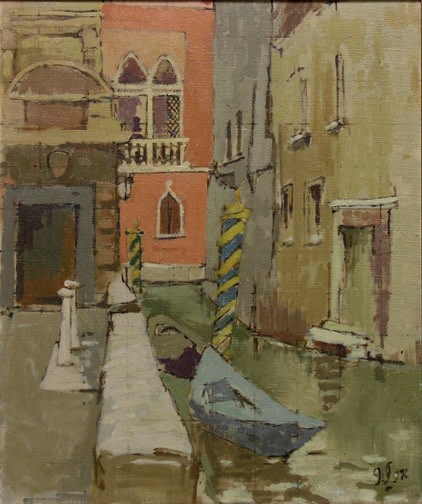 John Fox, Venice, 1956
Fox's abstractions from 1983 increasingly suggest references to the landscape or the body. In 1985 he decided to rethink figuration and to move away from non-figurative images. His new representational paintings appropriated the colour, light and shapes in his abstracts, but now in terms of more familiar imagery. From the mid 1980s to 2008, Fox visually redefined people, places and things through the mirror of his own life. As well, his work related to both international concerns for new definitions of figurative art and his own twenty-year experience of making representational painting. Fox's deep knowledge of the history of art also enabled him to reinvent motifs and themes from the past within a contemporary visual vocabulary.
Throughout his entire career, Fox constantly made drawings in pencil, charcoal, pastel and watercolour. Their energetic gestures and marks, along with his intertwining of line and colour, once again became both the imaginative starting point and the visual conclusion of his new compositions. Paintings of Montreal or Venice suggest both a specific address and an anonymous location, evoking the kind of sensations found in Morrice's images of a city or a town. Fox's views of the interior of his Montreal studio or locations in Venice are like portraits of the places where he worked. They also resemble still-lifes, incorporating the various objects and materials that he used to produce his paintings.
Fox's paintings of the human body are among his most experimental late works. In one way or another, they relate to his hundreds of drawings of models and friends. But even when the paintings are based on actual people, the composition of the pose or the gestures of the body is more important than facial likeness. Other paintings of people derive largely from his imagination and the figures are placed in purely invented settings that seem as real as his images of the urban landscape surrounding his St-Henri studio. It is this original and accomplished combination of the actual and the imaginary, achieved through his magical, sensual colour that exemplifies Fox's late work and its significant place in the ongoing evolution of Canadian painting.
Throughout his lengthy career, Fox was a significant mentor and role model to generations of young painters, many of whom have become important Canadian artists. Both his representational and his abstract paintings have been intensely admired because of Fox's brilliant understanding and expression of art that goes beyond time and place. The presence of his figurative and non-figurative work in major public and private collections across Canada, as well as his long history of solo exhibitions and recent shows in Montreal and elsewhere, are all testaments to his exemplary accomplishment and achievement. John Fox's painting represents his lifelong embrace of the world around him and the imaginative reinventions of that experience - both for himself and for everyone who celebrates the power and pleasure of art.
Copyright © Sandra Paikowsky
Sandra Paikowsky is a distinguished scholar in the field of Canadian art. She is a Professor Emeritus of the Art History Department of Concordia University, where she taught from 1969 until 2010. She co-founded the Journal of Canadian Art History in 1974 and was its Managing Editor and Publisher until recently, although she remains a member of the editorial board. Sandra is the First Distinguished Fellow of the Gail and Stephen A. Jarislowsky Institute for Studies in Canadian Art. She is a respected authority on numerous Canadian artists, including the Venetian paintings and drawings of James Wilson Morrice, Quebec women abstract painters, and the work of John Fox. As well, Sandra is a co-editor of the recent book, The Visual Arts in Canada: The Twentieth Century and wrote the chapter "Modernist Representational Painting before 1950."
Add a comment