Blog
November 29, 2010
DEVIL IN THE DETAILS PART II: Strong Auction Aggregates Mask Consignor Benefits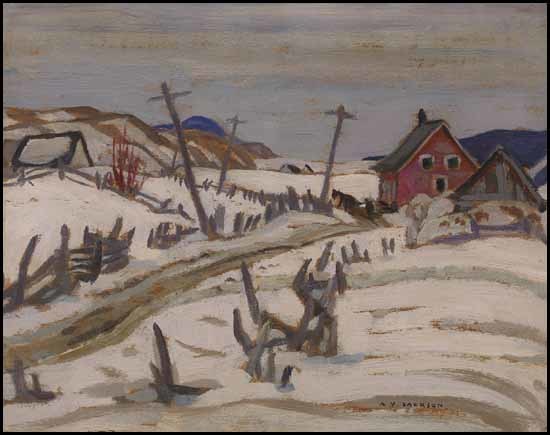 It was a busy week for sure, looking at countless good, very good works of art for sale at auction and a limited number of excellent and popular works as well. The press releases resonate successes with announcements of "aggregates" (the total value of their sales) including their buyer's premium. The implication is that a high aggregate is great news for the consignors individually. Not so.
It is good for the "house", which is making a 28-plus percent profit on that figure. I admit certain envy on that score. Coincidentally, 28% also represents the proportion of works in one historical Canadian art auction that were by only two artists. Looking at the "net" to the sellers for those Harrises and Jacksons obliges me to suggest that selling through a "fixed price" gallery like Galerie Walter Klinkhoff would have been more advantageous.
One has to wonder if this series of auctions in Toronto and elsewhere within a short span of hardly a couple of weeks brings too much supply of paintings by a limited number of first tier artists in what is a small market. The details of each of the individual auction sales show a limited number of fabulous prices but overall they are mixed and there were numerous mediocre or soft ones. On the high end an important Alex Colville made a record breaking result, as did a large and formidable nude by Randolph Hewton, maybe his definitive nude. (I have rarely thought of a great Hewton as being other than a composition of Charlevoix in spring, one he would have painted alongside his friend A.Y. Jackson back in the 1920s. Nevertheless, if one is a fan of Hewton's figures, they do not come any better than the nude Joyner offered. "Hat's off " to the enthusiastic new owner who has an outstanding painting.)
An excellent and more characteristic Hewton also sold for a fair price. I am still kicking myself for not raising our paddle when the wonderful Hewton of A.Y. Jackson painting was being offered. That was a steal! What a super picture! A small and very important little Hewton winterscape canvas did well toward the end of Heffel's sale and in my opinion merited every dollar the purchaser paid. Jean McEwen, Lise Gervais and Gershon Iskowitz were strong. I thought the B.C. Binning faltered somewhat at least compared to last season's offerings. One Borduas oil achieved a good price while my favorite, "ou suis je?" went for what in my opinion was a very low price indeed. The Jean-Paul Riopelle market continues to challenge any sense of clarity. At Heffel's, a large Riopelle of a later vintage was unsold against what one might of thought a reasonable low estimate of $250,000. In the same sale, an untitled and lovely large composition of 1955 was contested I believe by two bidders from $800,000 to its hammer price of $950,000, a price not especially high for a painting of that quality and scale. And yet, a couple of nights earlier at Sotheby's, a lovely and much smaller canvas, "Composition", ca. 1955, sold for the reasonable price of $278,500.
Those Beaver Hall Group artists scored some high and lows. An Emily Coonan still life brought a most impressive sum as did an early Mabel May. A stunning winter landscape by May achieved a strong price but not as much as I had anticipated. The excellent Kathleen Morris canvas, for reasons unknown to me sold for very little compared to what one should logically should have anticipated. So, we bought it! Prudence Heward had a tough day in the market over at Sotheby's.
With the exception of Arthur Lismer, the Group of Seven was on average soft in the auction market last week. Lawren Harris fared particularly poorly. A good and large canvas of houses sold for only $600,000 "hammer", and the catalogue cover painting of one salesroom, an arctic sketch, was unsold. More Harris sketches were hammered down at less that $200,000 than I can ever remember seeing in one auction season. Some even hammered at less than $100,000! Notably however on the strong side, one fine Harris abstract did well, selling for $120,000. With more than thirty Jacksons in various auction catalogues this season and more in the forthcoming on-line sales this short term oversupply resulted in some rather low and mediocre prices. But, having seen an excellent A.Y. sketch being offered for over $120,000 in a quality Toronto gallery (in my opinion a fair and competitive price) I cannot imagine how we were allowed to purchase the equally outstanding "St-Urbain", 1929 for a good client at a hammer price of only $60,000!
Carmichael oils were unusually weak. The three excellent panels by the master were catalogued consecutively and deserved much better prices. Had it not been such a handicap these days for the art dealing trade to buy in these auction sales for re-sale, I am convinced that these would have at minimum been contested to much greater heights. I can only speculate that a dozen art dealers, us included, would have unhesitatingly paid $250,000 to the owners directly for this quality of Carmichael and ones fresh to the market.
Among the numerous artists whose paintings we have always promoted, Sam Borenstein's glorious canvas of "Ste Agathe", a painting Galerie Walter Klinkhoff originally sold some 40 years ago probably for $1000, met with record interest while a very important 1942 canvas by the master, "The Old Stove, Clark Street, Montreal" was virtually uncontested and purchased by us at a hammer price of only $10,000 to place in a good friend and client's developing collection of paintings of great quality.
Molly Lamb Bobak continues to be a friend of our Gallery as she has been for the better part of 45 years. Eric was in Fredericton only a month or so ago to visit her. We have been honored to have hosted numerous exhibitions for her and place her paintings in important collection of fine Canadian art from coast to coast. There were two particularly fine compositions offered at auction with results showing the same strengths vis-à-vis price levels we are achieving here in the gallery.
Some relatively minor paintings by Cornelius Krieghoff found considerable enthusiasm among auction goers. We maintain that excellent paintings by him, ones in similarly excellent restorative condition are among the best "buys" one can make in the Canadian art market. The fundamental challenge is to find Krieghoffs that have not been abused by the early generation of amateur restorers who plied their trade here in Canada. Krieghoff paintings in poor condition are so regularly on the block and selling for low prices. Market analysts, oblivious to notions of "quality" and condition report the Krieghoff market to be soft. News of softness breeds a continued avoidance of his market. When paintings by Marcelle Ferron and William Kurelek are selling for the same prices as Krieghoff, I am one to say: "Yes, buy Ferron and Kurelek, but Krieghoff is one to pursue aggressively if offered the right painting."
Having written the above, we are confident that the fixed price gallery venue is where the seller of an important work of art is generally best served to maximize capital gain and where one can do it efficiently, discretely and often with a financial guarantee. We believe that an important work of art is more safely and advantageously sold in a fixed price environment, away from the auction season when there is simply too much supply competing for the attention and pocket books of collectors. We encourage you to contact us for a confidential consultation.

Add a comment