Blog
June 9, 2010
Klinkhoff Sells Rare Morrice Panel Painted in Canada
One of only two known paintings from artist's visit in 1910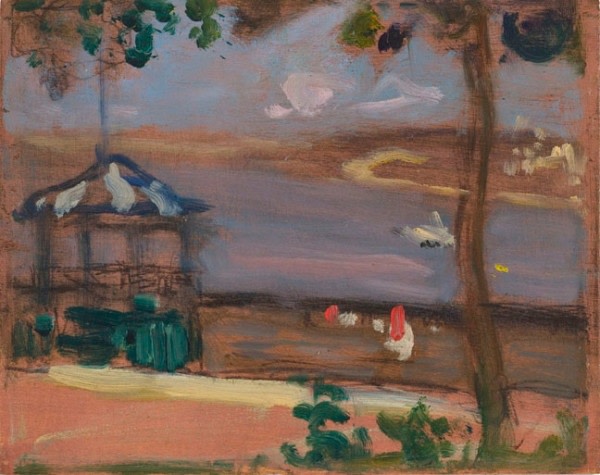 JAMES WILSON MORRICE, R.C.A. (1865-1924), Dufferin Terrace, Quebec, 1910 (June), oil on panel 4 1/2 x 6 in.
Provenance: Private collection, Montreal
Exhibited: The canvas derived from this sketch was exhibited extensively (see below).
This lovely little pochade of Dufferin Terrace painted in late June 1910 is both a quintessential James Wilson Morrice and an extremely rare summer Quebec subject by him. Although he spent all his professional life in Paris, Morrice often joined his family in Montreal for Christmas. However, soon after the New Year, he would leave to work in Quebec City or the Côte de Beaupré, alone or with painter friends; his few visits in summer, in 1903 and 1910, are less well known.
The old city obviously held special meaning for him: at Christmas 1884, still a teenager, he had given his parents a drawing of the Citadel and Terrace seen from the river. The pretext for the 1910 trip was his parents' Golden Wedding Anniversary on June 14th; he had every intention of attending, writing down in his sketchbook the name of three ships leaving Europe in early June... but he reached New York, en route to Montreal, only on the 18th... Too late! He left for a lazy return trip to Paris, via Boston, Liverpool and London, at the end of July. Only two sketches document his whereabouts that summer: a portrait sketch of William Brymner painted at Saint-Eustache, and the present sketch of the Terrace in Quebec. Morrice probably stayed at the Chateau Frontenac; the preceding winter, he had executed a quick sketch of the view from the Terrace, but it was very cold, and he had to work quickly and with few colours (NGC 3192).
Now, in the summertime , he could use a larger palette, but still needed only a few minutes, as the work was already composed in his mind when he put down the first lines in pencil: the "kiosque à musique , the thin tree and the background landscape frame the main subject, the water, the only area totally covered by paint; notes of green, plus a few vivid red and white ones (the 'figures'), complete the picture to convey the festive feeling. Instead of adding yet more green for the grass in foreground, the artist left the wood bare, a large pinkish zone to complement the green; a strong, large cream stroke that represents the alley finally 'signs off' the painting.
In Paris, in the Spring of 1911, Morrice exhibited a large canvas ( private collection ) based on this sketch; two years later, this canvas was shown in the Secession exhibition in Rome, sharing a wall with Renoir and Matisse, among others. Last summer, it was part of the "Expanding Horizons" exhibition at the Montreal Museum of Fine Arts. The composition is the same, except that the water is now bright blue and white, and the little daubs of colour have been transformed into a dozen tiny figures and a smoking steamship.
Lucie Dorais is a J.W. Morrice Scholar
Copyright © Lucie Dorais, 2010
Add a comment