Blog
January 30, 2019
2018 Annual Report
Celebrating our 70th Year
2018 has been an important landmark year in the development of Alan Klinkhoff galleries, with locations in both Montreal and Toronto, and globally available online at www.klinkhoff.ca. These venues allow us to communicate our particular expertise and interests, focusing on what we call classics, works of art of recognized and enduring value, judged over a period of time to be of the highest quality and outstanding in their class. Our interest is to offer our clients art which has standing, not only today but also for the long-term. Our three generations of experience in art markets have shown us that fashions do change and, at times, in ways that are unpredictable. Works of art of quality and good taste have longevity in aesthetic terms and financial value.
We are the only gallery with storefronts in Canada's two largest markets, exclusively focused on classics. Under Craig & Jon's direction, and with the consultation of a developer advising some of the foremost art galleries in the world, we continue to improve our website. Klinkhoff.ca facilitates our communication with an interested public and invites a visiting experience, anywhere and anytime, for those who do not come in the physical galleries. We encourage a dialogue with potential as well as existing clients, with the objective to share with them, as best as is possible, the kind of experience they might enjoy had they visited any of our gallery locations.
Our Toronto masthead continues to prove itself a valuable asset in a number of different and obvious ways. The two galleries complement each other. With the added support of our website, Alan Klinkhoff Gallery maximizes viewing opportunities to interested collectors of our available fine art while significantly increasing our opportunities to acquire important artworks to offer through all our platforms. Within the last month of 2018, for example, we acquired and sold fine art from Prince Edward Island through to Vancouver Island and south as far as Mexico. Last year, we had a record number of visitors at each of the galleries and at klinkhoff.ca. There was one particular week when we had more visits online then we did over the twelve months at both galleries combined.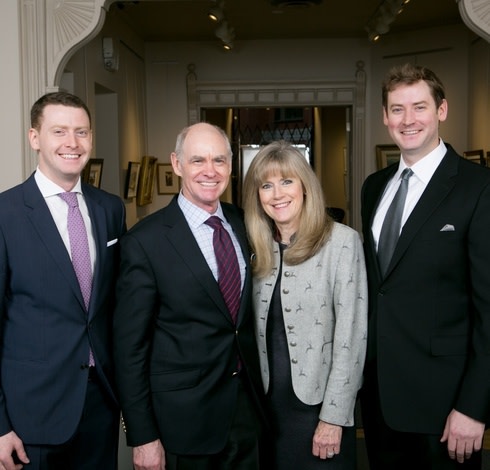 From left: Craig, Alan, Helen, and Jonathan Klinkhoff

For high dollar value works of art, along with a market leading expertise, Alan Klinkhoff Galleries offers what is likely an unmatched financial efficiency, that is, the lowest aggregate commissions to the benefit of both buyers and sellers of fine art. The auction house model meanwhile continues to offer increasing total aggregate commissions and fees.
Elsewhere in the Canadian art market, over the last year or two, we witnessed a new auction formula, one that I don't recall seeing previously anywhere. Curiously, a number of formerly "fixed price" art dealers are now partnering with an auction house and publicly promoting that they themselves are selling their own gallery works at auction. This is advice that many among them have likely spent a career counseling sellers of important fine art not to do because of the enormity of both the financial risk and aggregate fees selling at auction.
This dealer/auction house marriage will proliferate in the spring. Someone suggested to me recently a dichotomy or conflict in what is probably a polygamous relationship, ownership of a fixed price gallery and an active partnership in an auction house, both offering the same art forms. Another client observed that, among these recent converts or partial converts, are dealers of a profile who may see this relationship as an astute medium-term transition away from their fixed price gallery, 5-day a week business. They may foresee a future part-time business as consultants, directing consignments to the partner auction house, remunerated by introductory commissions, known in the trade as "ICs". Alternately, maybe there is something else in these new style marriages that I am missing. As you will have extrapolated, we do not participate.
The success of our record-breaking Lawren Harris sale of 2017, where we offered an important selection of truly outstanding works of art, maximizing value with financial efficiency for buyers and sellers, has served us well going forward. The successful formula for all stakeholders has increased our opportunities to represent a large number of excellent works of art as well as ones of high dollar value. We, unabashedly and in complete transparency with the sellers, offered and successfully sold an extraordinary group of extremely high-value paintings at total aggregate commissions, likely much less than half of those any auction house would have offered. Our fixed price platform works to the mutual benefit of sellers and buyers of high-value fine art.
"Alan Klinkhoff Gallery offers [...] an unmatched expertise and financial efficiency"
Looking forward to 2019 and beyond, we anticipate that three exhibitions percolating in two different Canadian museums are ones which, in large part, are specifically within our experience and expertise and will attract interested buyers to our galleries and klinkhoff.ca. The impending National Gallery exhibition to tour internationally of Canada and Impressionism, McMichael's Uninvited exhibition and the 100th Anniversary of the First Group of Seven exhibition all include artists, many of whom are synonymous with our gallery and our three generations in the Canadian art business. From Krieghoff and Kurelek, Clarence and Charles Gagnon, Thomson and Tousignant, Heward and Hurtubise, Morrice as well as Morris and Maurice Cullen, Raphael, Roberts, and Riopelle too, our focus is the pursuit of classics. We do not trade in high priced "retail art", art that risks being fashionably popular for only a short market cycle after which it may be without financial value.
Jonathan, Craig & Helen join me in welcoming your inquiries and visits at either of our locations, at info@klinkhoff.ca or by telephone at numbers indicated at www.klinkhoff.ca.
Click here to view our services

Add a comment