Blog
December 29, 2021
Perhaps Philip Surrey's Most Important Painting of its Vintage
"End of Summer" sold by Alan Klinkhoff Gallery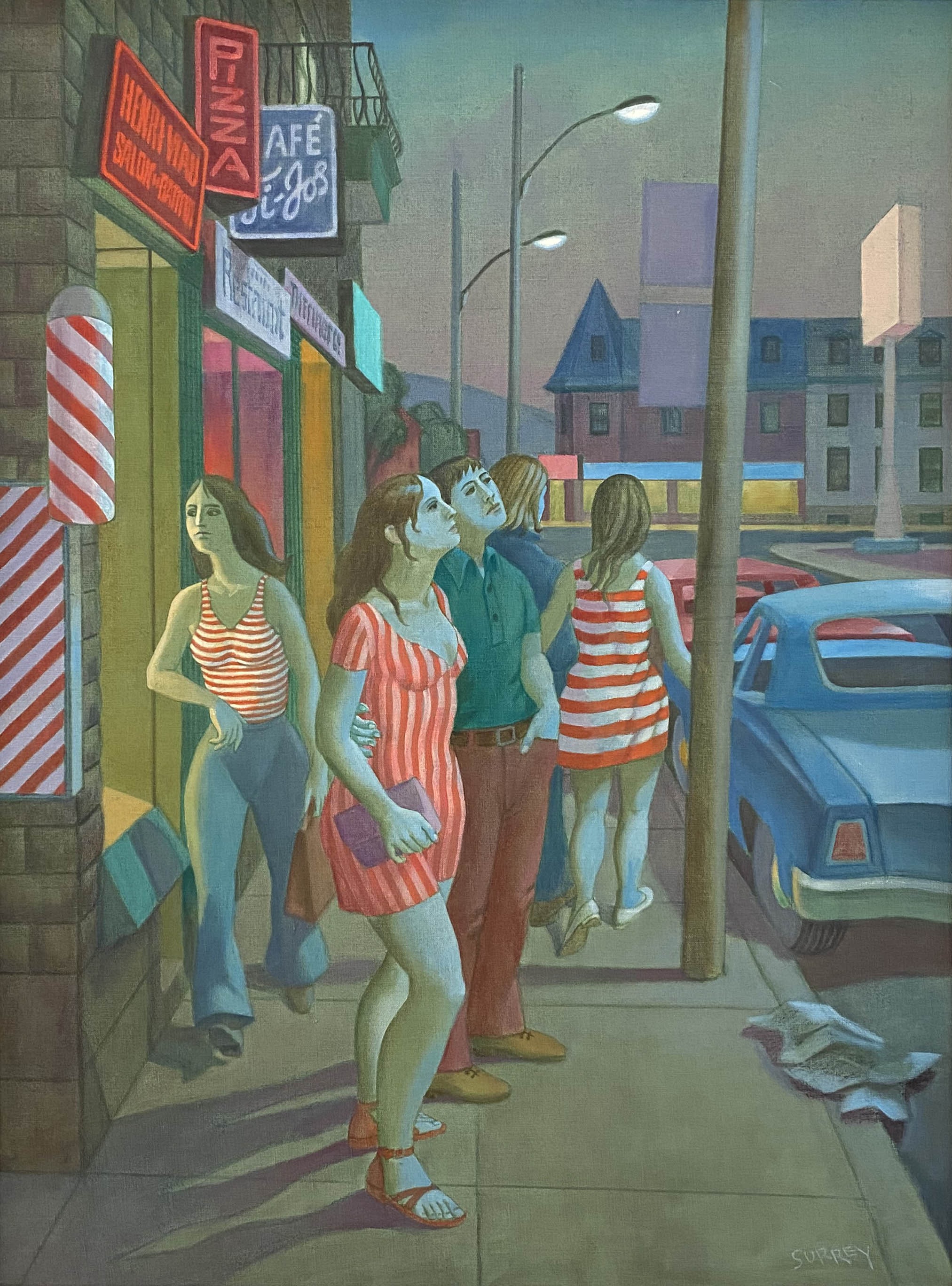 End of Summer is a generational painting and perhaps Surrey's most important painting of this vintage. This painting served as the cover image on the catalogue of the Philip Surrey Retrospective Exhibition, September 18 - October 2, 2004, hosted at Galerie Walter Klinkhoff. The location is somewhat recognizable. The artist has located himself on Fairmont at Jeanne-Mance, looking West with a slice of Mount Royal in the distance. As is characteristic of some of the best of Philip Surrey, he is working with the mystery of evening, his subject illuminated by electric light. He is an avid painter of youth, customarily full figured. His use of stripe patterns on the clothing serves to accentuate their forms. This is a neighbourhood scene in Montreal's Mile End borough, one with mixed roots in origins including Greek, Italian, Jewish and Portuguese. One notes a predominance of geometric forms - squares, circles, rectangles - in his design.
Surrey has now taken us to that inevitable transition, the end of summer, when, for youth at any rate, much changes.
Love is an emotion he was troubled by from his childhood, a struggle he described in the biographical sketch Margaret wrote on his behalf. Youth is a constant in a significant body of his work. Youth and love, or youth and romance find composition in many of his fine works in various media beginning in the 1950s, notably including in oils his Lovers, Westmount Park (Private Collection), Lovers, Westmount Park, 1957 (formerly in the Canadian Embassy, Mexico), The Lovers circa 1957 (Art Gallery of Hamilton) and in etching, Boy and Girl of 1961.
The passing seasons are a metaphor for any transition of a phase. Director of Discovering Philip Henry Surrey; The Artist in the City Project, Terry Rigelhof suggested to us recently that End of Summer is the artist's reconciliation with "a future now in younger hands." Perhaps, this is a hypothesis of merit to consider. Surrey was by 1974, 64 years of age. Years of social unrest, Vietnam, Kent State, the FLQ Crisis were now behind us. Anything might have been possible going forward to another generation. Wonderstruck by the evening sky, their future is theirs to make. In the words of Bryan Adams in Summer of 69, "And now the times are changin'".
As Dan Delaney of Montreal's West End Gallery astutely said about Surrey's paintings when interviewed shortly after the artist's passing, Dan told the reporter that in his opinion Surrey's paintings dealt with social issues and the subconscious: "There was always a question to be answered and the viewer had to look within himself to answer" [1]. End of Summer is a painting of considerable importance to the canon of post-World War II contemporary Canadian art.
Complete Catalogue Details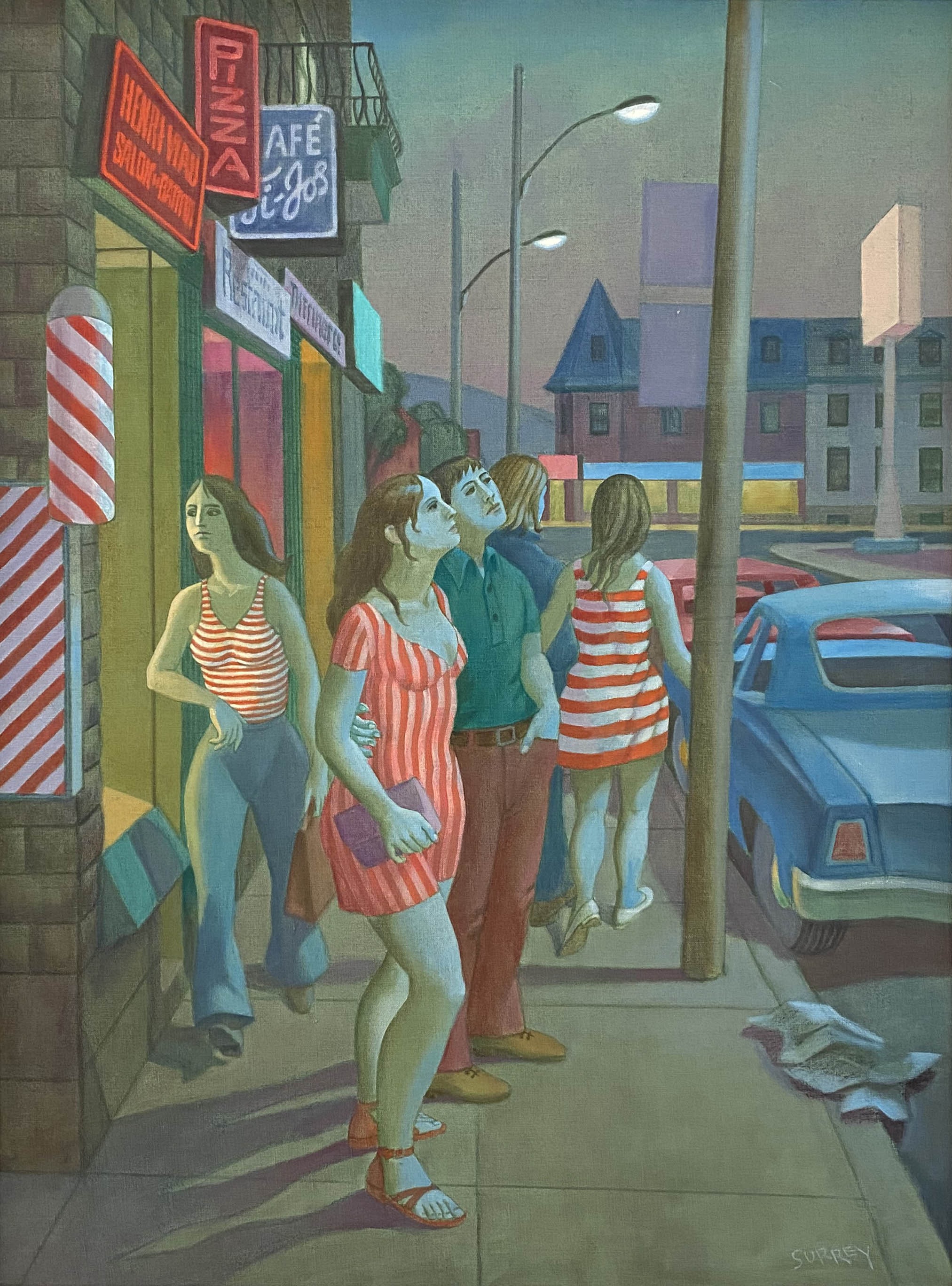 Philip Surrey (1910-1990)
End of Summer, 1974
Oil on canvas
32 x 24 in (81.3 x 61 cm)
signed lower right, 'SURREY'
Provenance
Probably acquired from the artist by Galerie Gilles Corbeil, Montreal, circa 1974;
Mr. H. Cohen, Montreal;
Galerie Jean-Pierre Valentin, Montreal.
A.K. Prakash & Associates, Toronto;
Private Collection, Toronto.
Exhibited
Montreal, Galerie Walter Klinkhoff Inc., Philip Surrey Retrospective 1910-1990 Exhibition, 18 September - 2 October, 2004, no.26.
Galerie Walter Klinkhoff, Montreal, Recent Acquisitions Exhibition, March 2005.
Literature
Galerie Walter Klinkhoff Inc., Montreal, Philip Surrey Retrospective Exhibition, as End of Summer, repr. front cover.
Related Work(s)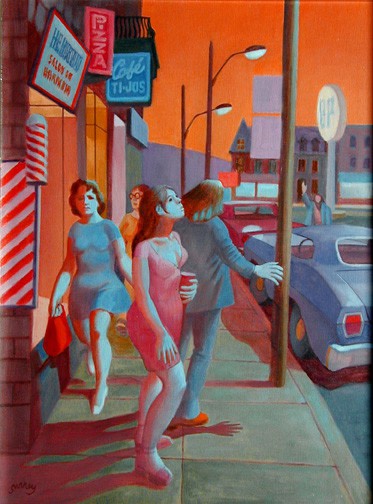 Copyright © Alan Klinkhoff Gallery
Add a comment