Blog
February 25, 2020
Mitzi and Mel Dobrin
A biography by Harold M. Waller, Professor of Political Science Emeritus at McGill University
Mitzi and Mel Dobrin were important members of the Montreal community, part of the family that established and operated the Steinberg's supermarket chain in Quebec and Ontario, as well as noted philanthropists and art collectors.
Mitzi & Mel Dobrin
Mitzi Dobrin, born in 1929, was the eldest child of Helen and Sam Steinberg, both of whom were born in Hungary and immigrated to Canada in the early 1900s. Sam's mother, Ida, had opened a small grocery store on St. Lawrence Boulevard in Montreal's immigrant neighborhood that Sam eventually developed into an enormously successful supermarket chainand real estate company due to his business acumen, talent, and creativity. For decades, Steinberg's stood as the premiere supermarket chain in Quebec and was always closely associated with the growing Montreal Jewish community. The patriarch of one of Montreal's storied families, Sam Steinberg was also President of the Jewish General Hospital and was responsible for the Pavilion of Judaism at Montreal's Expo '67, the world's fair.
Mitzi grew up first in the Outremont area and then in Westmount and married Mel Dobrin in 1949. She had three children and seemed, at first, to settle into family life as a traditional wife and mother. However, Mitzi would soon prove herself to be a woman ahead of her time. In 1962, when her youngest child was in Grade 1, she went back to school, at first part-time, to obtain a Bachelor of Arts degree from McGill University, followed by a law degree from McGill, graduating in 1971, a time when there were only a handful of women in McGill's law class. Armed with a legal education, Mitzi was ready to enter the business world and in 1973, Sam Steinberg put her in charge of Miracle Mart department stores, a division of Steinberg's. She became very much a hands-on executive who strove to motivate her employees while pursuing a number of initiatives to improve the business. She later headed corporate and legal services for the corporation. Beyond her Steinberg's responsibilities, Mitzi was named to the Board of the Royal Bank of Canada in 1977, becoming the first woman director of any Canadian Bankboard. She also served on the Economic Council of Canada and in 1986, Mitzi was appointed to the Order of Canada for her accomplishments as a "creative and active businesswoman with a strong social conscience." She was recognized with two honorary doctorates from Bishop's University in Quebec and Bar Ilan University in Israel.
Mel Dobrin was born in 1922, the youngest child of immigrant parents from Russia. He graduated from Montreal's well-known Baron Byng High School, where so many of the later leading lights of the Jewish community studied. After the start of World War II in 1939, he enlisted in the Royal Canadian Air Force and flew 32 missions over Germany as a navigator. After the war, he returned to his studies and qualified as an accountant. After his marriage to Mitzi in 1949, he went to work at Steinberg's where he held numerous management positions, leading to his appointment as President in 1969. When his father-in-law, Sam Steinberg, passed away in 1978, Mel was appointed Chairman and CEO of the corporation. He remained with the company until his retirement in 1989, when the company was sold. Mel was active in a number of charitable causes, including chairing the Foundation for the YM-YWHA of Montreal and serving as National President of Israel Bonds for 15 years. He was also a Governor and Member of the International Board of the Weizmann Institute of Science in Israel, where Mitzi and Mel established the Dobrin Center for Nutrition, and President of the Montreal chapter for over a decade. On the business side, he served as a director of the Montreal Trust.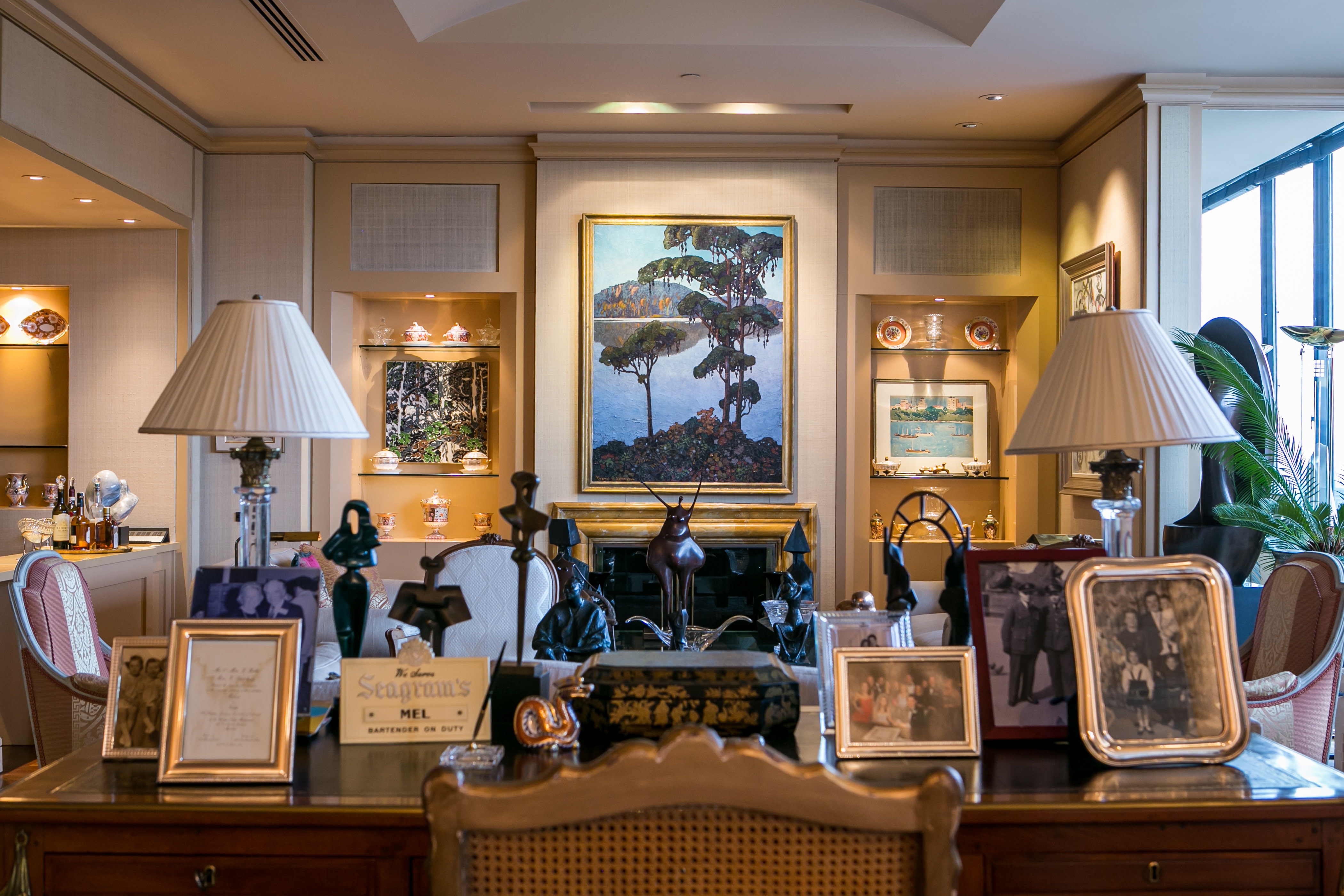 The Dobrin residence
After the sale of Steinberg's, Mitzi and Mel focused their energies on philanthropic and community endeavours, on continuing to enrich their art collection and travelling with their family and close friends. They remained avid golfers, skiers and patrons of the arts.
Mitzi and Mel are survived by their three children, six grandchildren, and seven great-grandchildren. They passed away within 13 months of each other, Mel in February 2018 and Mitzi in March 2019, leaving a legacy of community and philanthropic commitment as well as numerous business accomplishments.
Harold M. Waller
Professor of Political Science Emeritus at McGill University
Add a comment