Blog
April 3, 2017
Featured Painting: Lawren Harris Morning Sun Over Hill, Lake Superior (Lake Superior Sketch XXVII) 1922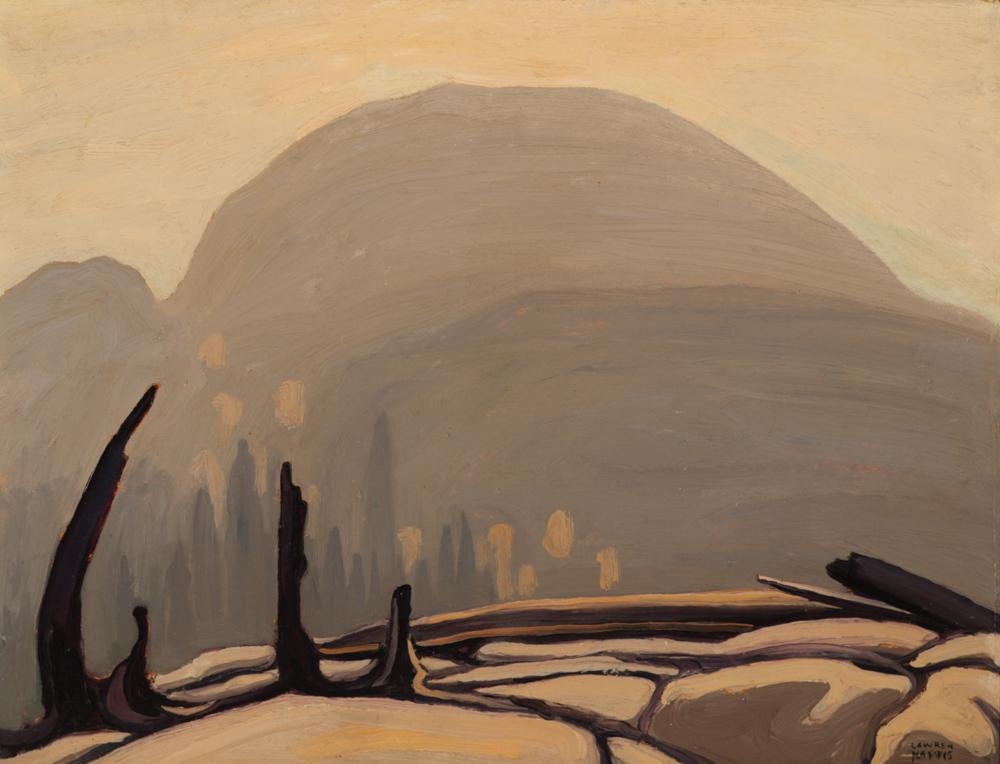 LAWREN S. HARRIS, C.C., LL.D. (1885-1970) Morning Sun Over Hill, Lake Superior (Lake Superior Sketch XXVII) 1922 Oil on Beaverboard 10 3/8 x 13 5/8 in. (26.4 x 34.6 cm)
Request price or additional information (by email) Lawren Harris & Canadian Master Sale - more information about this sale Download a PDF of the sale catalogue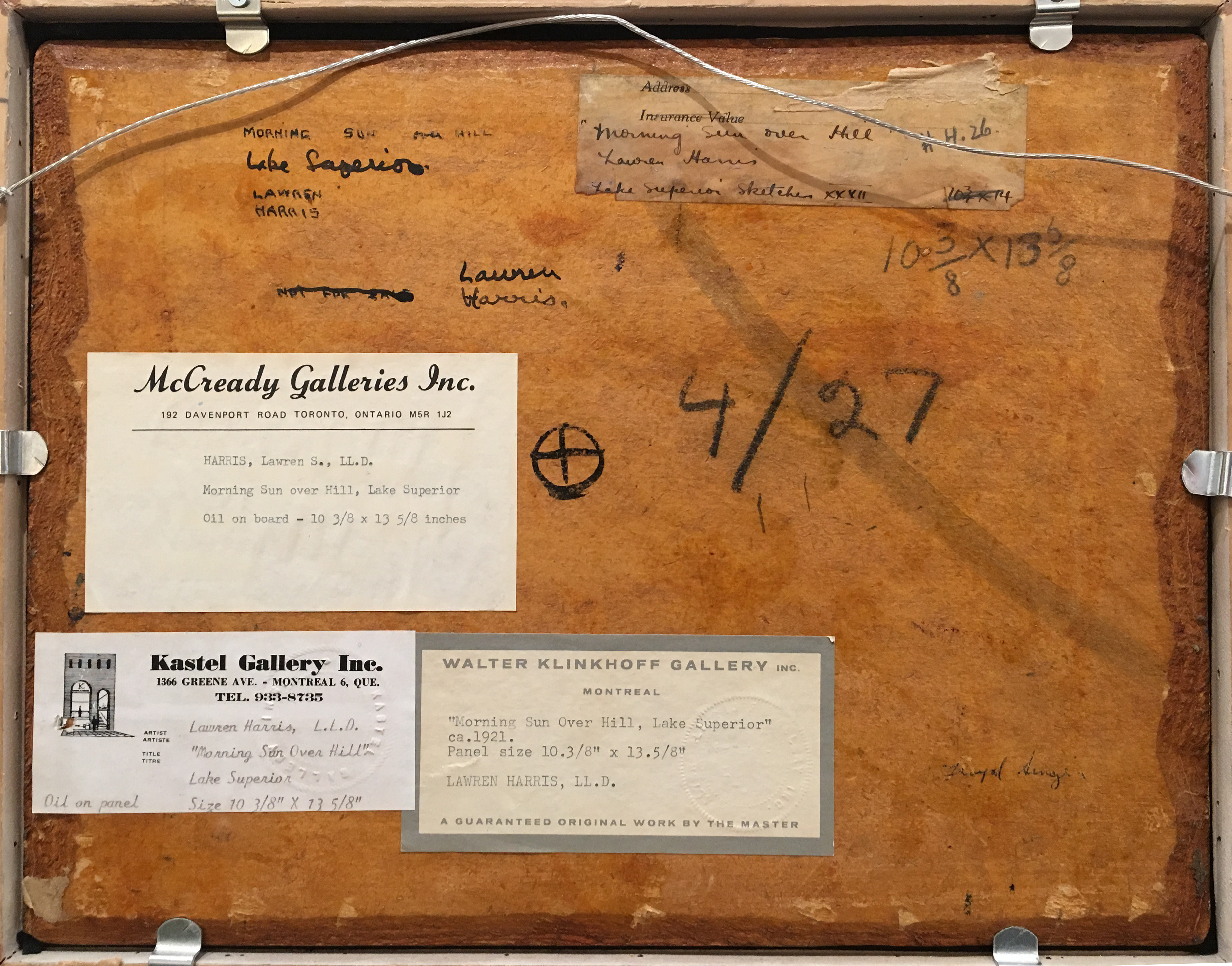 Inscriptions:
recto: l.r., LAWREN / HARRIS;
Verso: u.l., in ink, MORNING SUN OVER HILL / [by Doris Mills] Lake Superior / LAWREN HARRIS; u.l., in ink, NOT FOR SALE (crossed out) / [by Doris Mills]

Provenance:
Walter Klinkhoff Gallery, Montreal.
Kastel Gallery, Montreal.
McCready Galleries, Toronto.
Private collection, Montreal.

Literature:
The paintings of Lawren Harris compiled by Mrs. Gordon Mills, July-December 1936 as Morning Sun Over Hill (Lake Superior Sketch XXVII)
In the fall of 1921 Lawren Harris and A.Y. Jackson painted in Algoma then travelled on to Rossport on the north shore of Lake Superior. In the autumns of 1922 and 1923 the two artists returned to Lake Superior, painting at Port Coldwell in 1922 and at Port Munro and Pike Lake in 1923. The artists probably didn't return to Lake Superior in 1924 as they were painting in Jasper Park and Jackson had to return to Toronto to teach at the Ontario College of Art but they returned to Port Coldwell the following year.
On 7 October 1925 Jackson wrote to his friend Norah Thomson (later de Pencier), book buyer for the T. Eaton Co., "We are back in our old haunts, and it is pretty good stuff. It is three years since we did any work here and it all looks new. I think we will fill our panels and start home by Oct. 24th." The sketch was most likely painted at Coldwell in the fall of 1922. A sketch of the same hillock, painted by A.Y. Jackson and dated 1922, was given by Jackson to fellow artist Anne Savage, and another oil sketch of the same subject is identified by Jackson as being painted at Coldwell.
There is considerable confusion over the dating of Harris' Lake Superior paintings. His first canvases, such as First Snow, North Shore, Lake Superior of 1923, in the Vancouver Art Gallery, depicted the rocky hills above Lake Superior. In the mid-twenties Harris painted the burned out stumps overlooking the lake, such as Above Lake Superior in the Art Gallery of Ontario, a canvas often erroneously dated to 1922 but which was first exhibited in spring 1924. Finally, Harris focused on Pic Island off Port Coldwell and the dramatic light effects over the vast expanse of water.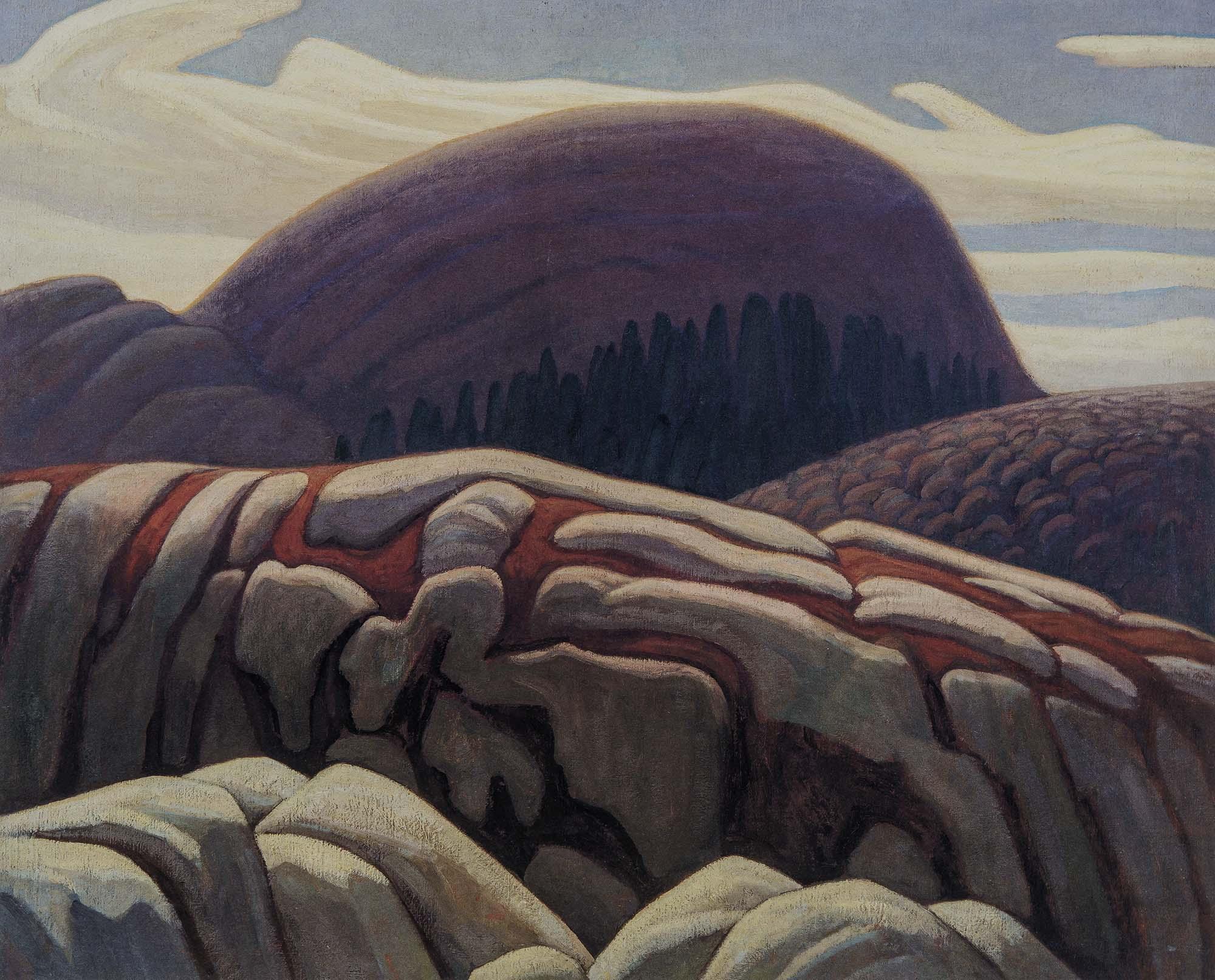 (Fig. 1) Lake Superior Hill (Lake Superior Painting XV) 1923 Oil on canvas 48 x 60 ½ in. (121.9 x 153.7 cm.) Private Collection.

Vancouver's First Snow, North Shore, Lake Superior was first exhibited in March 1923 as Landscape and Lake Superior Hill (Lake Superior Painting XV) (fig. 1) was probably exhibited with the Royal Canadian Academy of Arts in November 1923 as Above Lake Superior. The subject of both is not the expanse of Lake Superior but the rocks and sparse foliage of the hills. Paul Duval has reproduced the oil sketch for this latter canvas in Lawren Harris Where the Universe Sings (Cerebrus Publishing 2011), but the same rounded hillock depicted in Morning Sun over Hill probably formed the subject of the large canvas. Painted from a slightly further distance the foreground rocks in this sketch became the middle ground and he has eliminated the stumps at the left. Bright orange lichen or moss grows between the rocks, and the purple hillock dominates the centre of the canvas, set against a blue sky and stylised clouds.
Charles C. Hill, C.M. Lawren Harris & Canadian Masters, Alan Klinkhoff Gallery, 2017
Charlie Hill began working at the National Gallery of Canada in 1972 and was Curator of Canadian Art from 1980 to 2014. The exhibitions he organized and publications he wrote include "Canadian Painting in the Thirties" (1975), "To Found a National Gallery. The Royal Canadian Academy of Arts 1880-1913" (1980), "Morrice A Gift to the Nation The G. Blair Laing Collection" (1992) and "The Group of Seven Art for a Nation" (1995). He was co-curator and contributed essays to the catalogues of "Tom Thomson" (2002), "Emily Carr A New Perspective" (2006) and "Artists, Architects, Artisans Canadian Art 1890 - 1918" (2013). He was appointed a Member of the Order of Canada in 2000, received an Honorary Doctorate from Concordia University in 2007 and the Award of Distinguished Service from the Canadian Museums Association in 2012.
Add a comment