Blog
June 4, 2015
Alan Klinkhoff Gallery to Open at 113 Yorkville Ave. in Autumn 2015
Along with my father, Alan, and brother, Craig, I am proud to announce that Alan Klinkhoff Gallery will open an art gallery in Toronto's Yorkville district in the autumn of 2015. The gallery will be located at 113 Yorkville Avenue, near the intersection of Hazelton Avenue. Founded upon a 65 year tradition of family and expertise, Alan Klinkhoff Gallery is a leading dealer and appraiser of fine Canadian art from the period of the 1800s to the present, including 19th century Canadian artists, the Group of Seven, Beaver Hall Group, Automatistes, Plasticiens and urban realists. We also have extensive experience in the sale of international works of art.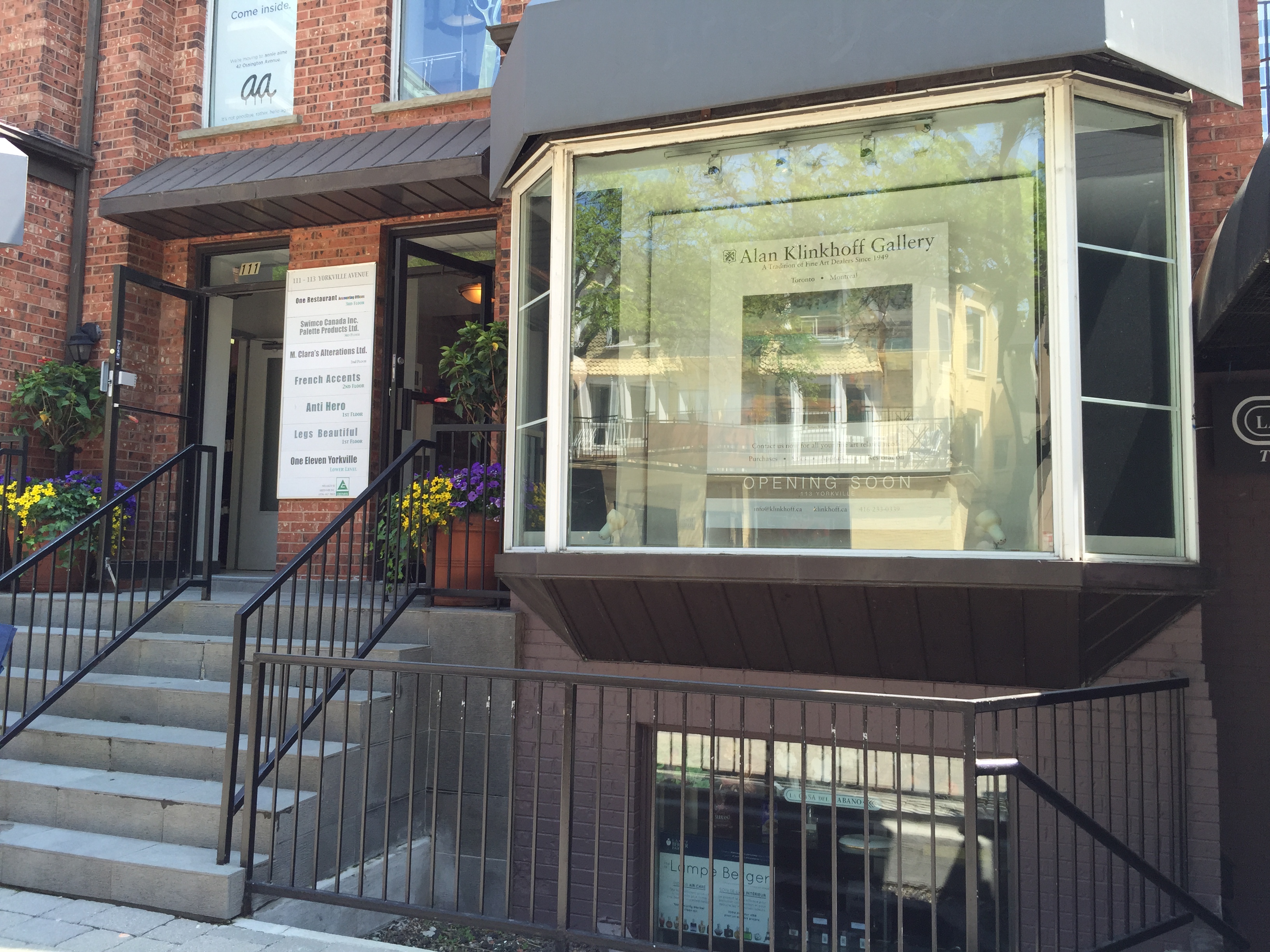 Opening Soon, Alan Klinkhoff Gallery at 113 Yorkville Ave, Toronto.
We continue to provide full service to our Toronto area clients on an appointment basis while our renovations are ongoing. We encourage you to contact us at info@klinkhoff.ca or 416-233-0339 if you are considering the purchase or sale of important works of art, and for all your other art-related needs.
The Toronto Gallery is indicative of our commitment to improve service and accessibility to our numerous friends and clients in the GTA, Ontario and points west. It succeeds the office we opened in Toronto last autumn and will complement our gallery in Montreal, where the Klinkhoff family has been providing expert advice, buying, selling and appraising fine art for collectors from coast to coast since 1949.
Our fine art services include purchases, consignments, sales, appraisals, framing, conservation, estate planning, professional consultations and collecting advice.
Alan Klinkhoff Gallery will conduct the fine art business in the same tradition of trust and expertise exemplified by the Walter Klinkhoff Gallery (now closed) where my father Alan worked for some 40 years and myself almost a decade.
We look forward to better serving you at our Toronto-Yorkville location. We welcome your visit.
Jonathan Klinkhoff
Add a comment