Blog
April 22, 2015
Spectacular painting by Paul-Émile Borduas is key in following the evolution of the artist's œuvre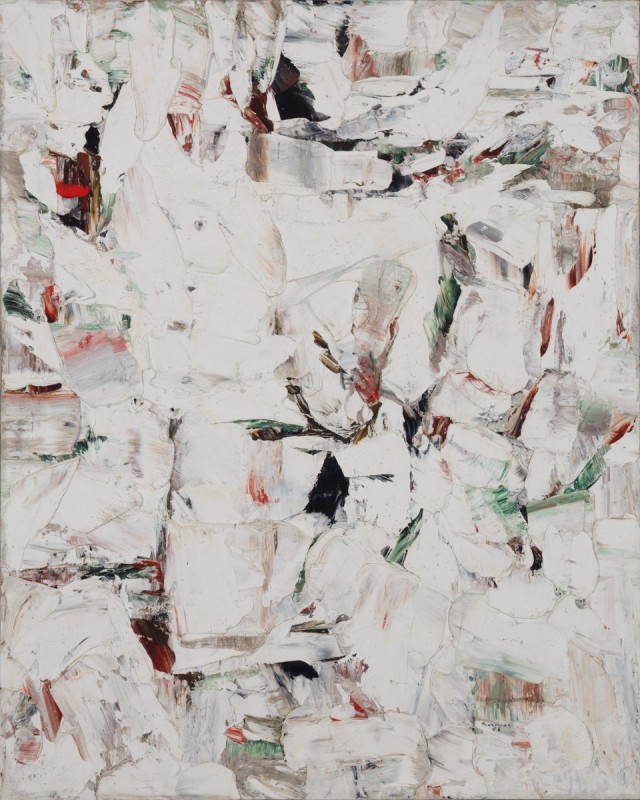 Paul-Émile Borduas, R.C.A. (1923-2002), Joyeuses Facettes, 1956, Oil on canvas, 52 x 40 ½ in. (132 x 102.8 cm).


Joyeuses Facettes and a few other paintings are mentioned for the first time in a dispatch notice dated December 31, 1958 by Borduas to the Gallery owner G. Blair Laing, then situated at 140 Bloor Street West in Toronto.
L.8 Joyeuses Facettes 30" x 40"
L.4 Invasion 32" x 43"
L.5 Coulées blanches 32" x 42"
L.6 Bouc centenaire 42" x 32"
L.7 Gris-gris [1953] 28" x 35"
L.3 La Débâcle 38" x 47"
"L" in this list stands most likely for Arthur Lenars & Cie (22 bis, rue de Paradis, Paris, Xe), the firm with whom Borduas dealt when he had to ship his paintings from Paris to their buyers. The list bears some slight mistakes: the actual dimensions of Joyeuses Facettes should read 50" x 40" instead of 30" x 40" while Gris-gris measures 28" x 36" (not 35") and is not of 1953 but of 1955. The measurements for Bouc centenaire are correct; the other paintings mentioned are still unknown.
This document is particularly important because it shows that Blair Laing was the first to acquire the painting and that Mr.and Mrs. Hunter Thomson were the first to purchase it. The recent vendor of Joyeuses Facettes acquired it on February 11, 1978 from the Shaw-Remington Gallery in Toronto, where the Thomsons had consigned it. (In an article by The Globe and Mail, dated January 28, 1978, Kay Kritzwiser states that the Thomsons were selling the painting to finance the purchase of an apartment in Venice). It has remained in their hands until now.
The word "facette" usually designates one side of an object which has many faces, such as a diamond, and is also used to describe the many views shown simultaneously of an object represented in a cubist painting. In the period of Analytic Cubism, Picasso or George Braque, for example, seeking to portray an item as seen from many different angles, would recombine all the facettes in a new arrangement. By showing many facettes of the same object or portrait, Cubism aspired to a greater "realism" than academic painting, which adopted one perspective only and ignored all others. Borduas' title for this painting implies that the joy of painting is not simple and has many facettes, which he conveys through the varying direction, consistency and shades of the white palette work.
It is interesting to compare Borduas and Riopelle's painting technique and style. During the 1950s during Riopelle's Mosaic Period, the traces left by his spatula are easily recognizable.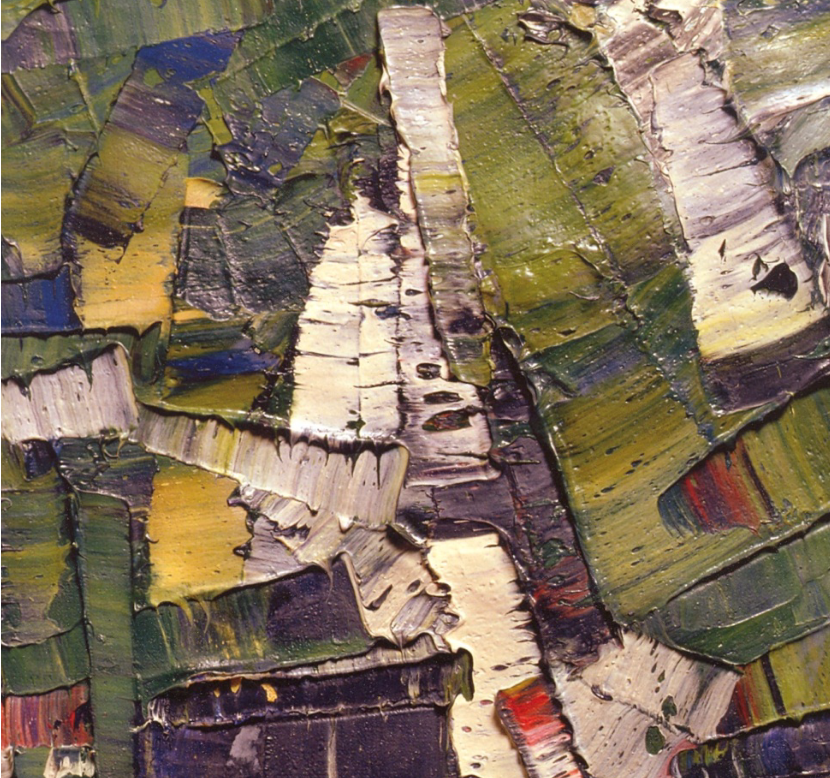 Jean Paul Riopelle (1923-2002) Rencontre, 1956 (detail), Oil on canvas, 39 x 32 in. (100 cm x 81 cm) Ludwig Museum, Cologne, Germany.
We can almost find the exact imprint of Riopelle's palette knife in the pigment, its form and length clearly defined, as if he had simply pressed on it without dragging the paint across the canvas at all. Borduas seems much freer in his movements and indeed, in Joyeuses Facettes, his use of white paint is spontaneous, with varying thickness of paint and impasto. Accents in black, green, red and umber allow us to follow the direction of his paint strokes, often suggesting a movement from center to both sides of the painting, which are sometimes "corrected" by redirecting them towards the center.
Painted in Paris, before Borduas' Black and White Period, this work is a logical progression of what he had been painting the year before while living in New York where he was greatly influenced by Jackson Pollock, Franz Kline and other abstract expressionists. The paintings of les Automatistes place the background, receding indefinitely in depth, in opposition to objects which seem to be suspended in midair in front of it. In Borduas' New York paintings, however, not only does the background move into the foreground, destroying this illusion of depth, but the objects burst into fragments and enter the foreground. Borduas was thus able to coincide more with the "flatness" and bi-dimensionality of the canvas, lauded by the critic Clement Greenberg as typical of "American painting". Joyeuses Facettes is a perfect example of this trend - yet the discrete black accents might hint at the imminent birth of his Parisian Black and White Period. Joyeuses Facettes is an important work and key in following the evolution of Borduas' œuvre.
We thank François-Marc Gagnon, O.C., Ph.D. for this appreciation. Dr. Gagnon is the Founding Director and Distinguished Research Fellow of the Gail and Stephen A. Jarislowsky Institute for Studies in Canadian Art. He taught at the Université de Montréal for thirty-five years and was a lecturer in Concordia's graduate art history program. Dr. Gagnon received the Governor General's Award for his 1978 critical biography of Paul-Émile Borduas. He authored numerous books, monograph studies, and essays for exhibition catalogues and has curated a number of these exhibitions.
Add a comment