Blog
May 30, 2013
"Powerful" Jackson Canvas Sold by Klinkhoff is One of only Five
A.Y. Jackson produced some magical paintings in the 1920s. Made with a bold, expressionist touch and rich colour on medium-large canvases, his images of landscape, Quebec villages and the homes and poles of the First Nations have a remarkable staying power. Whatever he painted, Jackson's work always involved a modernist re-thinking of lessons he had learned in studies abroad which he combined with a new kind of liberty discovered through contact with Tom Thomson and the Group of Seven. While his earlier work had a darker palette and denser composition, in works such as Night on the Skeena River, the forms seem to sing to each other across open space.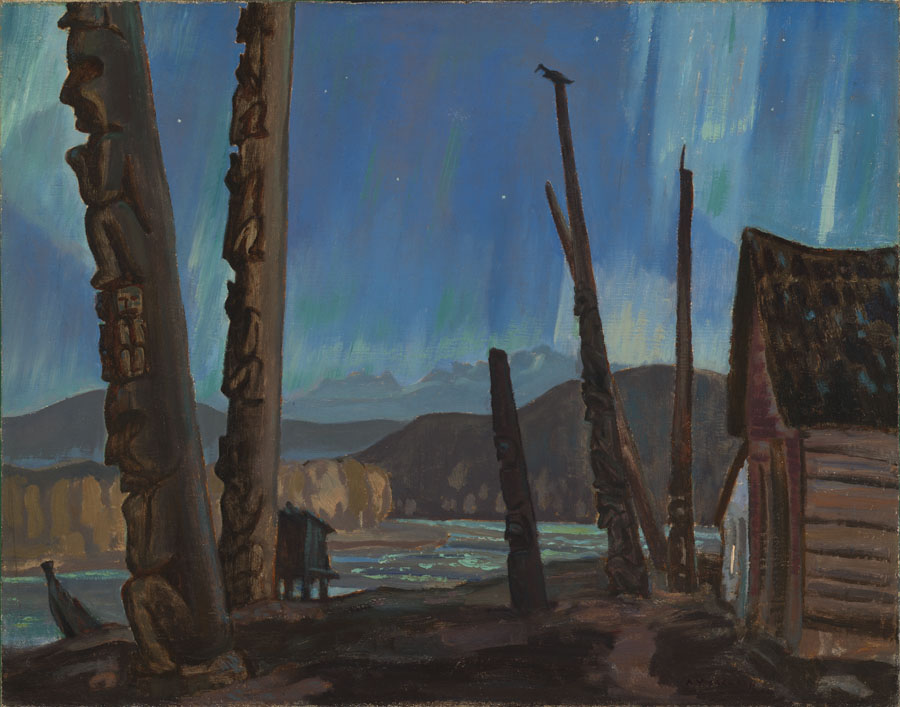 A.Y. Jackson (1882-1974) | Night on the Skeena River, 1927
"I felt a little as if beaten at my own game." - Emily Carr in 1927, upon seeing Jackson's Skeena River paintings
As in other works of the 1920s, Jackson painted the scene as though he was alone in the landscape. In this work, the viewer feels instinctively Jackson's ability to create a powerful and poetic mood. As the critic Fred Jacob wrote of Jackson's works of 1924 such as Dawn - Pine Island (McMichael Canadian Art Collection), each presents "a mood of nature perfectly expressed with refinement that does not mar the power of the conception."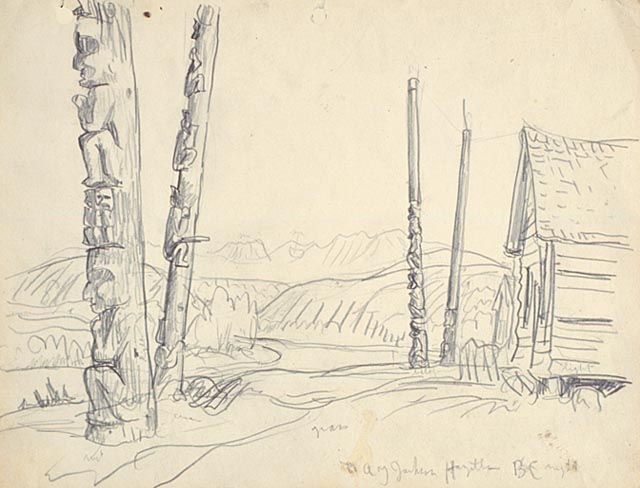 A.Y. Jackson (1882-1974) | Hazelton, B.C. 1926 | Drawing 21.3 x 27.6 cm | Property of the National Gallery of Canada (nº 17470r) | Purchased in 1973 | Courtesy of the Estate of the late Dr. Naomi Jackson Groves
Jackson painted about five canvases from studies made during his trip to the Skeena River in 1926. Of the works known so far, this canvas and Kispayaks Village in the Art Gallery of Victoria are the largest. "Night on the Skeena" is closely related to a drawing in the collection of the National Gallery of Canada, on which Jackson wrote "Hazelton, B.C." However, as in other works he painted of this area, he generalized the totem poles - he had drawn them in detail only at Kispiox farther down the river. Without much that was specific in First Nations information to convey, he diverted the viewer's attention to what he knew he could paint with devastating power - the northern lights in the sky, the light on the water and the mountain ranges in the background, indications of the way he felt about the place he visited.
One feature in the painting reveals Jackson's preference in painting totem poles -- he and Edwin Holgate who was accompanying him on the trip to the Skeena in 1926 with Marius Barbeau preferred the way the poles leaned forward or backward to being set in concrete straight in the ground as the Canadian National Railway engineer who was with them, a Mr. T.B. Campbell, had been charged with doing. (When the two men complained to him about the way he was straightening the poles, Campbell replied that he could not put up leaning totem poles, but he added; "You can make them lean any way you like in your drawings.") Jackson also recorded in his autobiography that the way the poles were being restored in terms of colour was absurd. The First Nations had only a few earth colours, which Jackson described as "quiet and dignified," as he painted them here.
In the exhibition of Canadian West Coast Art, Jackson's work was not singled out for as much praise as the aboriginal art and the work of Emily Carr, but Marius Barbeau choose to reproduce "Kispayaks Village" in his book The Downfall of Temlaham (1928), proof that Barbeau recognized the importance of Jackson's contribution. Jackson himself knew that he had made new strides in his work on the Skeena and specifically in this painting. In a letter of 27 June, 1933, Jackson wrote to Barbeau that he included this work on a list he made of the works he considered his most important. Emily Carr also recognized and appreciated Jackson's Skeena works. In 1927, she visited Jackson in his studio. She recorded in her Journal, that she "loved his things, particularly ...three canvases up Skeena River... I felt a little as if beaten at my own game. His Indian pictures have something mine lack --rhythm, poetry," she wrote. Carr likely looked at this painting, which Jackson would have had ready to take to the exhibition at the National Gallery.
Later, Jackson's niece Naomi Jackson Groves wrote that it was Jackson's canvases on Skeena subjects that "truly imprinted Emily with new richness and poetic mood and sent her back to do her own great 'new visions.' Paintings such as Night on the Skeena can therefore be regarded as about one great artist using the work of another as a touchstone to emulate. She would have recognized in paintings such as this work the rightness with which things fit together. A.Y. Jackson here achieved a kind of lock of different parts, a coherence that leaves the viewer entranced by his achievement, essentially private in spirit, but tough and of fascinating beauty.
See also: A.Y. Jackson's Skeena River Canvases by Jonathan Klinkhoff
We thank Joan Murray for this appreciation.
Joan Murray is one of Canada's leading experts on Tom Thomson and the Group of Seven. She also has authored more than 25 books on the history of Canadian art, most notably Canadian Art in the Twentieth Century (1999), Northern Lights: Masterpieces of Tom Thomson and the Group of Seven (1994), and McMichael Canadian Art Collection: One Hundred Masterworks (2006), published over one hundred catalogues and two hundred articles.
See her web site at http://joanmurrayart.com.
© The contents of this page are protected by Copyright.
Add a comment