Blog
February 1, 2009
An Outstanding Take on Canadian Modernism in Marc-Aurele Fortin's "Sunday at St. Helen's Island" (c. 1924)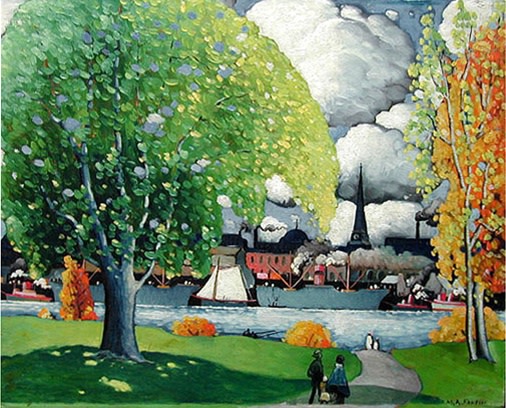 Marc-Aurèle Fortin, Sunday at St. Helen's Island, ca. 1924, oil on panel, 24 x 29 1/2 in.
Exhibitions: "Dimanche à l'Ile Sainte-Hélène", Musée du Québec, n.d ;
"Collections d'Artistes", Place des Arts, Montreal, 1979;
"Les Esthétiques modernes au Québec 1916-1946 ", National Gallery of Canada, 1982, cat. no. 12, box no. 1;
Musée Marc-Aurèle Fortin, January 24 - April 24, 1984, P-20;
Marc-Aurèle Fortin Retrospective Exhibition, Galerie Walter Klinkhoff, September 2006, no. 13.
Literature: Les Esthétiques modernes au Québec de 1916 à 1946, Galerie Nationale du Canada, Musées nationaux du Canada, Jean-René Ostiguy, Ottawa, 1982, reproduced in colour, pg. 7, and reproduced in black and white on page 37;
Marc-Aurèle Fortin, Une Maitre Inconnu, Musée Marc-Aurèle Fortin, René Buisson, 1995, pg. 67
This most handsome and important Fortin stylistically is of around 1924, years when the master painted these noble and imposing trees which are among the most representative of Fortin's entire oeuvre. In September of 2006, Esther Trépanier, who at the time was a Professor of the Department of Art History at University of Quebec, Montreal (now executive director of the Musée Nationale des Beaux-Arts du Québec), wrote an excellent pamphlet Marc-Aurèle Fortin as Seen by His Contemporaries to accompany our non-selling retrospective celebrating the master Marc-Aurèle Fortin where this painting Sunday at St. Helen's Island was on exhibit. In the pamphlet, Professor Trépanier wrote: "By the end of the 1920s, Fortin was well on his way to becoming one of the artists instrumental in setting the markers of modernism in the arts as it was taking shape in Quebec.''
''The modernism at issue was a form of expression that remained figurative yet sought to disassociate itself from academic rigidity and even occasionally from an overly repressive nationalism." She continued, "It was in the 1920s that Fortin began to exhibit canvases in which gigantic trees encircle and almost blend into tiny houses and minuscule human forms, often simplified to an extreme. These imposing trees, so characteristic of Fortin . . . are among the works that the public and critics have always preferred most".
Sunday at St. Helen's Island, you will note, was exhibited previously in the Musée Marc-Aurèle Fortin, a charming museum which until recently was located in Old Montreal and now absorbed within the Sherbrooke St. premises Montreal Museum of Fine Arts. The inspiration and founder of the Marc-Aurèle Fortin Museum back in 1984 was René Buisson, the executor of Fortin's Estate and a huge admirer of Fortin's art. With the Musée Marc-Aurèle Fortin now gone, perhaps the greatest legacy of Mr. Buisson, "René" as we knew him, is a publication he wrote Marc-Aurèle Fortin, un maître inconnu where Sunday at St. Helen's Island is illustrated in colour on page 67.
Referring to the important period of 1920 – 1930 during which this work was painted, René cites from the chapter the famous art critic for La Revue Populaire and its Director from 1926 published about Fortin in Ateliers: Études sur vingt-deux penitres et sculpteurs canadiens (Les Éditions Mercure, 1928). This period in which detailed trees play a central role was a high point of his work from 1920 to 1930. Critic Jean Chauvin acknowledged the exceptional stature of the artist as early as 1928.
In a chapter devoted to Fortin in his book, Ateliers: Études sur vingt-deux peintres et sculpteurs canadiens-français, he writes that "Fortin is such a personal artist - such a Québec artist, we might say – that the breezes of his country, and his country alone, flow across all his paintings. Through his use of warm colours, he knows how to render the splendours of autumn and compose magnificent symphonies in green to pay tribute to summer. Fanning out against a sky flecked with round white clouds that burst forth like so many huge shards of shrapnel, the trees in his work are not merely decorative pretexts; their sheer intensity is enough to bring an entire painting to life. Fortin might well be compared to a magician who makes giant trees rise up from the earth and creates extraordinary skies with strokes of colour from his palette – an enchanted nature that is a delight to everyone who does not expect art to be an all too faithful reproduction of reality. By heeding the lessons to be learned from light and the sun, by drawing inspiration from the rustic scenes of their country, Fortin, the painter of autumn and summer, longs for Canadian artists to evolve towards a profoundly national art reflecting the temperament of the race. 'Just like the French, we should excel in landscapes.' he would often say."
In summary, Sunday at St. Helen's Island is an outstanding example of among the finest by Marc-Aurèle Fortin .
Add a comment