Blog
September 22, 2008
Masterpieces of Canadian Art Retrospective | September 2008
The Gallery Advantage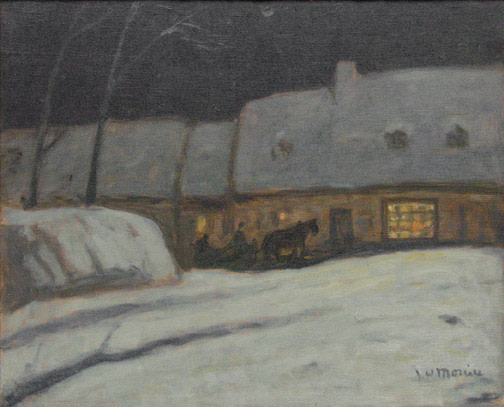 Masterpieces Retrospective Exhibition
The summer of '08 flew right by and now we are all looking at our calendar to what will be a very busy autumn. The immediate event here at Galerie Walter Klinkhoff is our 35th annual non-selling exhibition, this year aptly entitled "Canadian Masterpieces", an exhibition of select masterpieces, each representative of a style or movement in the history and evolution of Canadian art. Admittedly, due to the limitations of space our survey is far from comprehensive.
Nevertheless, rinse your eyes in the brilliance demonstrated by the individual paintings on view, ranging in generations and styles from Cornelius Krieghoff through John Little. I assure you of a visual feast. (Because of any number of gaps in prohibiting this to be an exhaustive timeline, perhaps a future challenge might be for us to make a show exclusively of the art movements not represented this time around. Have any of you got an important Colville to either lend us or even sell us?) "Canadian Masterpieces" will be on view here in the gallery from Saturday, September 20th until Saturday, October 4th. I encourage you to visit this exhibition ideally physically in the Gallery but if that's inconvenient tune in to www.klinkhoff.com.
The gallery advantage
Come Saturday, November 8, as has become the semi-annual tradition developed here over the last few years, we shall be hosting an exhibition and sale of "Important Canadian Art". Already we have a selection of fine works aside for the sale and remark that every day brings exciting potential additions we intend to firm up. One of the many virtues of this on-line event is that we can add new works for sale even at the eleventh hour. For that matter we can add works for sale even during the exhibition and sale itself. The beauty of what we do in our ongoing daily buying and selling (or occasionally receiving works on a consignment basis) is that you the seller are selling in the market as it is at the time you make your decision to proceed, not in some unpredictable market months and months down the road. That is to say, for those of you who might consider an alternative selling venue to a "fixed price gallery" and one where you consign your work say in mid-October, your work will only be offered for sale some seven months later and then, assuming it sells, you will be paid thirty-five days after that. That's eight months forward, at a pre-determined date and time! The scenario is analogous to you giving specific instructions to your stock-broker to sell at the market your shares in company "X" at 10:45 am on Tuesday, May 26th of next year. The recent turmoil in the financial markets and the unpredictable nature of the economy should further underscore the risk of making blind commitments in a future market, and also emphasize the advantages of selling to fixed-price venues. With a fixed-price gallery, you are often presented the option to sell to us outright or, alternately, consign the work at a slightly lower discount. With a consignment we have the luxury to present, on your behalf, your painting individually to the most enthusiastic and active buyers in the market for your work. Whereas the sale of your work is usually consummated efficiently, perhaps over a period of weeks we are not confined to one specific day, perhaps one which may be adversely impacted by political and economic events.
Those of you who have some precious works of art to sell I invite you to contact us for a confidential consultation. To potential buyers please stay in touch. Our website is presently evolving toward something which we believe is visually more attractive and more informative. The "highlight" feature is a concept we take pleasure in penning. Some among you have definitely found it useful in your purchasing process. As I wrote in the first issue of this newsletter if you have any feedback please do not hesitate to address me a polite note. P.S. Our hats go off to colleague Rod Green, whose contribution to art collecting in Western Canada is being celebrated with a dinner in his honour at Calgary's Glenbow Gallery.
Add a comment