Blogue
le Mars 9, 2011
Memorable Borenstein Returns After Fifty Years
Walter Klinkhoff reflected on "The Pink Bouquet" in his memoirs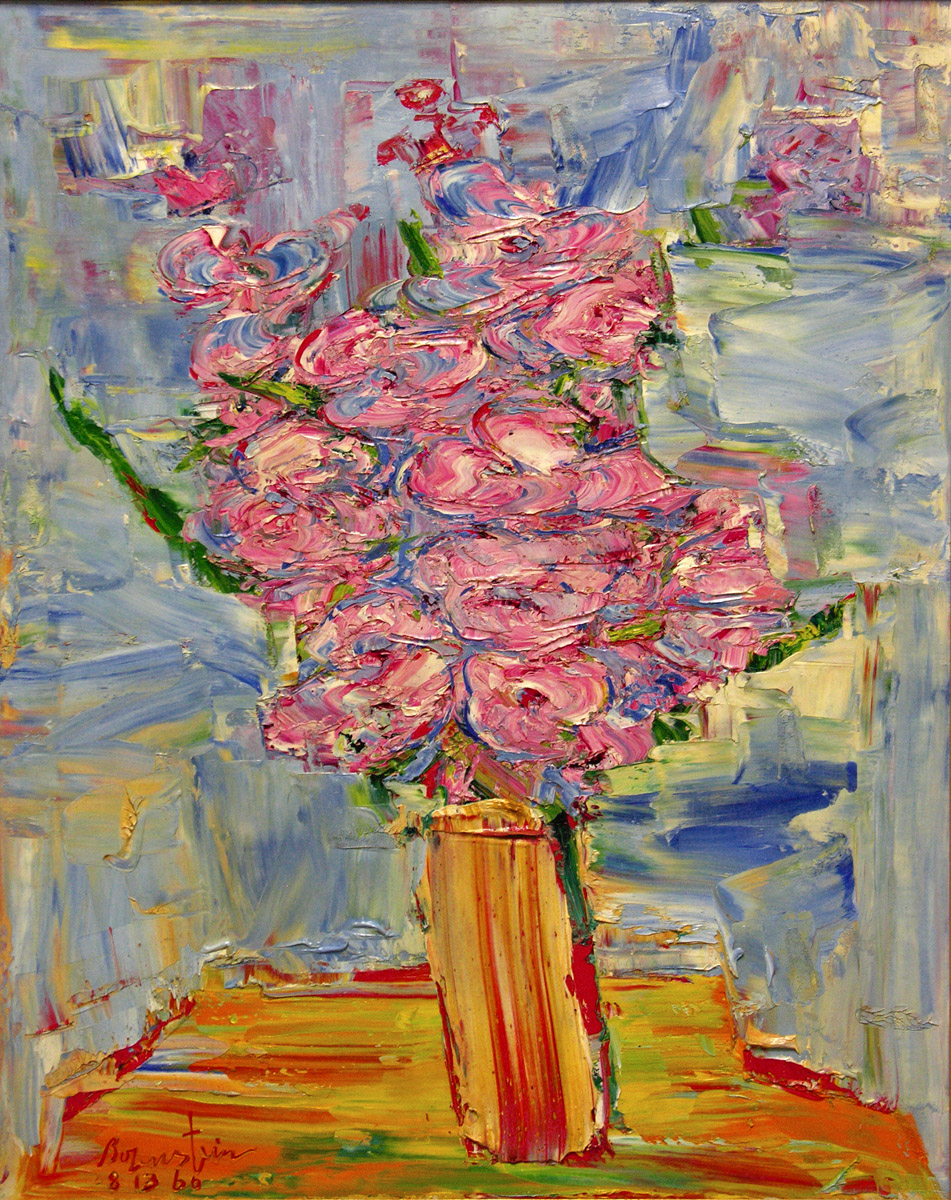 Sam Borenstein's "The Pink Bouquet", 13 August, 1960 was described by Walter Klinkhoff in his memoirs and was one of his more memorable and controversial sales. Over fifty years later we are pleased to offer it to a new generation of collectors.
In 1993 my now-late grandfather published a collection of his memoirs in a limited edition of 600 copies. In it he reflected on his relationships with artists like A.Y. Jackson, Arthur Lismer, Marc-Aurèle Fortin and important collectors like the Late Kenneth Thomson, John A. MacAuley and E.P. Taylor. At the gallery we are privileged to be able to read his accounts and, on occasion, share a special and relevant anecdote. Those who are familiar with our gallery over the years will have heard of Sam Borenstein.
My grandfather was always an enthusiastic supporter of Borenstein's painting. He hosted two selling exhibitions for Borenstein while the artist was alive, in 1958 and 1961, and then a non-selling retrospective in 1978, nine years after Borenstein's premature demise. This was a time when few collectors "invested" in Canadian art and fewer still were ready for Borenstein's excitingly lyrical and uninhibited terms of expressionism. Nevertheless, Granddad felt that his responsibilities as an art dealer went beyond simply selling and lay also in educating collectors. Few things reflect his confidence in the work better than the criticism he directed at Max Stern, his distinguished colleague at Dominion Gallery, who was verbally Borenstein's detractor. Although over the years some receptive buyers and a select few who had astute aesthetic judgment themselves did buy Borenstein paintings, the work remained outside the realm of what was then mainstream. One of his more memorable sales, and one of the few he described in his "Reminiscences", was that of "The Pink Bouquet", painted on August 13, 1960. In Walter Klinkhoff's words:
Before the opening of the second exhibition I had a telephone call from Mr. MacAulay of Winnipeg who had the finest collection in Canada. He asked me to mark the three best Borensteins sold for him, he was buying them. He had seen one of Borenstein's paintings in Winnipeg and admired it. On the first day of the show Peter Bronfman came in. One of the paintings I had marked sold for MacAulay was the one he would love to own, no other appealed to him as much. I decided to let him have it and marked another, equally good one for Mr. MacAulay. After several months of not having been paid by Peter, I started following up my statements with telephone calls, until one day a chauffeur brought back the Borenstein and left it in my hallway. I furiously telephoned Peter and told him that I found this unacceptable and that the painting would be returned to him promptly. Although he told me he would never do business with me again, and was as good as his word in this regard, he also told me that his wife had not liked the painting when he brought it home. Years later they divorced. Peter told me that Diane, who went to live in Israel, only wanted to take the Borenstein with her. She had gotten to like it!
In October 2010 we received an e-mail from the owner of a Borenstein who, having read this story on our website, claimed to have inherited "The Pink Bouquet". The rest is history and now, fifty years after this picture became one of my grandfather's more costly sales we are proud to be able to show it to a new generation of collectors, a generation that has elevated the art of Sam Borenstein to the more prominent place my grandfather believed - and that we believe - he deserves. Indeed, in recent years the market for the fine works by Borenstein has leaped forward. This is largely due to the conviction of his now late widow, Judith, his daughters Erin & Joyce, who both shared their mother's belief, the influence of private gallery exposure, the institutional validation of museum exhibitions such as Sam Borenstein (Montreal Museum of Fine Arts: 2005), Jewish Painters of Montreal: Witnesses of Their Time, 1930-1948 (Musée national des beaux-arts du Québec and the McCord Museum: 2009-2010), and the preference of today's buyer for artwork with strong colour and visual impact. For those of you who have the opportunity to be in New York City over the coming months, until May 8th there will be an important exhibition called Sam Borenstein and the Colours of Montreal at the Yeshiva University Museum on West 16th Street.
Copyright © Galerie Walter Klinkhoff, 2010

Ajouter un commentaire