Blog
February 7, 2020
Announcing the Sale of The Collection of Mitzi & Mel Dobrin
Sale valued at over $20 million features works by Tom Thomson, Lawren Harris, Emily Carr, among others.
Alan Klinkhoff Gallery is honoured to present to today's art collectors this important opportunity to acquire outstanding works of art from The Collection of Mitzi & Mel Dobrin. It is a significant milestone in the art dealing business, being the finest collection a Canadian gallery has offered for sale in this generation.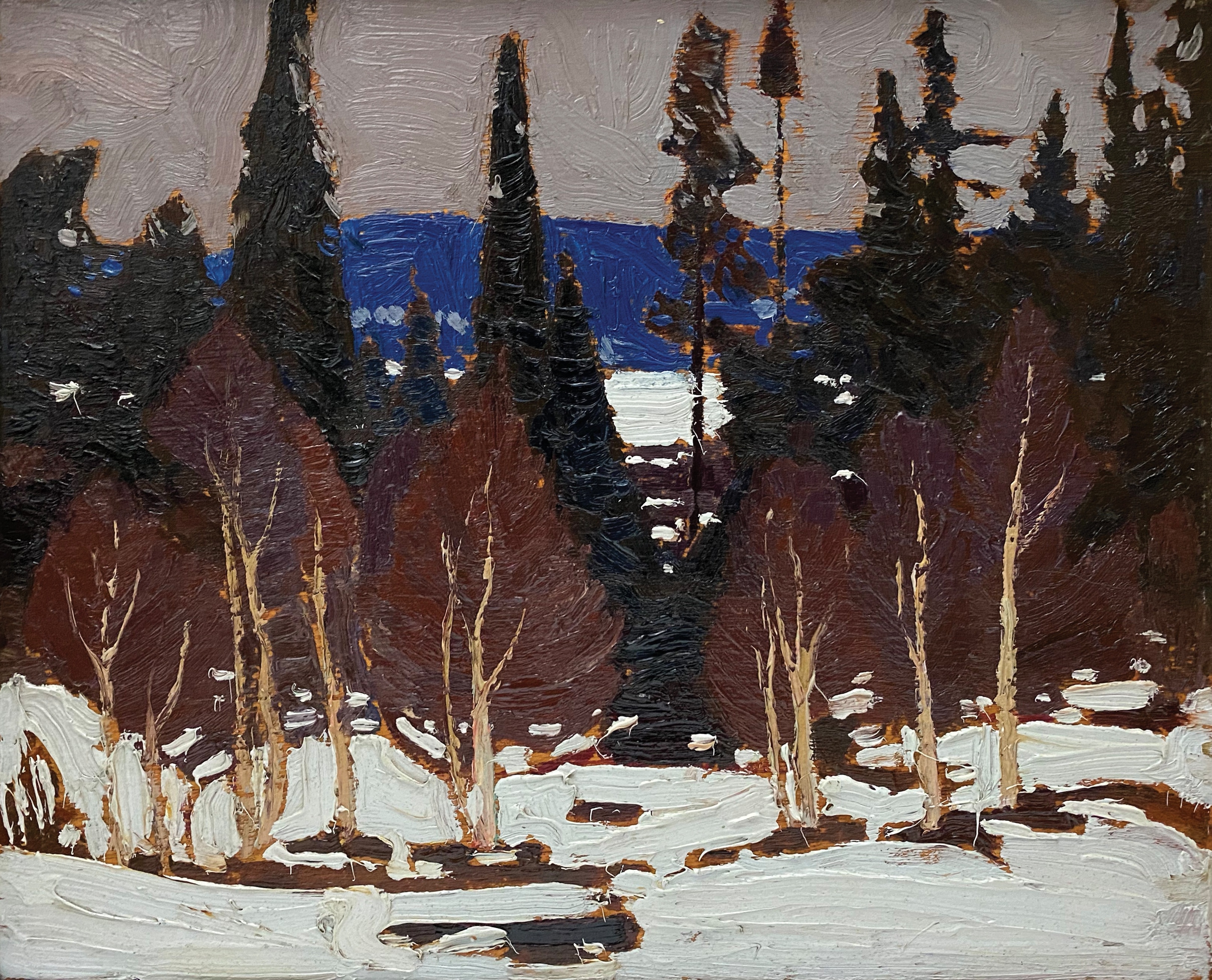 Tom Thomson 1877-1917, Early Spring, Algonquin Park, Spring 1917, Oil on board, 8 ¼ x 10 ½ in (21 x 26.7 cm) $2,500,000
The sale features 90 paintings valued at more than $20 million, and includes paintings by Tom Thomson, Lawren Harris, Emily Carr, David Milne, James Wilson Morrice, A.Y. Jackson, Frank H. Johnston, J.E.H. MacDonald, Marc-Aurele Fortin, and Clarence Gagnon.
Works of art are available for immediate purchase and subject to prior sale. Contact us to arrange a preview of the collection. Click here for all important dates related to the viewing of the collection and exhibitions in Toronto and Montreal.
Among the highlights of The Collection of Mitzi & Mel Dobrin are two exceedingly rare oil paintings by Tom Thomson, painted in his prime, 1915-1917. Thomson was the spiritual inspiration for the Group of Seven. His mature career spanned only a few short years before he drowned under mysterious circumstances in Algonquin Park in 1917. The two Tom Thomsons offered for sale by Alan Klinkhoff Gallery are among the finest from his prime not already in museums. Underscoring the scarcity and desirability of paintings by Thomson, the last time a comparable example was offered publicly was in 2009, when it sold for a price of more than $2.75 million.
Mitzi and Mel Dobrin's home
The Sale of The Collection of Mitzi & Mel Dobrin also features a number of significant paintings by the Group of Seven. Among them is the masterpiece by Frank H. Johnston, a 57 x 42 inch museum-quality canvas which recalls Tom Thomson's famous painting, The Jack Pine, in the National Gallery of Canada. It also includes Lawren Harris' first major canvas of downtown Toronto houses, A Row of Houses, Wellington Street, 1910. This may be the most reproduced painting by Harris that is not in a museum. A.Y. Jackson's Early Spring, 1926 (oil on canvas 24 x 32 in), is another obvious highlight. There are equally exciting paintings by J.E.H. MacDonald.
"Tom Thomson and the future members of the Group of Seven were the most influential artists working in Canada in the first decades of the twentieth century", writes Charlie Hill, retired curator of Canadian Art at the National Gallery of Canada. "Their bold experimentation and engagement with Canada's many landscapes were the tools to foster a uniquely Canadian art that would, in turn, further the development of Canada as an independent nation." The Group held its first exhibition in May of 1920, implying its 100th anniversary is right now.
The Collection of Mitzi & Mel Dobrin also features three major oil paintings on canvas by the premier west coast artist, Emily Carr. It includes eight paintings by David Milne, two large scale oil paintings of genuine excellence by M.A. Fortin, as well as a selection of exquisite works by Clarence Gagnon.
Mitzi Dobrin was the eldest daughter of Helen and Sam Steinberg, the latter the patriarch of the famous Steinberg grocery store chain and other businesses, which became the third largest private employer in Quebec. Mitzi Dobrin headed Miracle Mart, a division of Steinberg, and later served on the Board of the Royal Bank of Canada, the first woman Board member of a Canadian bank. Mel Dobrin acted variously as Vice-President, President, Chairman and CEO of Steinberg during the 1960s, '70s and '80s.
Exhibition Dates
— Now: Artworks are available for immediate purchase.
To make viewing arrangements, we invite you to contact us by email at info@klinkhoff.ca, or by telephone in Montreal at 514-284-9339 or Toronto at 416-233-0339.
— February 28, 2020 at 12pm EST
View the collection online at Klinkhoff.ca,
— Toronto,

March 12 - 21, 2020

Alan Klinkhoff Gallery, 190 Davenport Road, Toronto*

Opening Reception: Thursday, March 12th, 4 - 8pm

*Please note our new Toronto gallery address.
— Montreal,

March 26 - April 4, 2020

Alan Klinkhoff Gallery, 1448 Sherbrooke St. West,

Opening Reception: Thursday, March 26th, 4-8pm

For all inquiries
Contact Alan, Jonathan or Craig Klinkhoff
Email: info@klinkhoff.ca
Alan Klinkhoff Gallery offers sellers of entire collections of high value fine art and sellers of individual works a transparent, fixed price platform, with low total aggregate fees (commissions), resulting in a financial efficiency benefiting both buyers and sellers. We welcome confidential inquiries.
Add a comment