Blog
September 7, 2018
"Indian Grave Houses," 1926: One of Holgate's Greatest Achievements
This is the finest and most important Edwin Holgate composition one will ever have the opportunity to purchase.


— Alan Klinkhoff
Indian Grave Houses, prompts many memories of the man Edwin Holgate and encourages study to appreciate its importance in the annals of Canadian art history, especially linking the Group of Seven, Canadian art of western Canada and of course the "discovery" of Emily Carr and her subsequent return to painting after a hiatus of a dozen years.
As fine as are Holgate's best nudes, figures and landscapes which are primarily of Quebec province , in our opinion the most historically important Edwin Holgate paintings are Indian Grave Houses and Totem Poles, Gitsegukla , the latter in Canada's National Gallery (NGC, 4426). The two have been exhibited side by side on a few occasions, most recently in The Beaver Hall Group: 1920s Modernism in Montreal.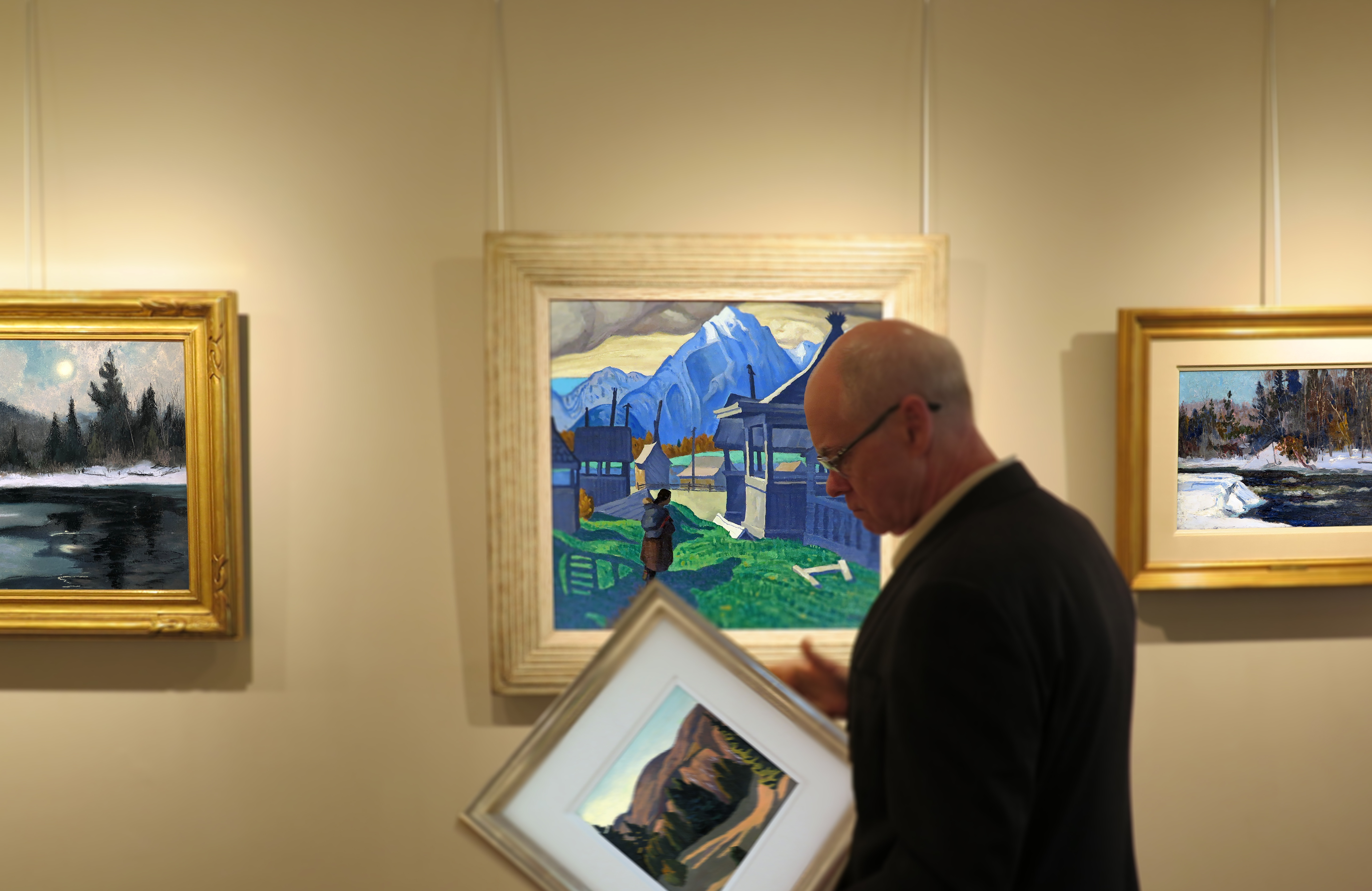 Alan Klinkhoff in front of Indian Grave Houses. In his hands, a 1950s sketch by Edwin Holgate of the area near Morin Heights, where Mr. and Mrs. Walter Klinkhoff would visit Holgate and his wife Frances .
Indian Grave Houses was sold in an exhibition, Edwin Holgate, Twenty-Five Years of Painting at Dominion Gallery in Montreal in the fall of 1946 and has remained, until now, in the family of the buyer of this period.
A read of the documentation prepared for us by Dr. Brian Foss will, we believe, lead others to our conclusion that Indian Grave Houses is the finest and most important Edwin Holgate composition one will ever have the opportunity to purchase.
---
Mom and Dad were friends of Frances and Edwin Holgate. They were great admirers of Holgate's painting and visited them in Morin Heights whenever the Holgates would permit it. The Holgates were a private couple and one with a modest income from his family. Edwin Holgate was not financially motivated and did not easily allow dealers to acquire them from him.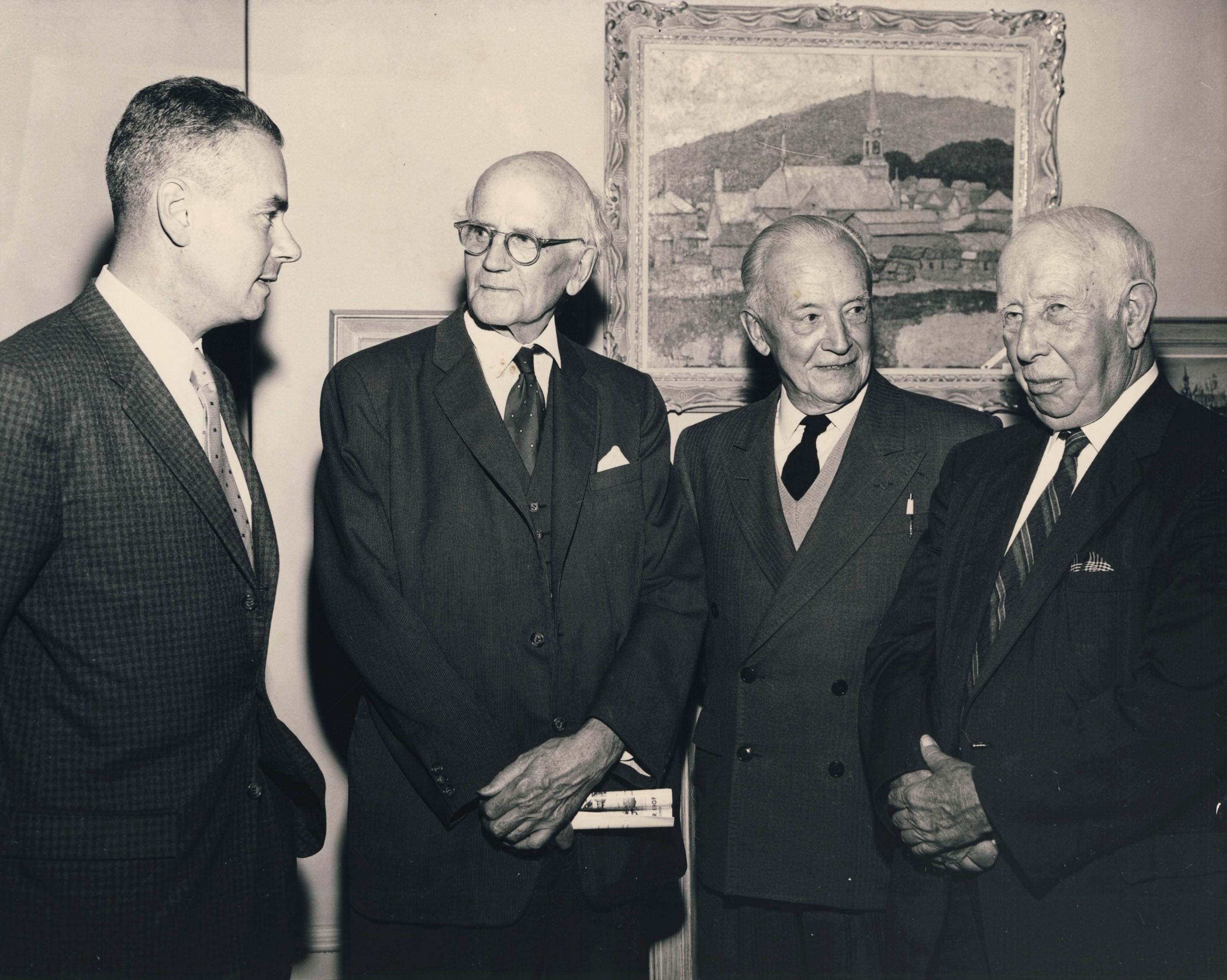 From left, Walter Klinkhoff, Arthur Lismer, Edwin Holgate and A.Y. Jackson at the Randolph Hewton retrospective exhibition at Galerie Walter Klinkhoff in October 1962.
In 1973, at age 80, perhaps to be closer to their doctors, the Holgates moved into the city of Montreal. More specifically, they moved to Westmount into an apartment building, the Saxony, on Clarke Avenue at Sherbrooke Street, only a few blocks from where he and Frances had lived from the late 1920s until they moved to Morin Heights some 20 years later. In '73 I was at Walter Klinkhoff Gallery in the summer home from university and shortly thereafter at the gallery full time. "Mr. Holgate," an officer in the army, habitually on Wednesdays lunched at the United Services Club located directly across the street from the Walter Klinkhoff Gallery. The Club, founded in 1922 by WWI veterans was housed in the French Empire style Forget House in Montreal's Square Mile, a property now belonging to the Macdonald Stewart Foundation which has restored it to its original magnificence. Occasionally after his lunch Mr. Holgate would come across the street for a visit, sitting down on the couch in the main showroom. This was an opportunity for me and my brother to entertain the iconic Canadian artist showing him paintings we had in the gallery by him and his peers, other members of the Group of Seven and Beaver Hall Group of Painters. A few times, I offered him a drive home, a drive during which I would try to get him to talk about the days that had already become legend in Canadian art books.
The Holgates never had children. There were however relatives on Frances' side by the names of Rittenhouse. Several years after the deaths of both Frances & Edwin Holgate the city of Westmount added their names to their honour walls of distinguished residents. The extended Holgate family being so small, ours was invited to join the Rittenhouses to represent them at the celebratory reception. Within the last few years, with the magic of the internet we have been in touch with Holgates in the UK, children of cousins we had not known existed. As is not uncommon, this generation with their children so far removed from their Canadian heritage and with Holgate paintings in their possession, they chose to sell them through our gallery.
Add a comment