Blog
August 31, 2018
The exquisite Suzor-Coté, "Lilas Canadien"
The exquisite Suzor-Coté, Lilas Canadien, painted shortly before Suzor returned to pursue his studies in Paris, demonstrates the aesthetic effect of technique the artist learned from one of his masters in Paris, the important Barbizon painter Henri Harpignies. Professor Lacroix describes how Suzor prepares "...the ground of his paintings by applying the paint not in a smooth and uniform manner, but thickly and with an underlying energy which gave great energy to the surface colours" [1]. Indeed this notion of giving "great energy to the surface colours" is evident in Lilas Canadien.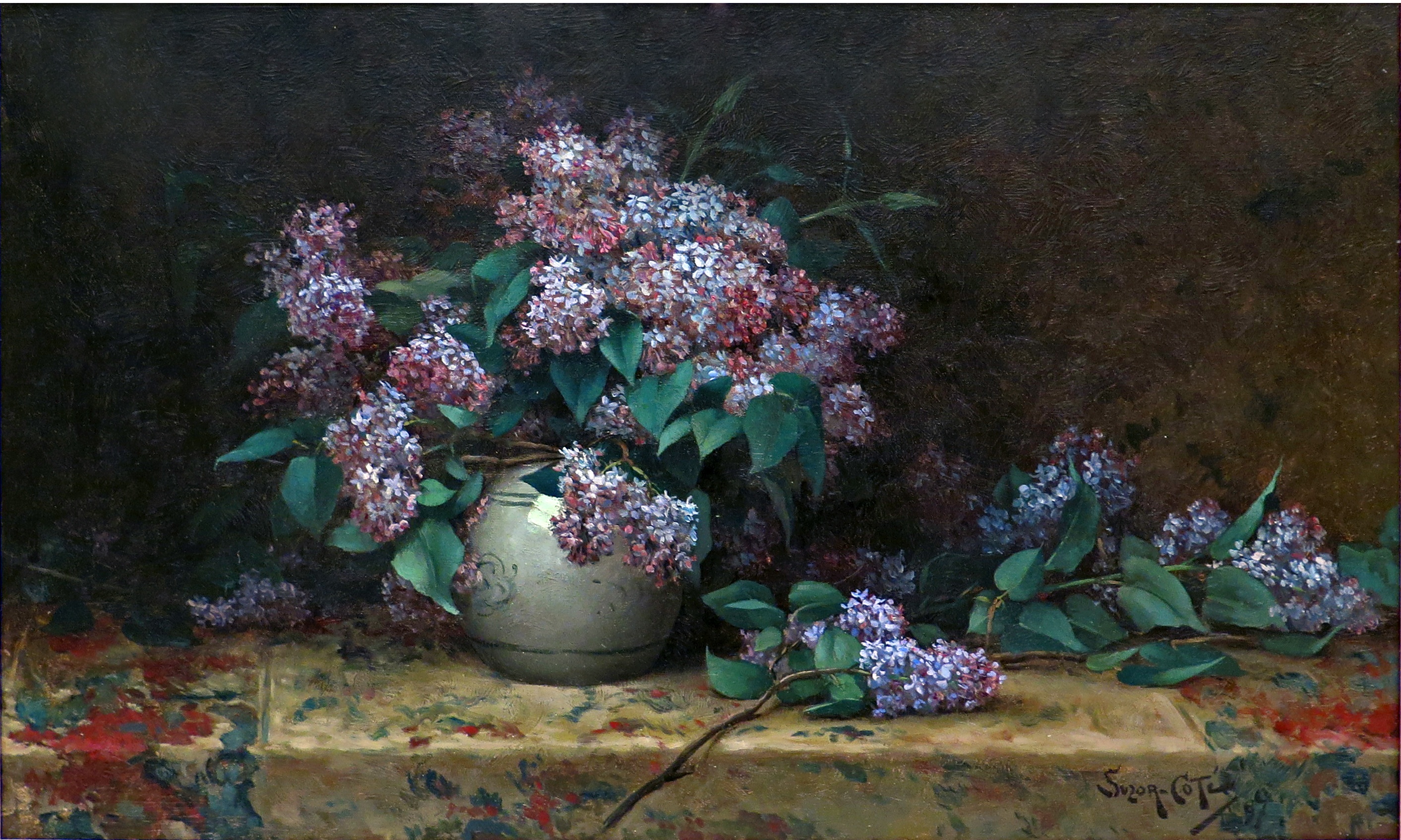 Here, the aromatic flowers fill a glazed earthenware vase, while other sprigs sit atop a table adorned with a brilliantly patterned cloth, each bud painstakingly rendered. Suzor-Coté's orchestration of still life sits in direct sunlight against a darkened background composed of whirling brushstroke, which makes the room seem entirely impenetrable.

Suzor-Coté returned to France in the fall of 1897 where he stayed for the greater part of the next ten years. Professor Lacroix's exhaustive research allowed him to document in a piecemeal fashion the numerous areas and regions Suzor-Coté painted throughout this decade as well as the abundance of exhibitions and salons where Suzor-Coté's paintings were presented, with a headline that claims the inclusion of ten Suzor-Coté's in the Canada Pavilion at the 1900 Paris World's Fair and being awarded a bronze medal represented "a professional turning point for the artist" [2]. Lacroix continues, "Critical approval for the artist reached a peak at the 1900 Paris World Fair" [3].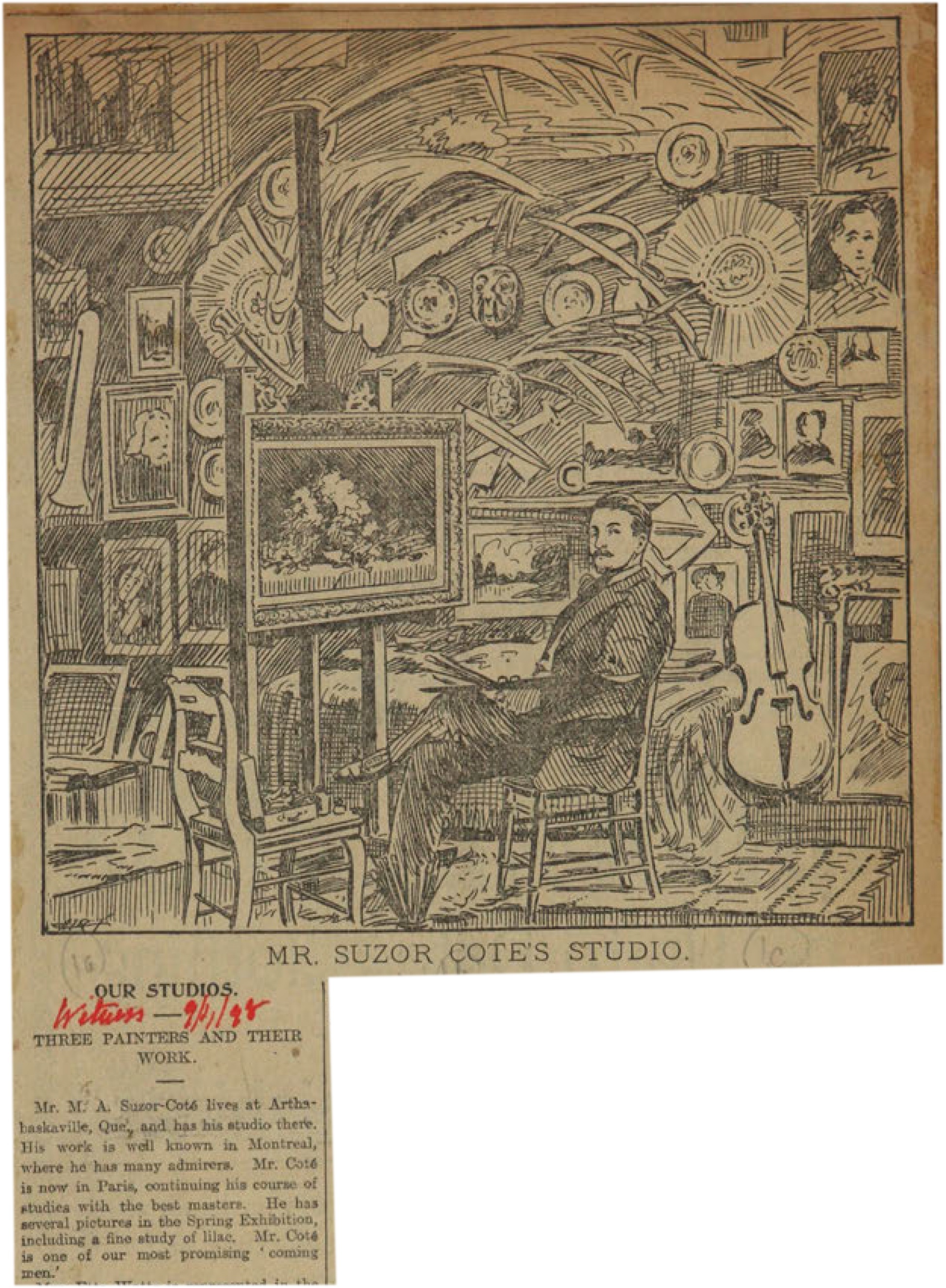 Clipping from "Our Studios. Three Painters and Their Work," The Montreal Daily Witness, 9 April 1988, p. 13, via the Montreal Museum of Fine Arts, Press Clippings, vol. 2.


Come the spring of 1898 the line drawing illustrated in this presentation was published in both the The Montreal Daily Witness (9 April 1898) and Le Soleil (12 April 1898) showing the artist in his Arthabaska studio, the walls of his quarters decorated with works and trinkets from floor to ceiling, at work on a canvas. The drawn painting that adorns the artist's easel — with its strong presence of the prominent horizontal fold of the fashionable tablecloth and its suggestion of the foreshortened lilac stem that Suzor-Coté dips from his tabletop toward the viewer — make the caricature easily recognizable as our Lilas Canadien.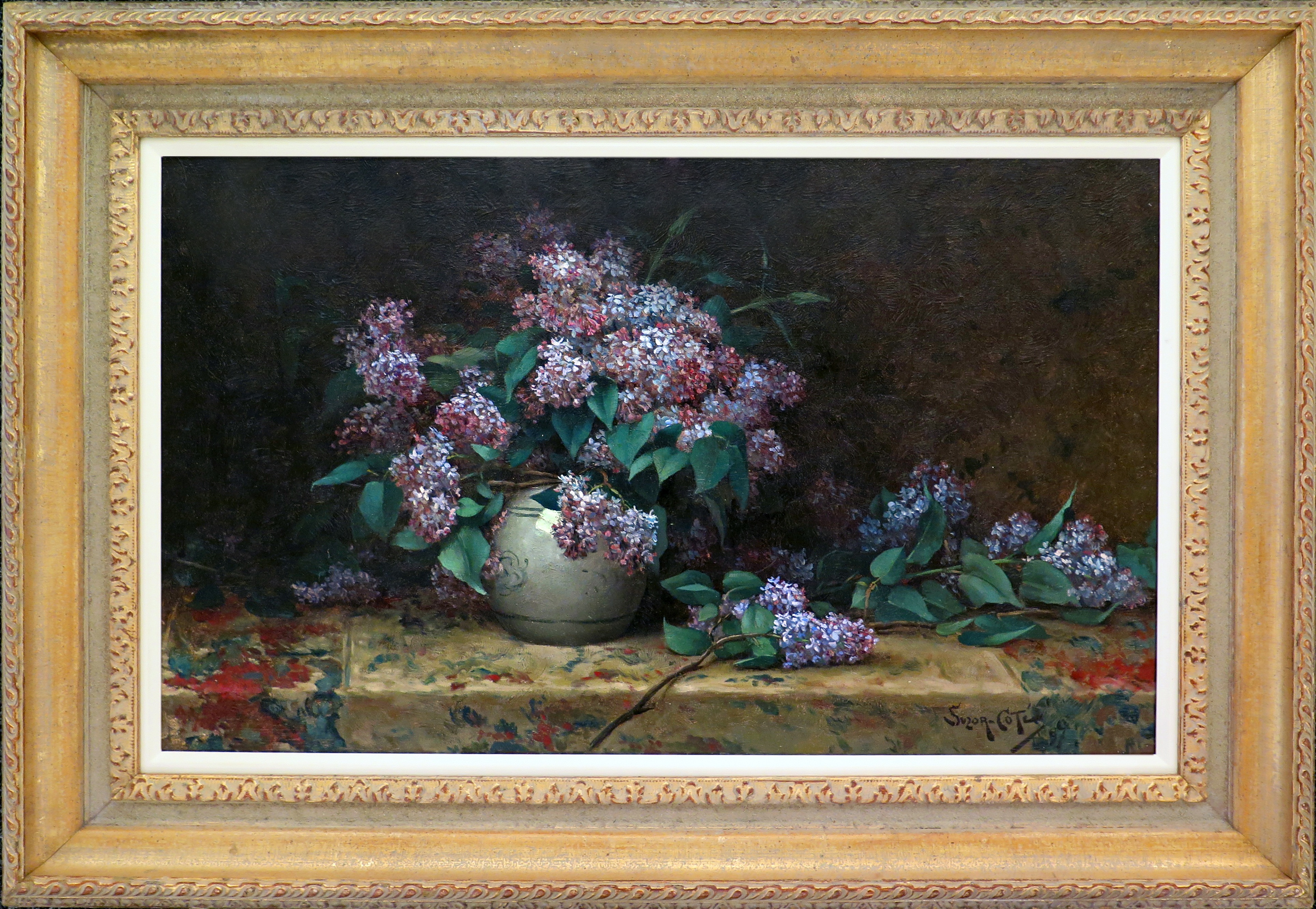 The Witness author writes, "His [Suzor-Coté ] work is well known in Montreal, where he as many admirers. [...] He has several paintings in the Spring Exhibition [AAM, April 1888], including a fine study of lilac" [4].

Laurier Lacroix reproduce the image in Suzor-Coté: Light and Matter, fig. 34 with the caption as "Marc-Aurèle de Foy Suzor-Coté in His Arthabaska Studio" and dated "around 1897" [5]. According to notes from the 2002 exhibition, the cartoon is housed in the Musée de la Civilisation.
Add a comment